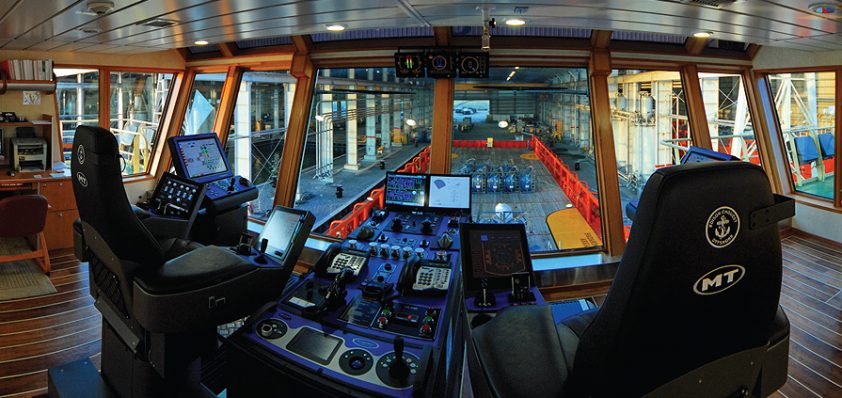 Bridging the gap
Marine Technologies (MT) was established in 2002, quickly becoming an industry leader in the development and manufacture of integrated control systems for offshore vessels.
The company operates from offices in the US, Singapore and Norway to serve its different market segments and geographic regions. The business was first established with the objective of developing control systems, in particular dynamic positioning (DP) systems, for offshore vessels, based on the latest technologiesavailable in the market. The core business consists of DP systems and integrated bridge systems (IBS), and the company's main market is the offshore sector.
It has also developed C-Comm, a business branch within communications, delivering end-to-end netline communication systems to the shipping and offshore markets. This service includes technology and communications band services, as well as other content, such as weather services, video services and entertainment. Ole Morten Husøy, European sales manager, elaborates on recent developments in this sector: "We've come a long way with our communications systems and recently completed all tests on our 90 cm carbon fibre KU Band Antenna, which due to its unique design matches the performance of other 120 cm antennas, but weighs only a quarter of these.
"We have also now successfully tested a dual installation where the SW ensures seamless switching between the antennas if the active one is heading for a blind spot with regards to the satellite it is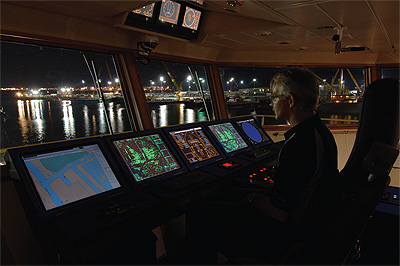 tracking. The system is initialised by driving the vessel in a circle whereby the software automatically detects where the blind spots are and ensures that the active antenna always is the one with optimal view to the satellite. This is particularly useful for vessels that are required to be online all the time, e.g. when streaming data to shore. We're very happy with the development of this product and we're in the process of installing somewhere between 60 and 80 antennae."
The company has also developed the Bridge Mate brand, for DP and IBS systems. Ole elaborates: "We've just finished the prototype for our second generation operator chair, where we have increased the size of the two touch control monitors from 12 to 15 inches and changed to a model where the computer is 'piggy-backed' straight on the monitor to save space and cabling. From these two monitors, the operator can remotely control all the other integrated bridge workstations without any mouse or keyboards, utilising our redundant network infrastructure.
"We're also steadily developing interfaces and integration to more third-party systems, such as window wipers, deck lights, searchlights, navigation lights, watertight doors, etc. In short, any systems that have some kind of functional control. Proprietary control panels most often represent a single point of failure, are costly and require both hardwiring and corresponding engineering and drawings. By operating instead through a Graphical User Interface (GUI), all these issues are avoided, as the applications are then available on all the bridge workstations and at the same time, the operator's working environment is improved as numerous proprietary control panels can be removed."
He goes on to talk about the challenges facing this approach: "We are trying to persuade suppliers to offer a serial interface to enable simple interface of their equipment. Luckily, yards are also starting to see what savings can be made by utilising our network based IBS, which only requires a limited number of standard Cat 5 Ethernet cables in lieu of the numerous typesand vast amounts of cable found on a typical bridge installation today, with all the cable drawings and engineering that go with this."
Looking ahead, Ole outlines new opportunities in the market: "We know that the offshore wind sector will be huge. The UK alone is spending billions of pounds on new offshore wind turbines over the next few years, likewise Germany, Denmark and Holland. This will require a new fleet of service and installation vessels, which creates a market for us, as these vessels will need DP systems to keep them in place. We are presently receiving tenders from all over the world for such projects and really see this as the biggest growing market in the offshore sector for the foreseeable future."
Marine Technologies
Products: Vessel control systems