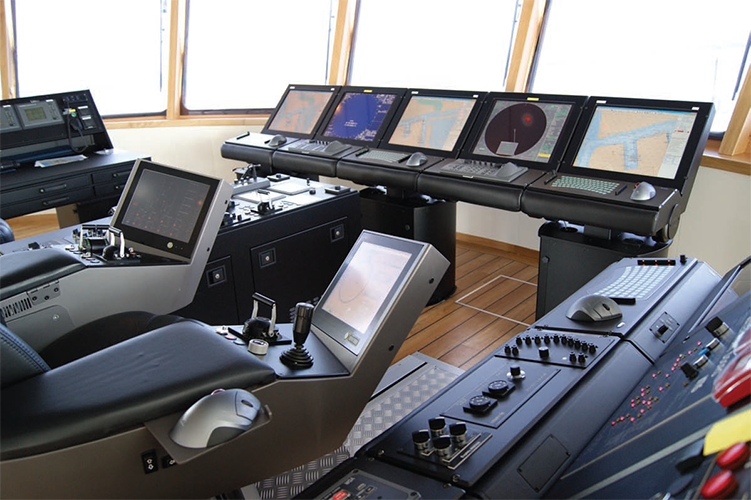 A view from the bridge
Marine Technologies (MT) has earned an impressive reputation as an industry leader in the development and production of integrated control systems for offshore vessels since the company was established during 2002.
Last featured in European Oil and Gas Magazine in February 2010, the company has continued to supply a host of positioning and control systems while expanding its portfolio with new products to navigate the vessels of the future.
MT is headquartered in Mandeville, Louisiana, and operates offices in Norway, Singapore and Brazil to better serve its global client base. The company was originally founded with the objective of developing an improved dynamic positioning (DP) system. Within 16 months of the company's inception, the first vessel equipped with MT technology was awarded DP-2 classification by the American Bureau of Shipping (ABS). Following on the heels of this success, the company continued to grow and has become a one-stop solution to the shipping and offshore industries. Its wide range of products includes a number of cutting-edge vessel control systems and related services that are packaged and delivered as type-approved solutions to meet a full range of IMO classes. MT's extensive product list includes complete DP and joystick solutions provided by its Bridge Mate brand, as well as sophisticated bridge systems such as the MT Bridge Mate integrated bridge system (IBS), which carries DNV NAUT-AW class notation for enhanced nautical safety incorporating a built-in ground avoidance system (GAS). The NAUT-AW class represents the most comprehensive bridge class notation in the industry today, confirming MT's reputation as a world-class provider of state-of-the-art vessel positioning and control solutions.
Marine Technologies has far surpassed its original goal to develop a superior DP system in compliance with IMO guidelines for DP-2 class. Its commitment to support market demand with cost-effective DP systems has led MT to deliver more than three hundred systems worldwide, the majority of which are DP-2 class design. Bridge Mate DP systems have penetrated the maritime marketplace, earning the company a trusted reputation for bringing added safety through functional design and software, reduced installation and servicing costs, less commissioning time and improved spare parts availability, as well as superior fleet management though the ability to offer remote operation and service assistance.
Bridge Mate's IBS solutions are based on a concept of segregated architecture comprising a dual redundant network, flexible console and monitor options, and highly-durable, marineapproved computers without fans or hard disks. Core to the design of the Bridge Mate IBS is the optimisation of the human-machine interface, taking into account the fact that different information is required for different tasks. All applications, including ARPA radar, electronic chart display and information systems (ECDIS), conning, integrated control and alarm system (ICAS), cameras, sensor control and monitoring, are available on any of the Bridge Mate multifunction workstations. This gives operators unique redundancy and flexibility, including secure satellite communication solutions allowing for remote diagnostic and monitoring applications to enhance operations and provide the most effective systems maintenance. Although MT has targeted the offshore market, its IBS can be adapted for operation on board all sea-going vessels, making it an extremely versatile marine tool.
MT's Bridge Mate DP and IBS products are complemented by the MT C-Comm brand, which focuses on global broadband solutions. C-Comm's end-to-end communications systems are comprised of very small aperture terminals (VSAT) that can be placed both above and below deck providing global C and Ku band coverage through strategic co-operation with Intelsat. C-Comm delivers a host of communication options, including voice over IP (VolP) phones, vessel tracking, weather service, electronic navigation charts (ENC), content management, Global System for Mobile Communications (GSM) and more. MT's C-Comm provides customers with a wide range of benefits including a comprehensive, secure C and Ku band communications package offering accessibility through global coverage and enhanced user-friendliness through seamless roaming, as well as improved crew welfare and well being through voice, Internet, e-mail, entertainment and health care (telemedicine) options. In addition, C-Comm delivers value to its customers through the availability of remote monitoring, diagnostics and maintenance training, while ensuring predictable costs through flat-rate fees.
In 2013, MT was awarded a prestigious contract with Siem Offshore to provide a complete bridge package for the company's new build 243-foot infield support vessel (ISV) of Ulstein SX 163 design. The ISV will be built at Fjellstrad Verft in Norway for delivery in 2014, with the potential for a second vessel to follow. MT will supply its Bridge Mate IBS along with DP, joystick and thruster control systems to the new vessel. Throughout 2013, MT also demonstrated its commitment to developing improved user understanding of the principles behind DP by conducting training courses in Singapore in co-operation with Maersk Training of Denmark. Both basic introduction and advanced simulation courses were offered throughout the year allowing students to become familiar with DP technology and gain a practical understanding of the operation of associated equipment. Marine Technologies' DP training center in Singapore is accredited by the Nautical Institute (NI) in London and follows IMO and IMCA guidelines. The training programme was very successful and highly regarded in the industry.
During the upcoming year, MT will continue to define itself as a market leader in DP, IBS and communications solutions. With existing projects in place and the potential to grow additional business and expand its product portfolio further, the company is well positionedto make great advances during 2014. MT's new two-in-one Ku band VSAT antenna – theMT-BB100 MKIII – promises to contribute to the company's vision to improve maritime DP and communication technology. The MKIII is based on C-Comm's field-proven BB90 and BB100 technology and features a redesigned parabolic dish for optimal RF performance and feed incorporating cutting-edge computer simulation software commonly used in aerospace missions. In addition to being constructed from lightweight, yet incredibly rugged materials, the antenna maintains remarkable tracking performance at all times, regardless of ship vibration and heavy sea conditions.
With its impressive portfolio of products and services, Marine Technologies' vision to set new industry standards is destined to extend far into the future.
Marine Technologies
Services: Vessel control and positioning systems