Building bridges
Based in Louisiana, US, Marine Technologies LLC (MT) is dedicated to providing superior vessel control solutions to the international offshore and commercial shipping industries.
The company started life in 2002 with an idea to develop a better dynamic positioning (DP) system, and within just 16 months saw its first equipped vessel awarded DP2 classification by the American Bureau Of Shipping (ABS).
In the decade since MT has become a one-stop resource for vessel control systems and related services. This includes delivery of type-approved systems of all International Maritime Organisation (IMO) classes, as well as less complex DP and joystick solutions. The biggest development though has been MT's BridgeMate Integrated Bridge System (IBS), which holds the most comprehensive bridge class notation in the industry today.
"Although it has taken some time to get people to see the big benefits of the IBS since we launched it four or five years ago, we do now see more and more clients interested in ordering such a system," states Sveinung Tollefsen, R&D manager at MT Norway. "The integrated model has been quite strong in the US for some time now, but now we're seeing Europe and the Far East taking more of an interest. Likewise, as well as the offshore sector, we've also moved into the yachting market for the first time due to interest in the integrated bridge concept."
The BridgeMate IBS concept is based upon a segregated architecture comprising a dual redundant network, flexible console and monitor solutions, and durable marine-approved computers. It is designed to optimise the human-machine interface recognising, that different information is required depending on the type of operation at hand. Multi-function workstations mean that navigational data from ARPA radar to ECDIS is fully integrated and can be accessed from any of the identical workstations.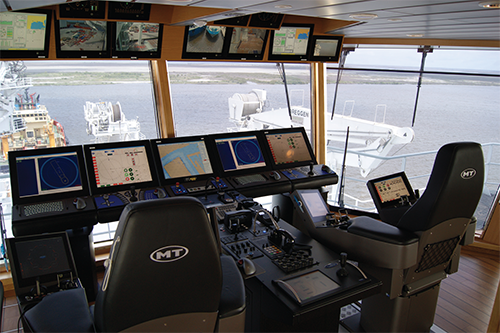 Just recently MT announced that it has been awarded a contract to provide a complete new bridge package for Siem Offshore's new build 74-metre infield support vessel. With the ship being built at Fjellstrand Verft in Norway, MT's Norwegian entity is overseeing the project in supplying a BridgeMate IBS with DP, Joystick, and Thruster Control (TCS) systems.
A key reference project for the benefits offered by the BridgeMate solution, and MT's integrated approach in general, is the outfitting of the Island Enforcer for Island Offshore. Delivered in 2010, this vessel was equipped with MT's BridgeMate IBS and a DP3 system, which offered significantly more redundancy and flexibility than traditional stand-alone bridge systems.
The other core element of MT's range of services is satellite communications namely in the form of C-Comm – a telephone and satellite solution that partners with VSAT and antenna providers, along with Intelsat as the world's largest satellite communications operator, to offer customers seamless global coverage at affordable prices. Under this umbrella MT is now introducing its newest two-in-one Ku band VSAT antenna – the MT-BB100 MKIII. Based on the field-proven technology of previous models BB90 and BB100, the MKIII features a redesigned parabolic dish for optimal RF performance and incorporates cutting-edge computer simulation software. Its light, yet rigid, construction makes installation simple, and the fast-tracking algorithms means the MT-BB100 MKIII performs strongly at all times defying ship vibrations and heavy sea conditions.
The product has been designed to be compliant with the most demanding standards, such as those required by Anatel, Intelsat and Eutelsat. MT already holds such approval for its previous models, such as the third generation BB100 marine-stabilised satellite antenna, which last year was approved by Anatel for use in Brazilian waters. At the time MT was one of just four manufacturers in the world to receive this coveted approval. In addition the BB100 was the only two-axis antenna on the market to achieve this.
Part of MT's focus for the year ahead is to widen its secure satellite communication solutions for remote diagnostic and monitoring of IBS functions. "This enables us to keep on supporting our customers, and to assist them prior to them having a problem," notes Sveinung. Supported by the engineers that actually build the products, MT's Remote Access and Monitoring (RAM) system is designed to support the rest of its range from DP systems to IBS, and communications.
It gives these technicians the ability to monitor a vessel's critical onboard system anywhere in the world, with data that can be then distributed via email to assist in resolving issues or confirming normal operations. "Our own communications solutions such as the VSAT range also come into play here, as by having good control over these we are able to provide a much greater level of assistance rather than relying on another party to access the vessel," he continues.
The growing complexity of vessels operating within the offshore market, and the tasks undertaken by them, means that MT's sophisticated solutions are becoming evermore attractive to clients. In turn, MT is un-shifting in terms of maintaining this direction, and finding ways of squeezing even greater value out of these. "As it stands right now we are focusing still on the IBS," confirms Sveinung. "We still have some open items which we purchase from third parties so we see huge benefits in being able to achieve an ever better integration in all aspects. The second point of interest is this remote diagnostic and assistance side, which will be a focal area for the years to come," he concludes.
Marine Technologies LLC
Products: Vessel control solutions