Positioned for success
Marine Technologies was established a little over five years ago by a group of highly experienced engineers in order to develop and manufacture industry-leading control systems, including dynamic positioning (DP) systems, for offshore vessels.
Today,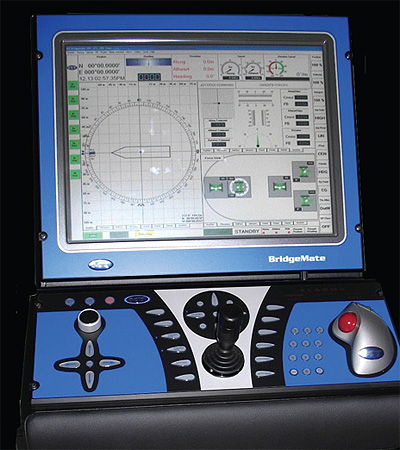 the company's DP and Bridge Mate products assure total vessel control integration, establishing strategic alliances for navigation, vessel automation and sensors, and providing offshore customers with reliable, innovative technology.
The formation of the organisation was driven by the overall goal to meet IMO guidelines for DP class two systems as a minimum requirement, and to support the existing market demands for innovative DP products that would be cost-effective, easy to install and maintain, and provide considerable advantages over existing technology. In just 16 months Marine Technologies' team had fitted its first DP system to an operational offshore support vessel, demonstrating the excellent developmental capabilities of the fledgling business, and establishing it as a leader in its field.
Ole Morten Husoey – design, sales and marketing Europe at Marine Technologies – elaborates on the developments, and the advantages they bring: "The aim was to produce a DP system that was easy to use and install, and that would be considerably more reliable and simple to maintain than existing units, and we managed just that. By far the biggest revolution that we introduced to dynamic positioning technology was supplying the system with three control computers – giving a triple redundancy feature, which significantly improves the availability and reliability of the overall system.
"This development eliminated many of the problems of previous systems, which only used two computers," Ole explains. "For example if there was a fault, with one of the computers providing an incorrect reading, the operator had no idea which of the two was correct and which was wrong – it was basically a 50/50 decision. With our triple redundancy package, there is a near 100 per cent chance that there will be two identical computers with a correct reading, and one that is clearly malfunctioning, allowing a quick assessment of any problem. On top of this, our computer control systems have very simple architecture – they have no hard disk, no fans, no battery, and no moving parts, making them relatively fail-safe and easy to repair."
After the initial success of the DP systems, and the innovative technology that the business introduced as standard, Marine Technologies has developed a new bridge control system known as Bridge Mate. Ole explains: "We now have a complete range of totally integrated bridge systems that are more flexible and more redundant than any others in operation today. The Bridge Mate design is based on having a number of identical multi-functional workstations that each independently control all of the software applications that are needed on the bridge at any one time. Traditionally in an integrated bridge there would be a similar station, but it would house one computer for each application, whereas we have enabled Bridge Mate to control as many as ten or twelve applications including radar and conning displays, echo sounders, weather stations and DP systems, so it really is a huge leap forward.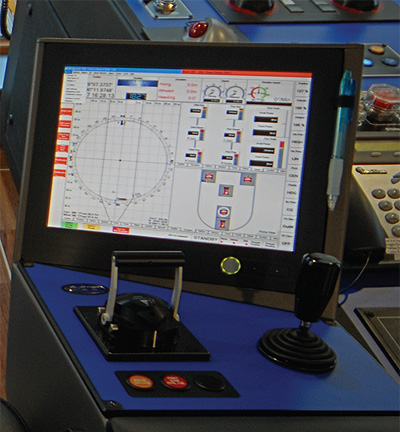 "Once we have initiated all of the applications we simply duplicate the system across as many workstations as are needed on the bridge with all of the information spread across two totally separate ethernets," he continues. "In this sense, there is no one dedicated workstation that could fail, rather, each station can do everything that is needed on board a modern vessel. In addition, we have also designed new panel indicators rather than using traditional analogue indicators. Using these 12-inch high-resolution monitors means that we have configurable indicator displays that are much clearer and readable at a significant farther distance than the traditional analogue indicators. We already have 40 integrated bridge systems on order, with the first of these due to be delivered to a Norwegian owner in early 2008."
Available in a number of variations, the Bridge Mate concept is based on distributed architecture, state-of-the-art technology for hardware and software, and a strong focus on redundancy and segregation philosophies. "The Bridge Mate DP2 is a truly robust design, which is particularly important in the offshore sector, where servicing and system specialists are not always able to reach the vessel. And should a fail arise, we offer remote diagnostics, enabling our service department to log into both the IBS and DP systems via any available communication means and do fault finding without having to be on board."
In order to demonstrate the capabilities of its products Marine Technologies has been showing them at many of the industry's largest exhibitions and trade meetings: "We have been getting some excellent feedback from prospective customers at the exhibitions," says Ole. "We feel that when demonstrating new products you can use all of the computer presentations and 3D drawings available, but ultimately, it does not have as much effect as sitting at consoles and in chairs, and interacting with the technology – it is a case of seeing is believing for the customers.
"Consequently, we have been showing a fullscale, fully fledged bridge setup that includes a forward transit and aft operating bridge, and normally encompasses a stand of around 60 square metres," he continues. "We use a variety of simulators so that the 'vessel' can be moved in real-time, and all of our Bridge Mate technology can be interacted with fully. I think that this has certainly helped us achieve an increased number of sales among many of our customers, and has made our presence felt on the market."
Considering the success that the company has already achieved, and the development potential of the products that the company has in its catalogue, Ole is confident for the future of Marine Technology: "The DP and bridge systems that we deliver are generally one of the last major components to be fitted to a new build vessel. With this in mind, and with the remarkable number of bookings for new-builds in recent years, a large proportion of these vessels have yet to decide on which DP and bridge systems to use. Consequently, it really is a perfect time for us in the market at the moment, and if the potential of our products is realised then I can only see this continuing for the foreseeable future."
Marine Technologies
Products: Vessel control systems