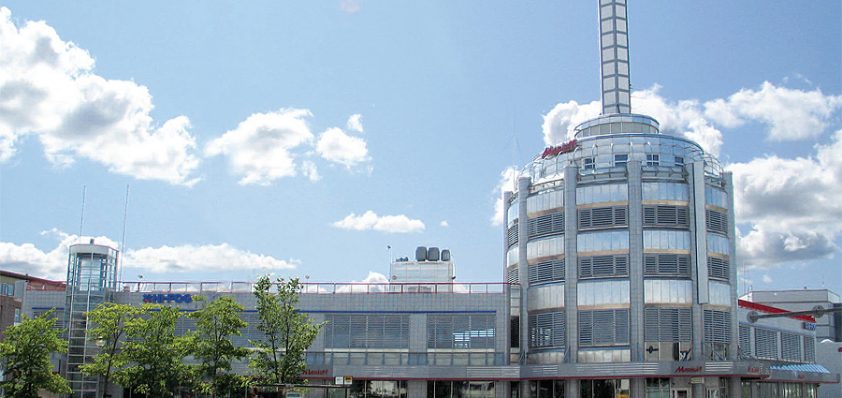 The heat is off
Water is by far the oldest, the most widely used and the most widely available fire-fighting agent in the world.
It's non-toxic, environmentally friendly, and in addition, it has superior fire fighting capabilities in a wide range of applications as compared to any other agents. HI-FOG is the world's leading water
mist fire protection technology, developed by Marioff Corporation Oy for use on ships but now also protecting an increasing range of land-based applications. Utilising high pressure to produce a fine water mist, HI-FOG combines the extinguishing characteristics of water with the penetrative qualities of gases without any safety hazards for personnel or the environment.
"There are a number of benefits and advantages in using the HI-FOG system," explains Stefan Gordin, the vice president of the marine division. "It is far more efficient than conventional sprinkler systems and it only uses a fraction of the water you'd have to use in a sprinkler system, which is not only very economical but the damage to facilities and equipment is also minimised."
HI-FOG water mist is always generated by high pressure. The systems are powered by constant pressure electric or diesel pumps, with pressures up to 140 bar, or by pressurised gas cylinders, with pressures up to 200 bar. The droplet sizes usually fall in the range below 200μm and the penetration length may be up to ten metres vertically – this contributes in spreading the mist throughout the space; even past obstacles. The HI-FOG water mist behaves almost like gas, which provides a superior property: HI-FOG can replace not only conventional water spraying systems but also gaseous extinguishing systems.
In addition to extinguishing a fire, the HIFOG system has a high cooling, inerting and radiant heat blocking efficiency. Within seconds after discharge, gas temperatures around the fire drop abruptly and a dense cloud of small droplets quickly surrounds the fire. The radiant heat is blocked so effectively that at a few metres' distance from the fire, people do not feel any heat. The adjacent structures are well protected, even when the fire is still burning.
"Our biggest market sector by far is still the passenger ship and it is clear that safety on the ships is absolutely paramount because if there was a major fire on a cruise vessel it will affect the entire industry," comments Stefan. "Other types of ship-owners are also getting very interested in safety as well as green technology so our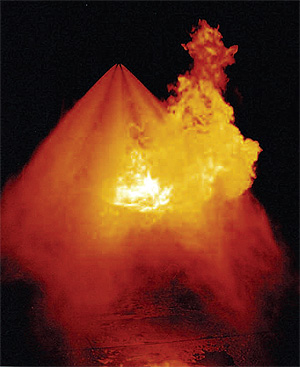 market sector spans out into cargo and naval vessels as well as luxury yachts. Over the last two to three years, we have seen the green technology become a much higher priority in the marine sector because everyone is much more concerned about destroying the ozone layer.
"In the engine room the real key issue is that you don't endanger people so with HI-FOG you can activate the system as soon as you see a fire unlike other systems where you will have to evacuate the facility first. And with HI-FOG, should it be a false alarm, someone just gets a little wet and there's no other harm done. You don't have to go back to a port to recharge your system; you just switch off the pump and you're ready to go."
Despite being only 21 years old, Marioff is the market leader in this sector and attributes this to its successful products. The company has ambitions to maintain its position in the market place as Stefan concludes: "Without sounding too clichéd, we intend to continue down this path, retain the technology leadership and be able to provide excellent service. We have been in this leading position from the very beginning, which is why we have grown as quickly as we have and I personally don't see any reason why the growth won't continue at the same rate." Founded in 1985, Marioff Corporation is now the world's leading supplier of water mist fire protection systems. The company's background in marine and offshore high pressure hydraulics has led to the development of a fire protection technology, which makes use of the best attributes of the only truly environmentally benign agent – water.
Since its introduction in 1991, HI-FOG has rapidly developed a reputation for superior fire suppression capability, becoming the standard by which other water mist systems are measured. Key to this development has been the company's extensive research and development programme, carried out in conjunction with the world's leading independent authorities and fire testing laboratories. HI-FOG is not only the fire protection technology of choice for many diverse applications, it also has the back-up of a dedicated team whose one aim is to provide satisfaction for the customer.
In 1992 Marioff received the prestigious Seatrade 'Safety at Sea' Award, and the President of Finland bestowed the 'Innovation in Finland' award in 1995 and the 'Finnish Export' Award in 1999. The company has now established a skilled team of fire protection, mechanical, hydraulic and electrical engineers, assisted by the latest CAD and communications technology. This core group supports a worldwide network of subsidiaries and agents, providing installation and commissioning assistance as well as service and maintenance back-up.
Marioff Corporation Oy
www.marioff.com