Maritime Audit & Technical Services
Projecting success
By providing management and design services, supported by comprehensive operational experience, Maritime Audit & Technical Services (Maats) has successfully established itself as an expert in its niche market.
Previously known as Maritime Advisory Services, Maats is a one-stop shop, supplying assistance from conceptual configuration and budget through to engineering, completion and commissioning at the shipyard. Broadly speaking, its interests cover naval architecture, marine engineering and project management.
Based at Micheldever near Winchester, the organisation has always specialised in complicated one-off conversions of sophisticated, high density, offshore construction vessels. Should a repair or
new building yard require assistance with production detail, Maats can meet such demands in terms of developing lines, steel profiling detail and material nesting.
Customers can receive new building concepts and technical model development, and Maats has in-house designs for small tugs, construction vessels, DP Shuttle Tankers and Purse Seiner fishing vessels. The firm, which has a turnover of £5 million, recognises that for all vessel owners and shipyards time is of the essence. Owing to its in-depth knowledge of operational requirements, the company can respond rapidly to project evaluation, technical model assessment, project time/cost budget and scheduling. Its range of services includes, but is not limited to, feasibility studies, draft budgets, tender analysis, liaison with classification societies, new build or conversion specification and sea trials.
European Oil & Gas magazine spoke to Maats' managing director, John Holt, to find out how the business has evolved over the years: "We were formed in 1986 by a group of people from the offshore industry – engineers with hands-on offshore operational experience. We established a specialised, small consultancy to deal with the design and modification of special purpose boats for the offshore support industry, which are mainly construction vessels, subsea engineering boats and diving ships.
"About ten years ago we branched out with another company called Dmec Engineering to design and build specialised equipment for the ships we're used to working with. We found that there was a market for unique equipment to lay flexible pipe and overboarding systems, for example. That has now become part of our core business, whereby we will take a design from concept right through to building and installing the equipment on the ship, and commissioning. Dmec has been absorbed into Maats and is an important aspect of our organisation. Additionally, we took over Sunderland Ship Design Services in 1995, so we have offices in Sunderland as well as Winchester."
Providing an up-to-date overview of Maats, its workforce and its services, John says: "Maats has developed over the past two decades whilst continuing to operate in a niche market, meaning that we don't undertake work in the commercial shipping world. Our main customers are the major offshore installation contractors and our business purely exists in the offshore business – and it has done since the start. We concentrate on dynamically positioned, diesel-electric driven units and we have specialists who are familiar with that type of ship in terms of its performance characteristics.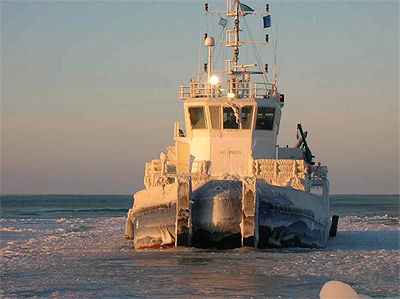 "Overall, we employ about ten permanent personnel and almost double that in contract staff. As well as undertaking design engineering, we follow projects through the shipyards, so we offer shipyard superintendence. Basically, we take care of vessels we've carried out engineering on until they are commissioned, and most of the people who do that for us are contract staff who have been with us for up to 20 years."
Some of Maats' work currently involves superintending the installation of two carousels that it has designed for Technip, which is taking place in a shipyard in Brazil. It includes an under-deck carousel built into the ship itself and an on-deck carousel, which boast a 2000 tonne capacity and a 750 tonne capacity respectively. Maats is also involved with the production design team for the mezzanine deck of the same ship.
Discussing additional work, John comments: "We have an ongoing project on the design and modification side for a US-based company, J. Ray McDermott, working on one of the largest crane barges that exists in the world today, the McDermott DB50. We're completing an upgrade for that, replacing all the engines, adding propellers and undertaking all the engineering and design modifications to incorporate the new equipment."
Standing Maats in good stead with regards to project completions is its comprehensive background knowledge of the mechanics of the operations of vessels. "We have people with a background in offshore engineering, who can relate to the changes that are necessary to the ships that we modify," John explains. "We do very large modifications; cutting ships in half, lengthening and widening, adding more propulsion units. We have employees who have been in the industry, both on the ship building side and on the offshore side, who can relate to the actual work our clients want in a very practical way. We can look at a solution with the eyes of the operator and know how important it is to keep the cost down. Our strength is our understanding of the product we're often trying to rearrange."
Besides this quality, Maats' success can be attributed to being very responsive to the market, having an excellent name in the marketplace and a first rate track record. Looking to the future, John reveals that the coming years will be characterised by growth and development of the organisation. "We're looking to recruit at the moment and we are gradually growing in value, as a company," he concludes. "There are a lot of candidates out there but it is a matter of finding the right set of people to enable us to develop both of our offices in the New Year."
Maritime Audit & Technical Services (Maats)
Services: Naval architecture, marine engineering & project management