Accommodating the industry
Based in Bjørvikstranda on the Norwegian west coast, Maritime Montering's team of over 200 multi-talented staff offer those in the maritime industry a range of architecturally styled accommodation systems for installation on vessels, tankers and rigs.
Collaborating with its sister company Martitime Møbler A/S, the company is able to provide a variety of optimum solutions through its decades of experience and specialist design skills. Since its inception Maritime Montering has had sustained solid growth and last year the Maritime companies saw a combined turnover of 500 million NOK and are continuing to expand.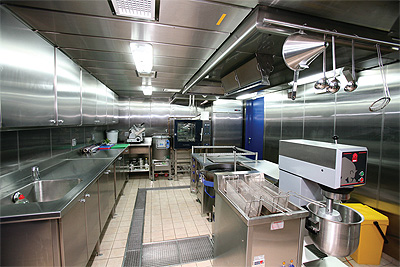 Working predominantly on supply and MPV vessels, the high quality standards of the furniture and installations Maritime Montering supplies is its mainstay, as well as its ability to produce package solutions that include panels, ceilings, flooring, furniture and bathroom units. The company's focus has always been on high levels of craftsmanship and making the living areas of maritime accommodation as pleasant and comfortable as possible, with functionality and sustainability in mind. With subsidiaries in Poland and Romania the organisation has always had a dedication to performing installations wherever in the world its clients may be, working closely with them for optimum solutions. Having had a number of lucrative contracts in Norway, Denmark, Poland, Spain, Croatia, Romania, Ukraine and Russia working with companies such as Aker, Hayard and West Contractors; when European Oil and Gas spoke to Maritime Montering last year the company was planning a focus on the Middle East, India and the Far East markets.
Trond Bendiksen, managing director of the company outlines the latest projects in these areas: "We have been working with STX Vietnam for the provision of accommodation units on six vessels for the North Sea and worldwide. It is a fairly standard project, though it is a breakthrough for us in terms of entering this new market; so far it has been a great success story. In addition we are currently finishing our first job for ABG in India and are bidding on several others that are due to begin in late June. So far the company has made a good break into the Far East market and this is due to our key strengths of speed, flexibility and co-operation that we offer throughout our operations. Further to this we have landed two contracts in Spain. The first has just finished, while the second is for the Volstad shipping company in Norway and will be finished in December. The project requires a total package solution including everything from insulation and flooring to ceiling panels and the bathroom units."
Maritime Montering has responded to its new global influence by updating its furniture design facility, which involved the implementation of a so-called 'one-click system' – the computerisation of the entire furniture engineering and production process. This system means that the company's engineers can view a project in a modularised format, furnishing a project cabin by cabin with access to the dimensions and specifications, as well as the weight and details of the materials to be used all on a computer. This is a very interesting development in the field of design and is due to be officially launched in Norway in the next month at the Nor-Shipping exhibition.
This new computerised concept will make production and installation processes increasingly efficient and will provide the company with a greater facility for serving the industry. In addition the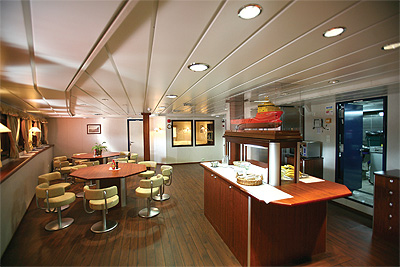 business has sought to implement a more efficient attitude to its product range, as Trond explains: "We have taken the decision to standardise our product portfolio and though, of course, we maintain a close relationship with our core customers we are designing our products based on their requirements on a more general basis. It means that a client can come and pick a certain standard from our range or mix a number of them together and our production line becomes a lot more streamlined."
He adds: "We have found that for our business sustainability and efficiency are essentially people issues. We are trying to ensure that our workforce is rotated through various projects to try and gain specific experience for a range of vessels, ensuring that everybody is familiar with every kind of project so that you don't have to specialise crew. We want to develop a broad scale of competence so that we can vary the crew from vessel to vessel and rig to rig without having concerns about their proficiency."
This adaptable approach is in response to Martime Montering's goal to grow in the offshore sector, particularly in the rig rehabilitation markets in Europe and the Far East. As such, the company is attending the Nor-Shipping exhibition and conference in Oslo at the start of June as a means of marketing its capabilities and learning of the ways to handle the changing industry conditions. As a leading maritime event, the exhibition provides an opportunity for companies to advertise their product range and gain advice on such important issues as climate change, developing shipping regulations and energy efficient operations.
Trond outlines the ways in which Maritime Montering is tackling the current economic climate and the tougher industry demands: "Of course we are facing challenges in light of the credit crunch as are many of our customers and competitors. We have plans to overcome this situation by placing emphasis on strategic and more accurate marketing instead of relying on resale's from existing customers as we have done in the past. We want to be seen as a more active supplier in the marketplace, not only in the European market but across the globe as well. Our vision is to be internationally recognised as a high quality, expert supplier of accommodation units, with flexibility and speed at the core of the installation process. We want our workforce to be multi-skilled so that we can take on the demands of the ever-changing offshore oil and gas industry, which is where we see our main expansion over the coming years."
Maritime Montering
Services Maritime accommodation systems