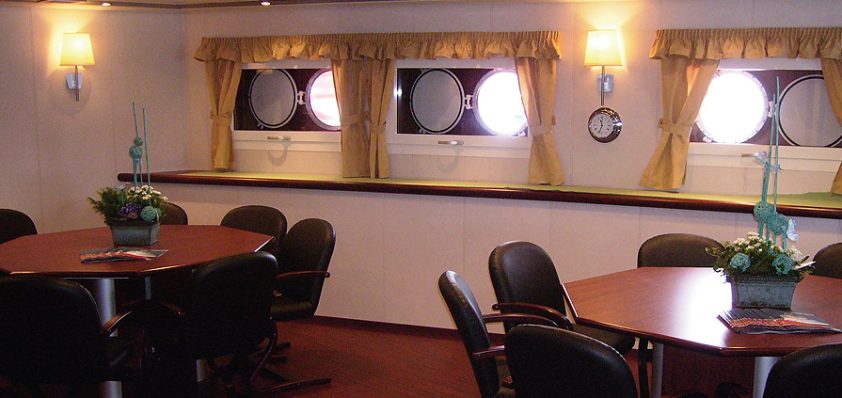 Accommodaing customers' needs
Maritime Montering has over 25 years experience in delivering and installing high-quality maritime accommodation systems.
The company's main office is located in Bjorvikestranda, in the municipality of Gualar, on the west coast of Norway, and the expertise for which it is renowned has seen it develop into a leading industry supplier for customers across Europe. After a period of sustained growth and a turnover of 300 million NOK this year, the Maritime group of companies now employs a total of 231 people across Europe, and is continuing to expand its operations.
Whilst the company undertakes some refurbishment work on rigs, its efforts in the oil and gas sector are largely devoted to supply and ROV vessels. Managing director Trond Bendiksen explains: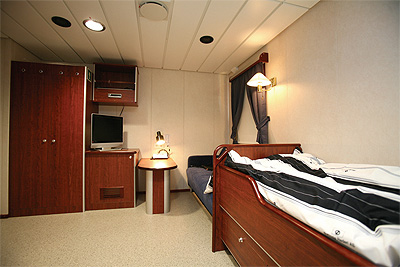 "We deliver and install everything that goes into a ship or rig in the accommodation modules. That includes wall panels, ceilings, flooring, furniture, and the whole range of interior solutions. In particular, the furniture we deliver is of outstanding quality, and this is essential because it is the most eyecatching aspect of any room. When a person enters a living room, they do not necessarily notice the wall panels, or the ceiling, but will always pay a lot of attention to the furniture. Ours has been constantly developing, and has a very modern design. Because of this, we have built a reputation for quality that has taken us to the top; it is certainly one of the main reasons we are a leader in the field."
For the excellent craftsmanship of its products, Maritime Montering largely relies on its sister company, Maritime Mobler. This business is based on the island of Bolsoya, close to the Norwegian town of Molde, and has a subsidiary facility in Poland. It enjoys a reputation as a worldwide leader in ship and vessel furniture; indeed, such is its standing that the company attracts a significant amount of customers from many of Maritime Montering's major competitors.
Maritime Montering's investment in its people has been a key factor in the company's growth. "Of course we buy high-quality equipment, but we also work hard on assembling the teams of installation personnel who actually do the job," Trond reveals. "Bringing in people of the necessary standard is a very difficult task, and advertising is not always successful, so we work with our networks internationally to make sure that we get the excellent staff that we need. We also keep a constant focus on the development of their abilities, and on ensuring that they are very well trained. Many other companies bring in skilled or even unskilled staff, and let them work without regard for competency, or on enhancing their abilities. We give a lot of attention to that, and to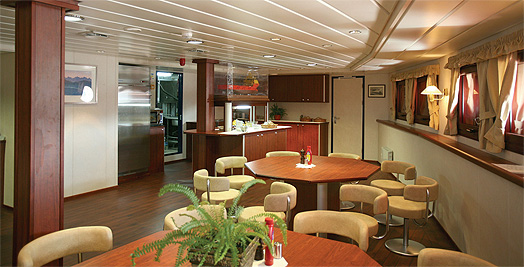 never giving our people too many projects at a time. That would diminish the quality of our work, and we want to maintain the reputation that we have earned."
Whilst boasting a strong range of standardised products, Maritime Montering is careful to pay attention to the requirements of each of its customers, and is willing to create unique solutions when needed. "We show a great deal of flexibility towards our customers in terms of how we do the job, and the type of job that we do," says Trond. "Whilst our contracts are with the shipyards, we have very close relations with our main customers, who are the ship owners. Very often they have special requirements, or a need for increased quality, as there are people living on board many of these vessels for months. They may need us to provide special bridge chairs, monitors, or cabinets, for example. In fact if you go onboard an offshore vessel today it can be a little bit like a modern cruise liner; the standard is so high."
Maritime Montering's successful history is evidenced by the custom that it has acquired all over Europe. Aside from major yards in Norway, such as Havyard and Westcon, the company has also worked in Poland, at the Gryfia yard, Spain's Astilleros Gondan, and has further clients in places such as Romania, Denmark and Croatia. Recently, and despite strong market competition, contracts on four ships were secured with the international group Aker Yards. These run from 2009 until 2011, and carry a total value of 72 million NOK.
To support its continued growth, however, Maritime Montering is looking further abroad for new customers, and to areas in which it has not previously enjoyed a major presence. "Our main market here in Norway is starting to flatten out slightly, but business is certainly continuing to grow quickly in other areas," explains Trond. "We will certainly continue to grow quickly in the Middle East, and in particular India is a very strong market at the moment. We see that a lot of our British and Norwegian customers are building the hulls there, and in the Far East in Vietnam, so we are moving with our customers in that direction. The future of the business certainly looks very good," he concludes.
Maritime Montering
Services: Maritime accommodation systems