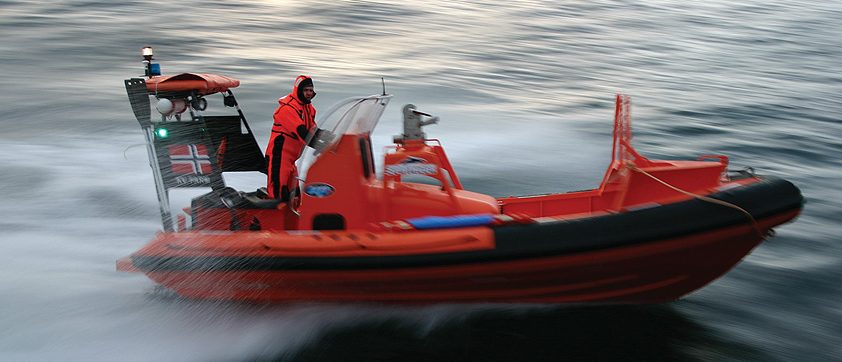 Sailing through
Established in May 1994, Maritime Partner AS is based in Ålesund, a city and municipality in More og Romsdal county, Norway.
It is one of the world's leading designers and suppliers of workboats, fast rescue boats, patrol boats and daughter craft to the international and maritime industries, as well as military and institutional users. Its market segments are the North Sea, the Far East, the Persian Gulf, Brazil and West Africa when it comes to the offshore industry, and some 1350 boats designed by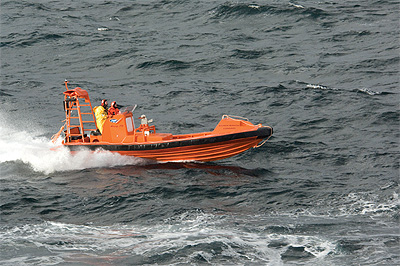 Maritime Partner are in service across the globe, with 2008's turnover reaching approximately NOK 225 million.
Ålesund is Norway's largest fishing harbour, forming the heart of a maritime community where ship owners and builders have worked alongside one another for generations. The city is a hub of activity in advanced ship design, shipbuilding and the manufacture of marine equipment. Maritime Partner, as with many other rescue boat manufacturers based in Norway, benefits from the country's major offshore industry and its maritime technology, allowing it to tap into a reliable base of experience whilst enjoying the benefits of international operations.
Marketing director, John Ivar Olsen, comments on what sets the company apart from rivals in such a competitive marketplace: "Our strengths can vary; mainly we have short delivery times, even when the market is booming, due to having several workshops. To a certain extent when we start to build the hull, we do so speculatively so that we are able to outfit the hull later according to a buyer's requirements."
Maritime Partner's vessels are predominantly built to a standard design alongside modifications that meet a specific customer's needs, such as diesel or water jet configuration. Although there is the option of commissioning a custom built ship, most designs are flexible enough to allow a range of different manufacturer configurations, with Volvo, Kamewa, Yanmar, Hamilton, MAN, MTU and Caterpillar combinations accounting for the majority of the orders. The company takes on board what its clients want, installing the engine and equipment they require.
In 1999 maritime partner acquired the highly reputable brands Alusafe, Seabear and Weedo, and the following year it consolidated and co-ordinated its range, resulting in over 50 different types of boats being made available to its customers. John comments on how the company's assortment of boats has grown: "Very often we start with a narrow range and during the process of meeting our customers' requirements our naval architects will come up with hulls that suit these specific needs bette than the solution we previously had. In the long run this gives more improved models in our range."
The boats vary from 5m to 25m and are built to comply with IMO regulations, as well as DNV and other classification societies. Since the acquisitions, Maritime Partner's sales have increased rapidly, creating a solid platform for continued growth in the future, particularly through the acceleration of fast, versatile safety craft for maritime security operations. "For us, 2008 was a very good year and already 2009 has been even better," John observes. "Of course there are challenges in store for 2010 and 2011; we must work harder to assess the market in order to overcome this. There is a wealth of possibility out there and it's just a matter of looking for potential opportunities."
Such possibilities are highlighted through successful deliveries, for instance for the Algerian Navy, on behalf of the Algerian Rescue Services, whereby Maritime Partner signed a contract in 2007 to
provide six Alusafe 2000, multipurpose, rescue craft. Three of which have been delivered recently and the remaining three are due to be ready in April/May 2009.
The craft is 20m long, built with accommodation for four crewmembers and a large number of rescued people. It is designed to undertake a variety of tasks in open sea and along the coastline, with equipment for towing, fire fighting, medical treatment, salvage and traditional sea-rescue operations. The Alusafe 2000 has two MTU main engines and a driveline fitted with Helseth Propellers. Designed to reach a top speed of around 30 knots, the craft are equipped with state-of-the-art equipment in communication and navigation, with a versatile design that can be adapted to numerous uses, as well as customised to any specific task. This contract, as with others, has strengthened Maritime Partner's worldwide position as a leading high-speed rescue craft supplier.
Other recently secured agreements include a deal with Nico Middle East Ltd, a highly reputed offshore ship owner in the UAE, to deliver three off-MP1111, a fast rescue daughter craft (FRDC) and three G-type davits of McGregor Hydramarine. Marine Partner has also agreed a deal with the same company to supply two additional davits for AHTS, which are being built in China, bringing the total contract value to NOK 19 million.
Overall, around 110 boats will be delivered to the offshore industry in 2009 and follow up of these boats takes first priority at Maritime Partner, which supports all Alusafe, Seabear, Springer and Weedo boats through its service stations in Norway, the UK, the Netherlands, Singapore, Brazil, Spain and Australia. Its relationship with customers continues for the lifetime of the boats. Lately there has been a trend, owing to increased focus from authorities, for more boat owners to return for service, parts or refurbishment of their boats to ensure that they are in top condition and fulfilling the authorities' requirements.
Only authorised service personnel undertake major service and renovation of boats at Maritime Partner because it is extremely important to take care of the structural integrity of any boat. Unauthorised restoration or changes to a boat will jeopardise the inherent safety in the design and void the approval of the boat.
In 2007 a Singapore office, Maritime Partner Asia, Pte Ltd was opened to take care of sales and service in Far East. Looking towards the future for maritime Partner, John continues: "We have enjoyed rather good growth over the previous few years and we hope to continue this through new developments, both in terms of concepts and fresh markets. We have an agent network linked to us, which is active in 15 or 16 countries at the moment, and we participate in exhibitions because we like to present what we do in the sector, which is even more important now given the current economic climate and its effect on the marketplace."
Maritime Partner AS
Services: Boat designer and supplier