Good communications
With approximately 1000 VSAT and 8000 Mobile Satellite Services (MSS) installations on vessels to its name, Marlink's reputation as a leading global satellite communications provider is certainly well recognised.
In fact, these figures translate into every fourth vessel sailing on the ocean today that requires some sort of satellite communication, carrying a solution from Marlink – a major feat for any business.
Norwegian-based Marlink was originally founded as part of Telenor Satellite Services, which was subsequently acquired by the private equity fund Apax to form the company Vizada. Throughout the company's 30-year history in this industry, Marlink has been at the forefront of pioneering developments, such as Inmarsat and VSAT. Inmarsat, or the International Maritime Satellite Organisation, was founded in 1979 as a not-for-profit international satellite communication company on behalf of the International Maritime Organisation (IMO). In 1999 Inmarsat became a private company divided into two parts – one a commercial business, and the other remaining a small regulatory body.
Today Marlink offers maritime customers a single source for a broad range of voice and data solutions. Across its wide range of satellite communications products and solutions, Marlink routes communications through its own international teleports to ensure superior quality, reliability and flexibility of service to its customers. These services are spread between two main technologies – MSS and VSAT. Effectively MSS is a pay-as-you-go service utilising small antenna onboard the vessels, whereas VSAT offers unlimited data usage for a fixed monthly charge.
"By offering both technologies, we are in a better position to actually provide the customer with the most suitable product for their needs. We try to understand our customers' communications needs, such as where they sail, how big the vessel is, how many vessels in the fleet, onboard space, and communications policy, and use these parameters to determine the correct solution," explains Tore Morten Olsen, CEO of Marlink.
One key concept that Marlink prides itself on is offering its customers a service, as opposed to just a product. This means that alongside the equipment itself, the company can set up a network, design an infrastructure, configure the system, and generally act as a one-stop-shop service provider. "Our differentiators are control, flexibility and support. Control is reflected in the fact that we own our own teleport stations enabling us to fully customise each network to the customer, as well as provide a reliable service. Whereas flexibility is based on the variety of different products we offer, such as Inmarsat, Iridium, and Thuraya MSS systems, alongside our own VSAT products," describes Tore.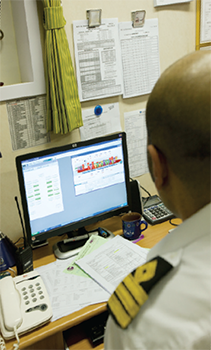 At the lower end of this product range is @SEAdirect – a full Ku-band VSAT product with entry level features and functionality, the system is comparable to an MMS product but with higher bandwidth and a fixed monthly cost. Also a Ku-band service, WaveCall is the company's mid-range product. Whilst similar to @SEAdirect, WaveCall has increased capabilities and functionality in terms of the network, service level agreement and quality of service. Finally, Marlink offers a high-end system, Sealink, which is fully customisable based on each customer's requirement. Primarily it is Sealink that is utilised within the oil and gas, and offshore industry due to the increased communication and data handling capabilities it offers, which in turn can increase the operator's performance and efficiency.
"Part of providing this type of service to our customers is to continue to improve our own operations and technology," highlights Tore. "Within Marlink we have an innovation team, which constantly tests new products, solutions, and efficiency tools that can enhance the customer experience. For example in the last 12 months we have carried out severe testing on several new products that have entered the market such as link optimisation technology. This basically involves placing a small box onboard the vessel, and another at the teleport, which makes it possible to improve the link performance by up to 90 per cent by compressing the data in a smarter way."
With major new contracts to its credit, such as a three-year agreement with Norwegian vessel operator DOF ASA, the coming years look promising for Marlink. "If you go back six years there were only approximately five real providers of maritime satellite communication services, whereas today there are up to 70, which shows just how much this market has evolved. More recently the industry faced the impact of the credit crunch, although in this down period we saw more postponing of projects than an actual reduction in activity. This means that we now see a lot of these things coming back into the pipeline as ship owners are more willing to invest again," adds Tore.
Despite this large influx of maritime satellite communication providers, Marlink is one of the few operating in the oil and gas, and offshore segments, due to the specialist and individual nature of this industry. As a result, operators are looking for a flexible and customisable system that meets 100 per cent of their needs, as opposed to a mainstream solution.
As new communication challenges such as increased bandwidth continue to surface, Tore concludes with his vision for the future of Marlink: "Our goal is to connect people and businesses at sea, and to grow the business in terms of both customised and standard solutions. We want to have a reputation as a serious provider in the delivery of communication systems to customers, and to gain new business whilst maintaining momentum with our current customers. As part of this, we pay close attention to advancements in technology and how we can use these to the benefit of our customers."
Marlink
Services: Maritime satellite communications