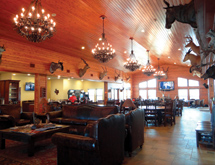 In more than 30 years of buying cattle ranches, Frank Malek never had anything quite like this.
Buck Horn Lodge, his newly completed lodge, boasts luxurious sleeping suites, a massive gathering room able to seat 100 people, state-of-the art kitchen and grounds that feature pavilions, barbecue pits, RV hook-ups, traps, skeet shooting, gun ranges, deer blinds and a pond stocked with bass.
It's one of the many residential ranches Corpus Christi, Texas-based Marshall Company has created amid the oil rigs of the Eagle Ford Shale.
The construction firm designs, engineers and builds the homes for use as corporate retreats, hunting lodges and expansive homesteads. Ranging in size from an ample 5,000 square feet to Malek's sprawling 18,000 square feet, the ranches Marshall Company has created differ from a typical country property because of their ideal use as an entertainment retreat for extended family, friends, clients and colleagues.
At Malek's ranch, business meets pleasure. Although he bought the ranch with the primary goal of raising cattle on it and continues to do that, oil and gas royalties from the land allowed him to shift his focus and build the hunting lodge of his dreams. He plans to celebrate his 50th wedding anniversary at the lodge, but even before it was complete, it attracted companies for their corporate retreats, game wardens who enjoyed the property with their families, church groups and even a wedding.
"It's an outdoorsman's paradise," he says. "It really has become something that is just unbelievable."
At the heart of the ranches Marshall Company builds are huge entertaining areas. The walls often display trophies from hunts on the property grounds. The ranch styles can be anything that clients request, from Southwestern adobe-inspired homes to Hill Country river rock.
Marshall Company customizes floor plans for client's unique needs. Some of the ranches feature a wing of bedrooms, remotely located from the owners' area. Other designs feature more privacy, with cozy two-bedroom cottages.
The larger residential ranches also have rooms customized for the owners' purpose. Malek added a gun room to house 100 guns and a specialized area for deer where spoils from a hunt can be cleaned and the meat processed.
"In a way, they are a residential project," Vice President Richard Dodson says. "They have bedrooms, kitchens and living areas. Some people do use these as their homesteads.
"Many of these projects go beyond that to incorporate commercial aspects, too," Dodson adds. "When you get a project on this kind of scale, it helps that we have both residential and commercial experience."
Marshall Company's ability to handle everything from capturing the owners' dreams during the design phase to the day the ranch is furnished helps ensure the project is completed seamlessly.
"We've found it helps our clients to have one point of accountability for a project on this scale," Dodson says. "You don't have to deal with your architect blaming the engineer or the contractor saying something is the designer's fault."
Landowners who have benefitted from drilling on their properties often choose to invest their windfalls in a ranch residence designed and built by Marshall Company. For those who use the ranches for business purposes, Marshall Company structures the contract to take full advantage of tax breaks.
"The ranches are something that will last long past the oil rig on their property," Dodson says.
Marshall Company's experience as a design/build for large commercial projects provides the ranch owners with advantages they wouldn't find with typical homebuilders or contractors. The company carries all liability insurance, ensures all labor is legal, and has a rich history dating back to 1931.
It's that reputation and history that attracted Malek to Marshall Company. "They had expertise in every area," Malek says.