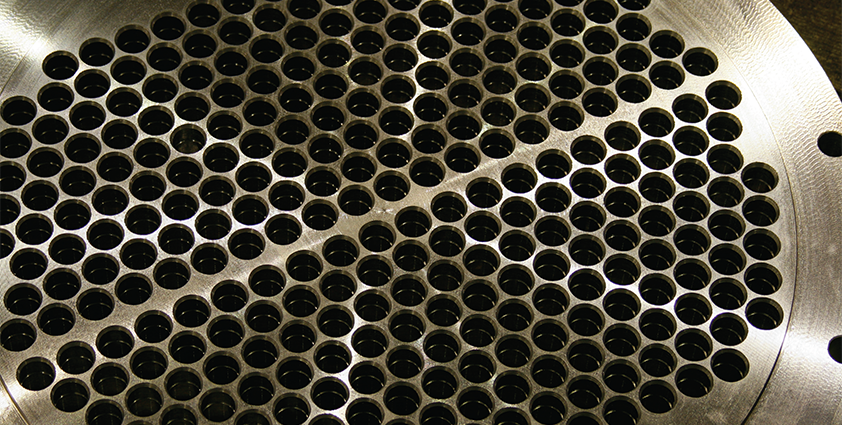 Martin Larsson Palsboda AB
Pressure management
From its early beginnings as a mechanical workshop with a focus on welding, Martin Larsson Palsboda AB has developed into an engineering company manufacturing pressure vessels and heat exchangers.
With over 70 years experience Martin Larsson is able to meet not only the needs of its clients but to incorporate these with industry requirements. Based in Sweden, the company's production plant has a capacity of 5500 square metres and employs 40 personnel. Martin Larsson operates as part of the larger Elajo Group which in 2010 had a turn over of approximately 100 million euros and 1000 employees.
Martin Larsson's products are used in a number of markets such as the petrochemical industry, nuclear power, offshore and other process industries. Mats Kaneberg, vice president and site manager of Martin Larsson, elaborates on the main client base: "Our key customers operate within the offshore and onshore petrochemical industries in Scandinavia – we work with all refineries in this area. With some of our clients we have agreements to be on standby 24/7 with consultation, repair and maintenance services. Many customers turn to us in crisis situations like sudden shutdowns and in these situations we never fail to provide a solution."
This close co-operation with customers is maintained from first enquiry to project delivery resulting in project-specific solutions and long-term client relationships. One of the founding aims of the company was to be at the forefront of welding technology, a vision which is still maintained today with Martin Larsson remaining abreast of new developments in welding methods and equipment. The strong team of experienced staff are able to work with all sorts of material including high quality metals such as super duplex stainless steel and titanium. Its prefabrication workshop is fully equipped with all necessary equipment including CNC machining, blasting, painting and metal cutting. Martin Larsson is able to provide a complete service from design to final installation across its entire product range which includes pressure vessels, shell and tube heat exchangers, columns, reactors, air-cooled heat exchangers and feed water tanks.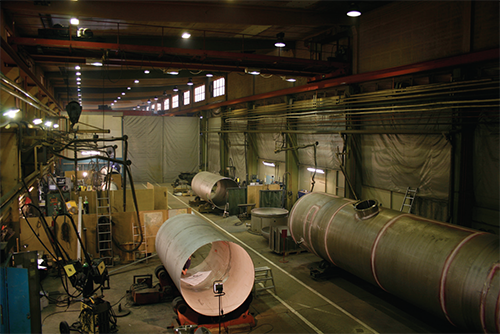 Research and development (R&D) plays an important role in the company set-up, with investment in new techniques and products meaning Martin Larsson is able to maintain its quality level as well as use its expertise and flexibility to create new solutions. Currently the R&D focus is on welding techniques, 3D applications and code developments. As well as product innovation, Martin Larsson also carries out R&D projects with clients, the most notable of which is the Ormen Lange project. Mats expands on Martin Larsson's role in this major contract: "The project is an R&D onshore venture that we are working on in co-operation with an engineering company and the end customer Shell. We produced some thick walled pressure vessels for the project. These will be used as part of the test to see if pressure can be applied down into the gas wells to obtain a higher yield of gas. Another example of a recent project is to produce a stainless steel tube bundle for Statoil, which had to be completed in a very short time scale. This is where our flexibility comes into play as we delivered the completed products only three days after receiving the order. Raw materials came on express delivery from England, to meet the short deadline.
Another major project underway is an energy saving scheme with one customer in the petrochemical industry. Mats describes the details of this innovative system: "First we went through the complete operations of one of the customer's plants and identified where energy savings could be made. We then drew up a five-year agreement to split any savings from energy reducing measures made in that time period. As part of this we, using money from the Elajo Group, funded part of a new plant, which incorporated energy efficient measures in its construction. After the agreed five years have elapsed, the customer will retain all of the energy efficient savings as well as the plant. Throughout the scheme our personnel will monitor the plant to ensure everything is running according to our predictions. This scheme is very beneficial for the customer and we can use our share of the energy efficient profits to fund the project. The Elajo Group operates a special department focused purely on energy efficiency and we are seeing across many of the groups' projects we energy saving schemes like this being implemented."
The global financial crisis has meant that many companies are facing an especially tough market – despite this Martin Larsson has used the challenges of the recession to strengthen its business. "The economic downturn has meant that we're seeing more smaller projects rather ukthan large scale schemes. We have used this time to focus on optimising every part of our business, such as recruiting personnel with specialist skills and increasing the expertise of our current staff like higher certification for our welders. Having optimised and strengthened our core business I believe we're now a stronger company then we were before the financial crisis and I think that customers' can see this not only in our quality and delivery times, but also in our prices," says Mats.
When it comes to the future Martin Larsson's focus remains on the onshore and offshore petrochemical industries particularly regarding the increasing environmental challenges. Mats concludes: "We want to be a major player in energy saving solutions and optimisation of clients' plants, including service and installations. We believe that project delivery is more than just the product, the services that come before and after installation are just as important. These projects often involve a lot of money so we want customers' to feel secure in using Martin Larsson and to trust in our ability to deliver complete solutions and quality products."
Martin Larsson Palsboda AB
Products: Pressure vessels and heat exchangers