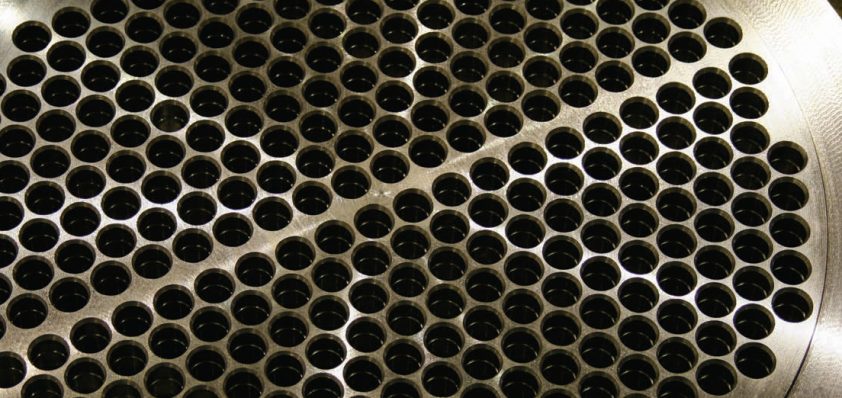 Strong relationships
Based in Sweden, Martin Larsson i Pålsboda AB has over the past seven decades evolved into an engineering company with extensive expertise in the manufacture of pressure vessels and heat exchangers.
Today the company's production plant has a capacity of 5500 square metres and employs just over 50 personnel. It offers the whole process from design through to finished product and installation and its manufacturing production area constructs high-quality pressure vessels, air coolers, columns, feed water tanks and tube heat exchangers. The company has years of experience
in delivering both large and small projects with demands for short lead times and challenging designs.
The company's founder Martin Larsson was born in Pålsboda in the early 1900s. Entrepreneurship was in his blood and as a young man he started a machine shop, with great ambitions for the future. He invested in modern equipment and his determination to think out-of-the-box meant that he often took on assignments where competitors hesitated. With long-term customer relationships as a solid foundation, he led the way for the Swedish welding elite. It is not for nothing that Martin Larsson has been called the 'welding professor' of Pålsboda.
To maintain the founder's vision to be at the forefront of welding technology, Martin Larsson remains abreast of new developments in welding methods and equipment. The strong team of experienced staff is able to work with all sorts of material including high quality metals such as super duplex stainless steel and titanium. Its prefabrication workshop is fully equipped with all necessary equipment including CNC machining, blasting, painting and metal cutting.
Martin Larsson's products are used in a number of markets such as the petrochemical industry, nuclear power, offshore and other process industries. It maintains a close co-operation with customers and this is maintained from first enquiry to project delivery, resulting in project-specific solutions and long-term client relationships. Research and development (R&D) plays an important role in the company set-up, with investment in new techniques and products meaning Martin Larsson is able to maintain its quality level as well as use its expertise and flexibility to create new solutions.
As well as in-house product innovation, Martin Larsson also carries out R&D projects with clients. One of its most notable contracts was on the Ormen Lange project. The last time that Martin Larsson was featured in European Oil and Gas in 2010 this major agreement, and another with Statoil was highlighted. The Ormen Lange project was an R&D onshore venture that Martin Larsson worked on in co-operation with an engineering company and the end customer Shell. Martin Larsson produced some thick walled pressure vessels for the project, which will be used as part of the test to see if pressure can be applied down into the gas wells to obtain a higher yield of gas.
The project for Statoil involved the production of a stainless steel tube bundle, which had to be completed in a very short time scale. This is where Martin Larsson's flexibility came into play as it delivered the completed products only three days after receiving the order. Raw materials came on express delivery from England to meet the short deadline.
As a result of working so closely with oil and gas clients, Martin Larsson's products can be seen in refineries, on oil platforms and in demanding environments all across the Nordic region. These components are backed up with the highest quality certifications, including ISO 3834-2, ISO 9001, ISO 14001, EN 13445, ASME and PD5500. Blue chip clients such as Alstom, Siemens, Aker Solutions, BP, Hydro Polymers, Radscan, and Nynäs regularly call on its services.
The company's environmental and quality activities are based on a policy of continuous improvement. This ensures both adherence to all legal requirements and the ability to always meet the requirements of stakeholders. As a result of these efforts, the company is able to address and anticipate the needs of its clients and to incorporate these features with industry requirements.
When Martin Larsson last appeared in European Oil and Gas it was operating as part of the Elajo Group, however in 2012 a new chapter began when HT Industries acquired it. This is a part of HT's strategy to broaden its business offering to include process industries and energy companies. Martin Larsson will join Saltängens Mekaniska under the HT Industries umbrella, but the companies will operate independently. Saltängens Mekaniska is an engineering company that specialises in the machining and welding of large structures.
When it comes to the future Martin Larsson will continue to focus on providing the best service possible to its clients in the onshore and offshore petrochemical industries – particularly regarding the increasing environmental challenges. The company offers a winning combination of morals, ethics and common sense, with knowledgeable and efficient production methods. This results in long-term customer relationships and profitability for both parties.
Martin Larsson
Services: Manufacture pressure vessels