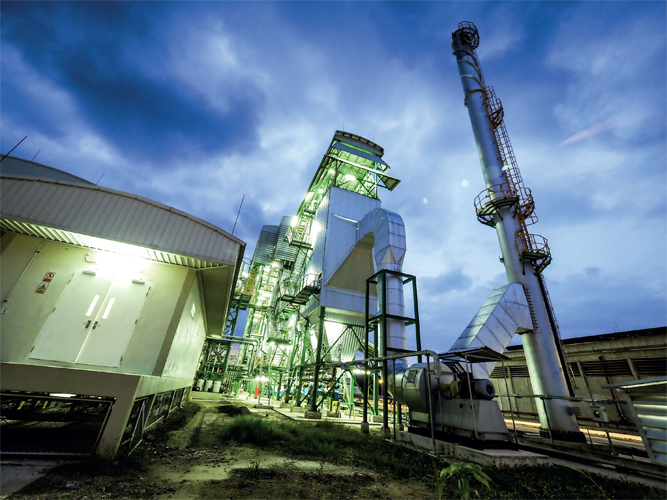 HOW SMART DATA CAN REVOLUTIONIZE THE ENERGY SUPPLY CHAIN. BY TOM FAIRBAIRN
Companies know the basics of storing, managing, and analyzing data – but how data moves is often still a mystery. Yet, real-time, efficient data movement is the key to most industries' operations – not least building and maintaining an efficient supply chain.
The movement of data which allows products to travel is an overlooked yet critical element of any supply chain, making IT infrastructure the heart of any supply chain and a key business differentiator. Nowhere is this more relevant than the energy industry. In fact, the World Economic Forum believes that digitalization holds a $1 trillion opportunity for the oil and gas supply chain.
Innovation in the supply chain can also contribute to another critical area for the energy industry: sustainability. Recently, Drax, one of the UKs largest energy providers, marked its commitment to renewable energy by modernizing its IT infrastructure to minimize the environmental footprint of its supply chain and energy production.
A zero carbon collaboration
Under the aegis of the UN's Sustainable Development Goals, we are witnessing many businesses pursue environmental CSR (Corporate Social Responsibility) policies. It is not surprising energy enterprises are leading this climb, with a crucial role to play in making the world a greener place.
For instance, energy giant Drax, responsible for six per cent of the UK's electricity, is attempting the largest decarbonization project in Europe. In 2021, Drax announced its intention to enable a zero carbon, lower cost energy future, aiming to be carbon negative by 2030.
In order to optimize its entire 'forest to furnace' supply chain and minimize the waste produced, both in terms of carbon emissions from shipping and biomass material loss, Drax needed to rapidly modernize its supply chain management processes.
It's all in the data
As part of its commitment to green energy, Drax was intent on maximizing the efficiency and environmental footprint of its supply chain and energy production. Operating an extensive biomass operation, supplying a portfolio of renewable electricity generation assets across England and Scotland, and orchestrating the transportation of wood pellets across the world, Drax required an extensive unification and real-time view of this data to help them create the most energy-efficient operation possible.
To do this, Drax implemented Solace's PubSub+ platform. Solace is an established leader in Event-Driven Architecture (EDA) which helps large enterprises maximize the value of their data to gain granular insight into every aspect of operations. Solace specifically played a key role in Drax's Data and Integration Hub, which ensured efficient data movement throughout the entire company. Unlike batch processing – where the data collected and stored is processed at a particular time – the event-based architecture of Solace's software allows Drax to monitor and react to 'events' that affect the business as they occur.
By using Solace's event mesh software, the energy provider will be able to surface data from across its entire digital estate in real-time. Drax can react to changes in its supply chain at a much faster rate, with data being surfaced from a range of sources, including Internet-of-Things sensors, its legacy IT infrastructure, and third parties such as shipping lines. This can then be used to dynamically manage demand fluctuations, storage and energy delivery.
Building with event-driven architecture
As climate change continues to spiral, it becomes even more imperative to optimize supply chains rapidly so larger corporations can swiftly go green and maximize their ability to reduce further environmental damage.
Data is a crucial cog in the supply chain machinery, and a proven way to use this data for good is through event-driven architecture (EDA) – the foundation of fast data movement.
EDA is a framework for managing the production, detection and consumption of events, where an 'event' is any identifiable change of state of the business. As a result, EDA can be used to streamline anything from the single pressing of a button to extremely complex operations such as capital market movements or the mass recall and redistribution of foodstuffs. Essentially, EDA allows all pieces of every supply chain puzzle to come together coherently, in real time. This is especially useful for energy providers that require immediate reactions to end-to-end procedures from initial electricity generation to final sales, to keeping customers happy. In Drax's case, the company was keen to optimize its own production and shipping of biomass compressed wood pellets, making supply chain optimization even more critical and EDA even more crucial to the goal.
The grass is always greener
In our extremely fast-paced globalized world, with extensive procedural requirements, consumer demands, and constant accumulation of data, optimization of data movement is even more mission-critical for each aspect of the supply chain cycle.
Without real-time data movement, consequences can be dire. Companies are able to efficiently manage their supply chain from beginning to end, wasting energy and resources along the way- damaging overall environmental footprints and attempts to form a greener world. If energy companies like Drax are to be as green and cost-efficient as possible, a real-time supply chain is of the essence, and EDA can help drive this forward.
TOM FAIRBAIRN
Tom Fairbairn is a Distinguished Engineer at Solace. Solace helps large enterprises become modern and real-time by giving them everything they need to make their business operations and customer interactions event-driven. Behind Solace technology is the world's leading group of data movement experts, with nearly 20 years of experience helping global enterprises solve some of the most demanding challenges in a variety of industries – from capital markets, retail, and gaming to space, aviation, and automotive.
For further information please visit: https://solace.com/