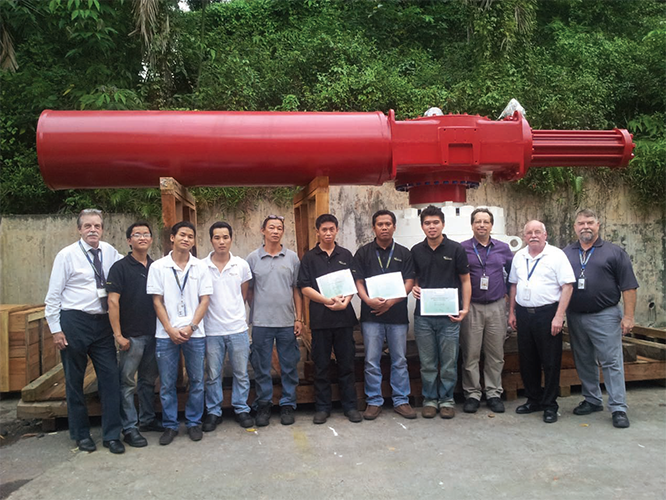 The full package
In 1981 Matco Asia was established in Singapore as the first Asian based valve automation centre for Bettis actuators, providing a comprehensive service of mounting, calibration and testing of valves and actuators.
With 32 years of experience in the oil and gasindustry, the company today is one of the leading players in the actuator and valve automation market, representing a network of professional supply, distribution and representative firms based in the South East Asia region. On top of this, Matco Asia is involved in the promotion and distribution of related equipment; engineering and supply technologies to industries including petrochemical, chemical, pulp and paper, water treatment and process industries.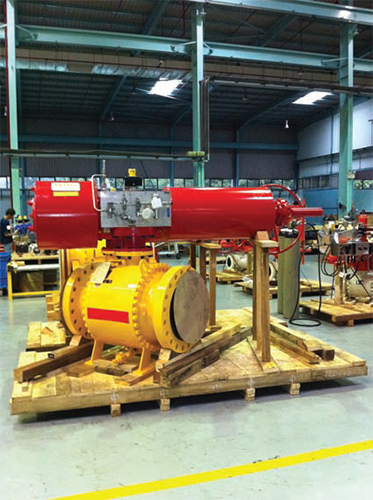 Previously in European Oil and Gas Magazine in December 2012, Matco Asia has enjoyed ongoing growth and success over recent years, with high levels of business and shipping resulting in record sales throughout 2011 and 2012. This growth is set to continue, as recentinvestments and ongoing training will enable the firm to take advantage of the booming oil and gas market.
In 2013 Matco Asia has been awarded several major contracts, including a three-year service contract with Petronas Carigali Vietnam (PVCL). Matco Asia has a long history of serving wellknown global oil and gas firms and boasts a 100 per cent successful project completion record since its inception. With decades of experience under its belt, the firm has a strong understanding of the dynamic environment its customers work in and therefore strives to deliver a fast response rate through unrivalled support and services. These include quickly assembled 'Tiger Teams' that are able to fly offshore or to customer sites to deliver high quality quickreaction support throughout SE Asia.
As the oil and gas industry continues to change, the company is determined to change with it through the provision of unrivalled support and services as well as continuous investment in its state-of-the-art facilities. Assuch, 2011 was an important year for the ongoing evolution of Matco Asia, as it not only marked 30 years of commitment to customers and partners in the oil and gas market, but also announced the company's relocation to new facilities at Joo Koon Crescent. This cutting edge building not only further cements the firm'sdedication to its customers and partners, but also strengthens its services through increased productivity and efficiency in the processes of assembly and production.
Following decades of building the foundations of its business, Matco Asia has developed a distinguished, widespread presence and excellent reputation for high quality, flexible, comprehensive services. This diversity isachieved through its affiliations with the Matco Asia Group, of which Matco Asia (Singapore) is its technical and commercial hub. Thegroup, which also includes the divisions Matco (Thailand) Co, Matco Asia Indonesia, Matco Asia Myanmar, Matco Malaysia Sbn. Bhd., Matco Asia Vietnam, Matco Asia Brunei and Matco Asia Pilipinas, gives Matco a competitive edge due to its expansive presence in the region.
Committed to complete customer service, Matco Asia represents a number of major brands in its portfolio; this includes actuators, valves, automation and controls, accessories and services. The actuators and the construction of control panels for said actuators is the company's main product line, with the portfolio for actuators including products from manufacturers such as Bettis, Shafer, Dantorque and Kinetrol. Meanwhile, its valves, automation and controls portfolio includes products from the likes of Tyco, Versa, Deltrol, Mercer Valve Co and Westlock.
Covering all core areas related to its product range, Matco Asia's comprehensive range of services includes integrated valve automation packages that are specially designed and assembled with efficiency to suit unique control loop requirements. These packages are fitted to valves before they are completely tested, calibrated and warranted by valve automation experts. Furthermore, the firm offers full maintenance and retrofit programmes that can be carried out at its cutting edge facilities.
Investments into a new site boasting an in-house, full service valve repair and testing facility and a world-class valve automation and controls facility have been complemented by the expertise of its employees. Technicians are trained at the company's facility in Singapore, where instructors use a curriculum of formal classrooms and on-the-job training provided by both Matco and its suppliers. By the end of December 2012 the firm had developed a pool of 40 certified technicians and has strived to double this number throughout 2014.
Dedicated to continuous growth and development, Matco Asia's strategic future plans include establishing a valve repair service at its state-of-the-art facility, which will further enable it to deliver more services and support to its customers in an efficient and timely manner.
Matco Asia
Services: Actuators, valve automation and engineering