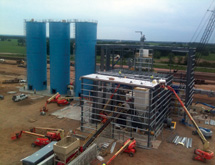 Material Handling Concepts
Founded in 2000, Material Handling Concepts is focused on exactly what its name suggests. The company's specialty is material handling engineering. It has origins in the oilfield and petrochemical industries, but it entered into the frac sand world in 2006. Ever since then, the company has been carving out a niche for itself in the market with efficient designs and unsurpassed service.
Over the past eight years, Material Handling Concepts (MHC) has designed 21 frac sand drying/screening and transload facilities across the country for various proppant companies. Among these are Hicrush Augusta, Hicrush Wyeville, Preferred (Blair, Wis. facility), Great Northern Sands, Southwest Energy, Chippewa Sands, Completion Minerals and Canadian Sand & Proppant. The company has taken steps to hone its designs to be efficient, modular and fully upgradable.
"As the designs evolve, we take steps to increase efficiency and pass the benefits and savings on to the client," says Ben Snyder, main principal and senior design engineer. "The goal is not only to provide the client with a design that meets their current specific needs but one that will enable the end user to flex and move with the ever-changing frac sand market. Our market is narrowing, and we want to position ourselves to have the most efficient, cost-effective design available."
Able to Evolve
Knowing that the frac sand market is ever changing, Material Handling Concepts makes sure that its plants have the capacity needed now and in the future. Its dry plants have capacities ranging from 50 to more than 450 tons per hour. The company is also pursuing work not only in the sand production market but also in the transload market. An MHC design just recently was installed this year in Gardendale, Texas with 1000 TPH capacity and 40,000 tons of storage.
In addition, the company is changing with the market by allying only with companies that bring the best equipment to the job. "We are interested in only the best products and service providers out there," Snyder says. "All-in-one packages are good for some clients, but rarely do you get the best of every product or service under one roof. Our relationships are made and maintained with only the client's interests in mind. We do not allow our relationships with any equipment or service provider to compromise our primary goal; if we endorse a piece of equipment or a service, it is because it works for our client."
This is something that Snyder thinks helps Material Handling Concepts stand apart from its competitors. A recent boom in sand has brought many options to the table for companies looking to invest in a frac sand plant. As a result, Snyder thinks it is important to understand a provider's history and main business, as well as recognize how long they have been in frac sand, if they have the technical know-how and whether they have satisfied clients and references.
"We ask our clients and prospects what they want us to provide, and we tailor our services for each client's needs. One size doesn't fit all clients. We can point to our position in the industry and show that we have the knowledge, experience, history and satisfied clients and references."
The Long Haul
Having designed 21 frac sand installations across the country – and with more slated for the near future – Material Handling Concepts will continue its commitment to personalized service while staying lean and quick. The company is not merely interested in short-term gain.
"We want long, mutually beneficial relationships with our clients," Snyder elaborates. "Our business structure is tailored toward absolute value to the client and total transparency on any project. There is nothing on a clients' project that they would question or disapprove of. We are not encumbered by obligations to others that do not bring value to our client's project."
He emphasizes his belief that it is critical for everyone involved on a Material Handling Concepts-designed plant to bring value to the project. "You want to end the project knowing the client will call you on the next project," he says.
Material Handling Concepts does not pretend to be what it is not, Snyder says. The company is not a one-stop shop that offers everything from project financing to retirement plans for employees, for example. MHC is an engineering resource for the frac sand market that taps from engineers with an average of 18 years of experience with material handling and eight years in the frac sand industry.
"We handle all mechanical and civil design," Snyder says. "Our relationships in the market give the client a wide choice of electrical, automation and construction options. We are dedicated to bringing solutions to the end-user with a team of the best in each of their fields. We excel at what we do because we love what we do."