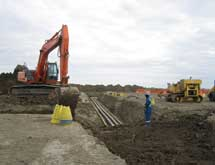 Maverick Oilfield Services Ltd.
A company founded with a single borrowed one-ton truck today has become a one-stop shop for oil and gas producers working in the oilfields of Western Canada. "After the service rig has left we're the ones you want to call," says Fred Reinbold, vice president of operations. "We can provide all the necessary services from that point." Maverick Oilfield Services Ltd's capabilities include pipeline and plant construction, structural steel and pressure pipe welding, excavating, maintenance, tank moving and providing oil well drilling fluids, according to Richard Dieser, vice president of field operations.
Brothers Mike and Craig Schnell founded Maverick as a maintenance operation in 1978 in Lloydminster, Alberta, with one truck, he adds.
Maverick moved operations to Macklin, Saskatchewan, in 1992 before settling into its main headquarters in Provost, Alberta, in 1995. A field office opened in Consort, Alberta, in 1993, and a sales office opened in Calgary in 1995. Another field office was opened in Grand Prairie, Alberta, in 2005.
Diverse Services
The Consort shop specializes in providing drilling mud and fluids to rigs, and the Provost, Calgary and Grand Prairie locations offer oilfield facility construction services and industrial heavy hauling services.
Construction services include installing steel composite and fiberglass pipes between 2 and 12 inches in diameter and building oilfield treating plants, battery sites and compressor stations, Dieser says.
Maverick's transportation division, based out of the Provost location, includes a fleet of picker, winch and other trucks including specialized trailers able to move heavy equipment including tanks between 400 and 3,000 barrels. The company also has a Hotshot truck available to deliver components such as pumps to rig sites.
Staying Busy
Maverick works with a number of oil and gas producers in Alberta, Saskatchewan and British Columbia including Husky Energy, Rife Resources Ltd., Crescent Point Energy Corp., Harvest Operations Corp., Pengrowth Energy Corp., Southern Pacific Resources Corp., Caltex Energy Inc., and Advantage Oil and Gas Ltd.
The recent rise in oil prices has led to an increase in work after a slowdown in business the last few years that caused the company to take a close look at its costs.
"There's been a definite increase in work, and we're looking forward to a busy year," Dieser says.
The company has seen a significant increase in the number of drilling rigs it services from the Consort office, Reinbold adds.
Current and recent projects include pipeline construction in Saskatchewan and Alberta for Petrobank, Rife Resources, Surge Energy, NAL Resources, Enermark and Capio Resources Ltd.
On the transportation side, the company has been hauling multiple tanks ranging from 750 barrels (BBL) to 2,500 BBL to various areas of Saskatchewan, Alberta, and Western Manitoba. Earlier this year Maverick hauled four 2,000-barrel tanks – each measuring roughly 23.5 feet in diameter and 28 feet high – from Battleford, Saskatchewan to near Fort McMurray, Alberta, for Athabasca Oil Sands Corp. The journey covered a distance of more than 800 kilometers, Reinbold says.
Maverick emphasizes meeting environmental standards on all of its projects. "We want to go in to a site, do our job, and leave no trace," he adds.
All of the company's projects reflect a strong emphasis on quality and safety. Maverick's quality management program includes product training, safety training and training in specialty work including working with composite and fiberglass pipes, Dieser says.
The safety program earned the company a Certificate of Recognition (COR) from Alberta Human Resources. In addition, the company has in the past been recognized as a top safety performer by Work Safe Alberta, a provincial initiative dedicated to reducing work-related injuries, illnesses and fatalities.
The company is certified by the Alberta Government's COR program.
In addition, Maverick was awarded CORs from the Saskatchewan Workers Compensation Board in 2010 and 2011.
Maverick's quality management program is certified in Alberta, Saskatchewan and British Columbia, the company says.
Building from Within
Employee training plays a large role in building the skill set of Maverick personnel. Dieser says the company's staff plays a large role in distinguishing it from other companies.
"In our industry, the norm is that the work force is very transient; Maverick has strived to build from within," he says. "Many of our people have been here multiple years, started on the ground floor and worked up."
Dieser and Reinbold are examples of the company's emphasis on employee development and advancement. Dieser started with Maverick 18 years ago as a laborer, while Reinbold started his career as a truck driver.
Reinbold attributes employee longevity to the company's family oriented atmosphere. "We're a mid-sized oilfield service company … we can provide plenty of work, but we keep a small family mentality and treat our people right," he says.
Maverick has also worked closely with the Alberta apprenticeship program, and is able to offer new employees several different career paths in trades including steamfitter/pipefitter, welder, mechanic and boom truck operator. Dieser himself is a product of this training, having completed the steamfitter/pipefitter program and obtaining the Canada Red Seal, giving him interprovincial status.
Dieser and other Maverick employees have also been recognized by the Alberta Construction Association for achieving top marks in the province of Alberta in the technical training portion of the apprenticeship program.
"It was a huge honor for myself to achieve the award, and it meant even more watching some of the people I work with at Maverick achieve the same level of excellence," Dieser says.
"Maverick encourages all of our people to strive for the best on the jobsite and in the classroom."
Maverick also believes strongly in giving back to the communities it works in. "Having long-term employees means maintaining long-term ties to the community," Dieser says.
"We encourage our people to be involved in the community."
Maverick's community activities include involvement in a local Kinsmen Club. Through the club, employees were recently involved in raising funds for new soccer fields and athletic facilities in Provost. The company also supports a number of local charities and minor hockey teams, Dieser says.
Maverick recently donated the use of one of it office trailers to be used for the construction personnel during the construction of a new arena in Provost. "We were happy that we could help the community with the completion of such an important project," Dieser says.
Building Relationships
In addition to long-term employees, Maverick also enjoys longstanding relationships with many of its suppliers and customers, including Canadian-based machine supplier Wajax Corp.
"They sold us our first tracked excavator 15 years ago and have sold us every one since," Dieser says.
Other long-term suppliers include Dutchman Equipment, Gregg Distributors and Northwest Crane.
"By maintaining strong long term relationships with our suppliers, we know we can count on them when we need them, and that helps us to make sure our clients are looked after," Dieser says.
The company continues to build partnerships. Maverick recently started to work with Almont Energy Inc., distributing scrubber units for use in oil patches, he adds.