Tradition of excellence
"What really differentiates us from many of our competitors is the fact that we can offer a true "turnkey service," explains Russell Ward, managing director at MB Engineering Services Ltd.
"We have a team of highly experienced engineers capable of assessing a project and carrying out integrated engineering design work including modifications, and we have the capabilities to procure, project manage and fabricate. It really is a total turnkey package that we offer from start to finish regardless of size, cost or type of project, and very few of our competitors have this capacity."
Today MB Engineering Services is a wholly owned subsidiary of the Motherwell Bridge Group – a name that holds a reputation as one of the UK's leading engineering companies. With more than a century's experience, Motherwell has been responsible for engineering and constructing some of the world's most prestigious and imposing process plants. Throughout its history the organisation has maintained its vision that the customer's needs are paramount, and as such has combined a flexible, technically innovative approach, with high levels of engineering competency to provide a totally integrated range of engineering services and products.
As managing director, Russell aims to maintain the high standards that have been synonymous with Motherwell over the last century: "The company's history can be traced back around 110 years, and the name is extremely well-know in the industry. MB Engineering is the UK subsidiary of Motherwell Bridge, but the emphasis is very much on keeping the Motherwell name alive. I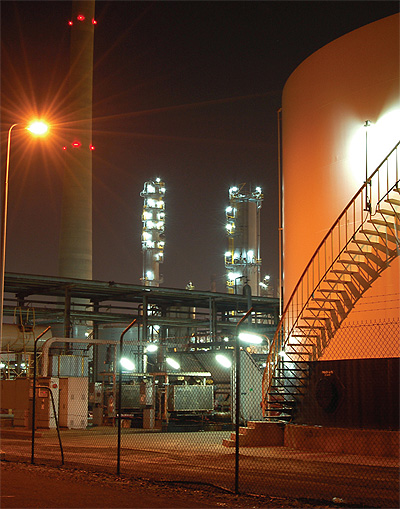 think this is important because the history and experience that exists throughout the entire company is a real differentiator for us, and places us as one of the recognised market leaders."
MB Engineering's mission is to provide a safe, quality controlled, cost-efficient and dedicated engineering service that is tailored to meet the specific demands of individual clients. As such, the company offers a range of capabilities that includes integrated engineering design, construction, maintenance, shutdown, and project works services, establishing a proven track record for providing niche solutions to both on and offshore clients. The business has carried out projects that range from £1000 through to £17 million, including managing and executing maintenance work, piping installation, large storage tank facility projects, gasholders, heat exchangers, and turnaround and shutdown programmes.
Russell elaborates further on the company's operational capabilities: "Presently MB Engineering is made up of four principal divisions – the Project, Turnarounds and Maintenance Division, Storage Tank Division, Heat Exchanger Division, and fourthly, the Plastics Division, which is predominantly involved in GRP and GRE bespoke products. All of these operating units are heavily orientated towards the oil and gas sector, but are also involved in other markets, including the chemical, petrochemical, and power industries.
"Essentially our clients can use us in two ways," he continues. "Firstly we can be a term contractor, which means that we work with them for the duration of a project. For example, in many terminals and refineries we have a two or five year contract that has a roll-on option. Alternatively, we can be used very successfully in an open tender type contract along with other contractors."
MB Engineering's Project, Turnarounds and Maintenance Division is involved in all aspects of mechanical project work, ranging from manufacture to construction through to the installation of process plant machinery. Each project is managed by a dedicated team of qualified and highly experienced personnel that has direct access to all of the technical and engineering resources available at the company. In addition, the company has two specialist subdivisions – BJ Construction and MB Refractory – that offer dedicated niche services.
The company's Storage Tank Division, which with more than 70 years experience is recognised as a leader in its field, carries out all aspects of storage tank provision and maintenance work. Typically this includes detailed tank inspection followed by specification and recommendation of work required, planning and preparation of budgets, the supply of necessary personnel, and the management of other sub-contractors. With a dedicated in-house design and engineering team, the division has proved its expertise in operations worldwide, including working with fixed and floating roof tanks holding more than one million barrels of crude oil.
Servicing the needs of clients' pressure system equipment, MB Engineering's Heat Exchanger Division offers repair, replacement and maintenance solutions to offshore oil and gas platforms, oil refineries, process plants, power generation facilities and petrochemical plants worldwide. Through working with many of the industry's leading company's, including Apache North Sea, BP Exploration and Production, CNR International, Total, Aker Kvaerner, Venture Production and Kerr McGee, the division has built up in-depth experience in completing successful operations in particularly harsh environments.
As Russell explains, close customer co-operation is an important factor in the company's success: "A lot of what we do is built on trust between the customer and ourselves. In a large number of cases these clients have worked with us for a considerable amount of time, and as such they know exactly what we can deliver, and the quality with which we deliver it. We have been operating successfully for 110 years in this manner, and we want to continue to ensure that our clients have real confidence in us as an entire team."
In any operation MB Engineering Services considers the health, safety and welfare of its employees and its clients to be of paramount importance. As such, the business regularly invests in, and improves its procedures and principles. Russell explains: "A large sum of our annual budget goes directly into improving our HSE practices. We have just recently invested in a web-based health and safety system, which ensures that all incidents, reports and procedures are captured on the web very quickly. More importantly, it allows all of our employees to have easy access to our procedures, policies, method statements, and risk assessments on projects and clients, through the same web-based programme. This information can be instantly accessed, which in turn has considerably raised the entire level of health and safety awareness throughout the business."
Considering the future growth of the business, Russell explains that there are firm plans in place to extend the company's services to new areas: "In growing the business we are looking to capture more of the emerging independent markets, including the alternative energy, waste management and recycling sectors. Importantly, in expanding I believe that we have a lot of engineering, design and manufacturing skills that are easily transferable to other sectors, which will be extremely beneficial.
"The opportunities for success in these new areas look extremely good. It is something that Motherwell Bridge has been involved with in the past, but now we intend to add more materials handling and process engineering services to the existing solutions to really offer a true turnkey capability. Fortunately, we are able to draw on our considerable expertise within the Motherwell group of companies to easily put these new services together. Ultimately, we have been progressing very successfully in recent years, and if we can maintain the strong reputation of the Motherwell Bridge name, I am positive that we can continue to be a leading engineering services provider that adds real value to any project," he concludes.
MB Engineering Services Ltd
Services: Engineering, project management and construction services