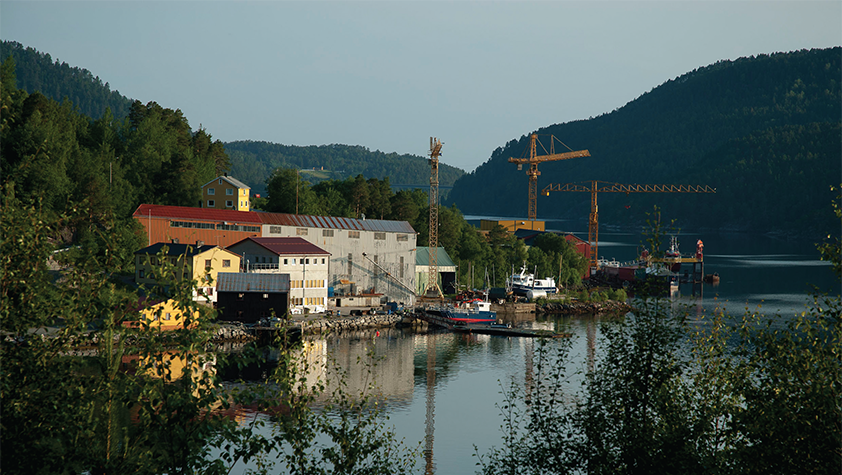 All hands on deck
MB Hydraulikk is a leading designer and producer of lightweight deck equipment for clients in a number of areas including the energy industry, seismic survey, Norwegian Navy, rescue services, and fishing.
The business has its origins in the Mjosundet Båtbyggeri (Mjosundet shipyard), which was established in 1922 to build wooden fishing boats for the local fishing industry.
From these origins MB Hydraulikk moved into designing and producing aluminiumfishing boats in 1975, followed by various aluminium deck machinery from 1976. While the company's range of products may have developed throughout its history, one factor that has remained consistent is MB Hydraulikk's dedication and strict vision of always manufacturing the best possible products in terms of quality, reliability and capabilities.
A result of this dedication and commitment to quality is that the business has become the main supplier of deck machinery in the Norwegian market for ship owners and manufacturing yards, which require both heavy-duty reliability and lightweight quality combined. Much of this comes from the company's manufacture of aluminium products, which is sea resistant, has a high degree of functionality and has avery long life that can be obtained through low maintenance costs.
Having such a long history means that MB Hydraulikk has acquired considerable experience throughout its business, with its highly skilled engineers and workers contributing significantly to its success. For example, the company's design department consists of well-qualified engineers and designers that have extensive experience of the marine industry, as well as producing aluminium and stainless steel equipment for use in harsh conditions and demanding environments.
In order to adhere to its strict quality standards MB Hydraulikk uses the latest 3D design software in co-operation with its clients throughout the design process, which means that they can have an input into the product and give assessment and final approval prior to execution. As the equipment will ultimately be facing the extreme conditions that are common in the Norwegian marine industry, MB Hydraulikk carries out strength analysis of complex 3D models in ANSYS professional. This allows its engineers to ensure that all of the necessary strength requirements are met, while the equipment maintains the lightweight qualities that are expected from machinery by MB Hydraulikk.
Similarly, the business employs a mechanical department that consists of a highly motivated and qualified workforce that has extensive experience in the production of equipment in aluminium and stainless steel. This team is housed in a modern and well-equipped machining department and production workshop featuring state-of-the-art CNC machines as well as other modern, efficient equipment.
As already mentioned, MB Hydraulikk works with clients in a number of different sectors, a good example of the versatility and strength of its business. For example, the company has worked with the Norwegian Navy for some years, supplying missile rocket ramps and general deck machinery for its new ultra-high speed MTB's. In addition it provides equipment such as deck cranes, A-frames, mooring capstans and cable winches for mine hunters and mine sweepers.
The company's work with the Navy provides a good example of the quality and reliability that potential customers can expect from MB Hydraulikk. For example, recently the Navy returned a series of cranes that the company manufactured in 1991-1995 for modernisation so that they can have an additional 20 years' lifespan. The cranes themselves were still noted to be highly functional and simply need new components in order to maintain availability of spares.
In terms of oil and gas or offshore work, MB Hydraulikk predominantly works with seismic/geophysical companies designing advanced offshore cranes (5t at 15m knuckle boom design) that are used for buoy handling, tailored for RXT and use very low weight aluminium winches for cable handling on small workboats for changing cable sections at sea. Also in this field MB Hydraulikk offers deflector door davits, gun winches, and lightweight 15tm cranes for handling gun arrays on shallow water seismic vessels.
Naturally, the quality and reliability of MB Hydraulikk's products is well recognised by ship builders and designers, and accordingly the company is the first choice for many of the main shipyards in Norway building high-speed passenger vessels. MB Hydraulikk's standard range of products for this market consists of anchor winches, mooring winches, mooring capstans, MOB cranes, MOB davits and thrusters. These are all manufactured from aluminium and stainless steel and certified to the highest standards, class societies and NORSOK.
Some of the company's most recent work has been for use in the subsea market, where MB Hydraulikk has designed and manufactured an advanced launch and recovery system (LARS) for observation ROVs. This particular product is based on MB Hydraulikk's long experience of designing marine equipment in aluminium and represents a unique, compact and lightweight LARS on a 20-foot container skid footprint. Weighing in at just 9.5 tonnes (excluding payload of umbilical, TMS and ROV) the lightweight LARS consists of a complete unit that includes winch, crane, HPU and control system. Furthermore, due to its standard 20 foot ISO container format the product is very easy to handle, can be transported easily by train, ship or airplane and is available for fast mobilisation, worldwide and due to its 'plug and play' format the LARS is ready for use very simply.
The product uses a crane not an A-frame as may be expected. This has a 360-degree slew and 70-degree vertical boom operation, which provides a number of distinct advantages. These include a larger and more flexible working area both towards deck and sea, safer launch, recovery and landing on deck, docking in and out at sea level thus reducing the risk of the ROV crashing into the ship and increased ROV operation time due to overall better handling in rougher seas. Both the crane boom and umbilical winch of the LARS are controlled by the AHC (automatic heave compensation) system, which compensates for ship movements relative to the seabed.
This product represents a unique system in the market, and one that perfectly demonstrates the skills, technical capabilities and quality of MB Hydraulikk's engineering and manufacturing teams. With the LARS, as well as its offshore cranes and winches, the company is confident that it will continue to work with established names in the offshore sector, as well as attract new clients that are looking for products that can be relied on and represent the highest standards of quality and innovation.
MB Hydraulikk
Services: Lightweight deck equipment