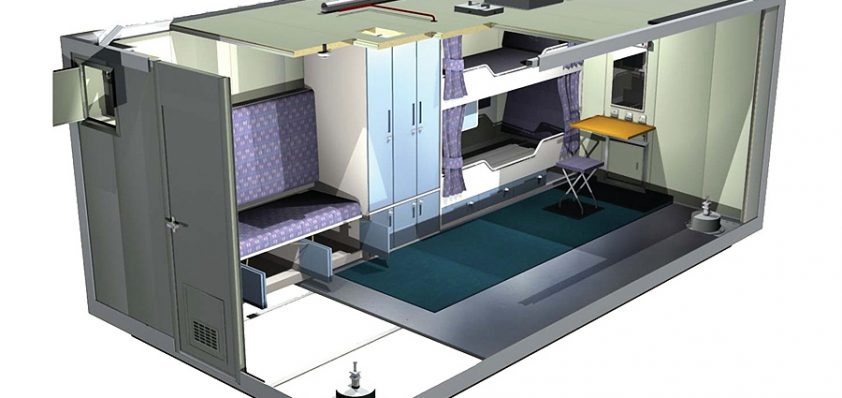 All Mod Cons
Bespoke plug-and-play accommodation solutions with a multidisciplinary approach, to suit each client's needs and requirements are McGill's core business.
Established in 1972, McGill Services delivers a comprehensive range of services to its customers within the marine, petrochemical and offshore markets. Its clients include blue chip companies such as Shell, BP and ConocoPhillips to name but a few.
In recent years, its business has developed to become a specialist in the manufacture and provision of modular accommodation units. Employing over 200 people globally from its base on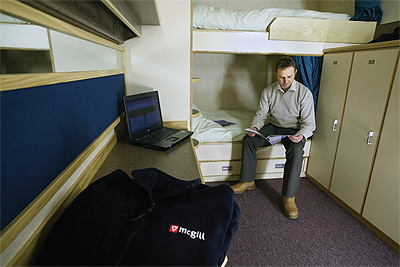 Teesside, McGill is able to offer its customers the design, supply and installation of offshore and marine architectural outfitting packages, thermal, fire and acoustic insulation, HVAC systems, modular accommodation units, offshore and marine accommodation refurbishment, and deck coverings.
In December 2007 McGill became part of the Hertel group, an international services company with over 10,000 employees, to complement Hertel's Defence and Offshore business. The acquisition increased the amount of services and knowhow that both companies have to offer their customers.
Sales and marketing director of McGill, John Griffin, describes the company's strength in its vastly experienced people: "We can offer our clients a complete project from initial feasibility to delivering the finished product, on time and on budget. Our range of products and services includes a pre-fabricated cabin that comes completely ready for use, just plug in and go. The cabins are completely fitted out with insulation, all electrical and plumbing connections to one service point and all furniture required to make the 'living space' both functional and comfortable for the user.
"This concept has been around for a long time, since we developed our pre-fabricated cabin in 1994," he continues. "However, it continues to develop with the more and more stringent requirements specified by our clients, and the accommodation areas have become increasingly comfortable. Gone are the days when offshore life meant a basic living space. Nowadays many engineers are choosing which job to take based upon the level of accommodation offered, so this means that if you want good people you need to have an excellent standard of living accommodation.
"In addition to the modular cabin side of the business we offer complete turnkey living quarters. We recently designed and supplied the temporary living quarters for the BP Valhall project. This consisted of the design, engineering, supply and fabrication of 11 fire rated modules approximately 6 metres x 6 metres. The project consisted of ten four-man accommodation modules and a 40-man locker room with washroom facilities. The accommodation was built to a very high standard and complied with the Norwegian NORSOK specifications. The success of this project was achieved with close co-operation with our clients."
John goes on to describe more of the company's operations: "Another successful project for us was the Regalia project. This was won initially by our parent company Hertel Defence and Offshore
in Rotterdam whose client, Keppel Verolme, Rotterdam, secured the contract from the owners of the vessel Prosafe based in Aberdeen. The contract entailed the design, construction, and installation of some 98 two-man cabins into newly fabricated modules. The cabins were fabricated in Middlesbrough and transported to the installation site in Rotterdam where Hertel and McGill personnel installed them into the steel structures with all services hooked up to the central services. In addition to the new cabins the existing accommodation on the vessel needed upgrading making it capable of accommodating 400 persons on completion.
"This comprehensive refurbishment programme began at our facility in Middlesbrough in July 2008 and culminated in the delivery of the cabins in December 2008. It represented a tight schedule but it was nothing that we are not used to. Once the cabins reached the Keppel Verolme yard the installation programme together with the upgrading commenced and will be complete in May 2009."
The philosophy of the plug and play cabins enabled this fast track project to progress at a much faster pace than a conventional operation as the cabins could be fabricated at the same time as the steel structures. When the steel was complete the cabins could go straight into position.
In line with the company's expanding business, it is McGill's intention to open an office in Aberdeen. John explains: "The new office is part of our plan for the future. We want to continue to develop our services to the offshore markets. We believe that to be truly part of the North Sea culture we need to be committed to the Aberdeen area.
"Through our worldwide group of companies we are able to offer a unique range of architectural products to the industry such as B15 partitions, linings and ceilings. Our range of furniture offers European quality and excellent pricing which makes our offers more competitive to our customers without compromising on quality or delivery. Furthermore, having our own range of products means that we can control and optimise the entire process right from the design phase through to the commissioning, and even the procurement of all the materials."
The current climate in the industry gives the business challenges to face, as John explains: "It certainly is a difficult time, but the majority of our work is either new accommodation or upgrades to existing accommodation. Most of the platforms in the North Sea have been in use for some 30 years and now require upgrading. Our experience will allow this work to be carried out with minimal disruption to the existing platforms."
John is confident of the company's future development and explains: "McGill Services is already one of the major contenders in the oil and gas industry accommodation market. This, coupled with the strength of the Hertel brand, will allow McGill Services to flourish and become the number one company of choice in the accommodation market. We are investing heavily in the future development of the pre-fabricated cabin as we really see this as the way forward and despite the downturn, we see great opportunities for McGill within the offshore industry."
McGill Services Limited
Products Accommodation solutions