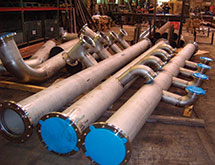 Three years ago, McKamish recognized an opportunity to become a more integral piece in its customers' operations. The company was founded in 1975 by Harold McKamish as McKamish Metals, a sheet metal contractor, but over the years it expanded its capabilities to become a one-stop shop for its customers' needs. In addition to metal fabrication, it established two other groups; commercial construction and a service group specializing in maintenance, modifications and management of various building systems. In 2012, the Pennsylvania-based company added Frank Zandier, a veteran of the power and industrial markets, to lead its power and industrial group.
"My objective for McKamish is to bring additional background and experience to support our power and industrial group efforts," explains Zandier, who serves as vice president. "The clients that we are serving and looking to serve with this group are not all new clients. Our specialty fabrication group has been providing their services for a number of years. What we are doing now is expanding our services to existing and new clients to provide specialty mechanical contracting in addition to our fabrication capabilities."
McKamish's move into power and industrial mechanical contracting is in direct response to the growing and changing energy market in its region. The company is headquartered in Pittsburgh and serves customers in the mid-Atlantic region, including all of Pennsylvania, Ohio, West Virginia, Virginia and Maryland. In Pennsylvania and Ohio, specifically, the states have brought new energy into the sector through the Marcellus and Utica shales. In fact, McKamish recently completed a project to fabricate and install launchers and receivers for a client working in Ohio's Utica Shale region.
Other potential projects for the McKamish power and industrial group include the gas conversion of existing coal-fired generating facilities and the new natural gas powered generation facilities that use the combined cycle technology. Zandier says this is an emerging market with many new customers, including some who may not be familiar with McKamish. The group continues to enhance its marketing activities and increase its visibility with the developers entering this nascent market.
"We've participated in the leading-edge of these combined cycle plants and we have provided our fabrication services to the shale gas market," Zandier says. "We are continuing to provide more of those services and [will] increase our market share in the shale gas business while establishing ourselves in other areas."
Although the energy sector is a major focus for McKamish and a catalyst for expanding its efforts, the company is also seeing strong growth in the industrial sector. In its first year, the power and industrial team was awarded two major contracts to fabricate and install equipment and approx. 250,000 feet of pipe and pipe supports at the new ATI facility in Brackenridge, Pa. It also participated in fabricating and installation of piping systems for a new coke oven battery at the U.S. Steel plant in Clairton, Pa.
The power and industrial group has a distinct role within McKamish while still operating as part of a larger entity. In fact, the operating mission is to maximize the potential of the fabrication group and further the McKamish objective to be a one-stop-shop provider.
To better support the power and industrial group, the shop has enhanced its capabilities with a new automated pipe-cutting machine and additional high-tech welding equipment. Combined, these produce quality fabrication consistent with various industry codes and standards.
"One of the items that differentiate us from other specialty contractors is that we do not have to rely on outside service providers for our specialty fabrication," Zandier explains. "Whether it's structural components, piping or pipe supports, we produce everything in our own fabrication facilities."