Top of the range
McNulty Offshore Construction Ltd is known as the UK's foremost offshore oil and gas fabricator.
Reputed to be an intelligent and innovative contractor, McNulty has grown and developed considerably since its 1906 beginnings as a small stevedore supply company to the Port of Tyne, to today being Europe 's number one FPSO/FPU topsides contractor.
The company prides itself on its flexible and innovative approach to contracting, which enables it to offer a wide range of construction solutions and services to its clients. The skills of its workforce, combined with its proven track record, ensures McNulty delivers its clients' projects on time every time. Safety is naturally McNulty's first priority in everything it does and it always will be. Safety considerations form an essential component of the company's working culture, and its reputation has been built on its safety performance to such an extent that in 2007, the business was awarded the British Safety Council Sword of Honour for the tenth consecutive year.
In February McNulty acquired leading manufacturer of offshore accommodation, Consafe. With over 30 years of experience providing bespoke modular solutions, Consafe offers a range of living quarters for utility and process buildings to onshore and offshore oil and gas clients worldwide. The acquisition means that Consafe is now able to use the McNulty deepwater fabrication facility. Consafe's buildings are designed and manufactured as a series of open structural modules that, when assembled, combine to form a fully integrated building. This approach allows the business to deliver entire buildings that have been fabricated offsite, with the minimum of onsite assembly work.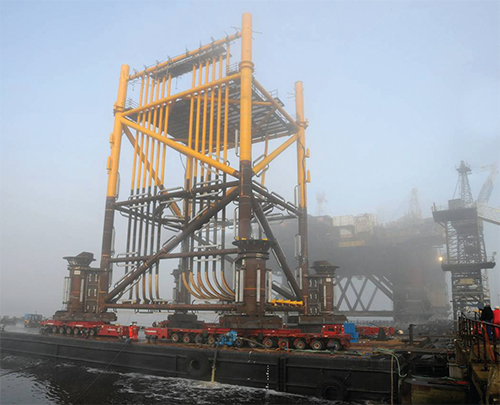 The key to McNulty's success is the control of its own fortune. The company achieves this by operating a completely multi discipline labour supply, which carries out over 90 per cent of the work during a project. Providing this service using its in-house labour force, McNulty ensures total management control and integration. As a result, the company has gained a valuable insight into what works and what doesn't during the various stages of a project.
The business has successfully integrated its personnel within its clients' project teams many times over the years and has participated and made significant contributions to several alliance/partnership projects. In fact based on this experience, the company is confident that its ability to deliver and provide services in strict accordance with clients' requirements has added value to the clients' supply chain.
The necessity of consistently meeting or even exceeding the requirements of clients cannot be over emphasised, especially in an industry where the impact of quality failure can have serious consequences. McNulty recognises that products must be designed, manufactured and commissioned strictly in accordance with a client's specified requirements whilst ensuring that they are fit for their intended purpose.
It is the general objective of McNulty to provide products and services that fully satisfy the required specifications and that all personnel have a responsibility to achieve the particular McNulty quality objectives as defined in McNulty's quality policy and the McNulty quality assurance manual. This reflects the appropriate quality requirements outlined in the BS EN ISO 9001: 2000 series of standards.
McNulty believes that its people are fundamental to the way it carries out its business, as they are at the centre of everything the company undertakes. They are key to the company's success and the business prides itself on the quality of individuals and teams, who are all committed to delivering the highest standards of quality and service to clients. McNulty believes that their professional fulfilment, their work/life balance and their ability to contribute as part of a diverse workforce is what makes them so important to the business.
Recognising that personnel competency is a critical factor, the company aims to support its personnel in everything they do, providing appropriate training and support. Being based in the North East of England, McNulty has access to the UK's largest pool of experienced oil and gas construction management, engineers and skilled labour. Identification and sourcing of human resource needs are managed directly by the company's HR group. Using a central database, the company is able to track a collective pool of local personnel availability. In order to maintain total project control, 95 to 98 per cent of all work is carried out on-site using McNulty's in-house labour. As such the company's diligence with regards to the continuous monitoring of competence and performance of both its own personnel and that of its sub contractors are second only to the safety of all concerned.
Over the last year McNulty has undertaken a number of projects globally, for companies including Siemens, Maersk and Texaco. As it moves forwards, the company will now focus on green energy, developing combined heat and power units to offer environmentally friendly solutions to its customers.
McNulty Group
Services: Topsides contracting