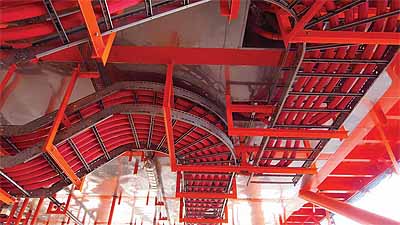 McPEC Marine & Offshore Engineering Pte. Ltd
In-house solution
With years of experience in delivering engineering, procurement and construction (EPC) projects and modern solutions to clients operating within the oil and gas, power and marine sectors, McPEC Marine & Offshore Engineering Pte. Ltd. (McPEC) has a proven track record in the delivery of EPC projects.
These include:
Modular steel structures
Electrical power and control buildings/EHouse
Pre-fabricated sub-stations; power generation modules; emergency diesel generators
Water treatment plants
Utility modules
Heating and cooling medium modules
Pipe manifold modules
Water injection modules
Workshop buildings
A60/H60/H120 blast and fire proof buildings
Laboratory buildings
Helifuel packages
Special structure fabrications and living quarter modules
The company was founded in response to an increase in activity within the oil and gas market and has grown to represent a leading supplier ofEPC solutions. "Before the company was started, I worked for another oil and gas company for a number of years, doing work similar in nature to what McPEC is doing now but on a smaller scale," explains Managing Director Jonathan Lee. "Then in 2006 we founded McPEC when we saw an opportunity in the market where the oil price was beginning to pick up and there were a lot of jobs to tender."
Specialising in electrical power and control buildings/E-House, McPEC has the capacity, skilled manpower and facilities to design and fabricate large structures that include complete equipment packages including switchgear, motor control centres, power transformers, variable frequency drives, integrated control and safety systems (ICSS), uninterruptible power supplies (UPS), telecoms, distributed control systems (DCS), heating, ventilating, and air conditioning (HVAC) and fire and gas systems (F&G). The McPEC Singapore fabrication yard comprises 30,000m2 of open yard area; 210 metres of sea front access for load-out; and water depths of between three and five metres, that allow the yard to load-out modules up to 2000 tonnes; as well as berthing capacity for flat top barges, floating crane barges and tug boats. McPEC is able to provide a full suite of engineering services to design, construct and supply custom built modular buildings designed to customer's specifications and requirements.
During August 2015, McPEC announced the completion of a significant EPC contract to design and build the Kraken mega E-house for a floating, production, storage and offloading (FPSO) vessel destined for the Kraken oil field, one of the largest subsea oilfield project within the British North Sea, together with ABB Singapore. As the largest E-house to be constructed in Singapore weighing 1560 tonnes, the Kraken mega E-house itself will contain the Kraken FPSO's electrification and automation systems, including medium and low voltage switchgears, transformers, variable frequency drives, UPS, ICCS, HVAC, F&G systems and electrical monitoring and control systems. The Kraken FPSO vessel is owned by Bumi Armada Berhad, a Malaysia-based international offshore oilfield services provider, representing one of the largest FPSO players in the world with assets in operation across Asia, Africa, and Latin America. Commenting on the main features of the project, Jonathan says: "The Kraken E-house is a heavymodule weighing around 1560 tonnes. It is 27 metres tall and has a fairly large footprint of 23 metres by 18 metres. The unit will be deployed in the UK North Sea, which is a region that has very stringent operating condition requirements, so the module was produced to very high specifications, including the stringent UKCS regulatory standards. The construction went well and was completed on schedule. It was actually completed in record time and to a high standard. It was successfully delivered to the client on 3rd August. To give you an idea of the scale, there were approximately 90 km of cable laid within the unit as well as approximately 280 pieces of automation equipment."
Further to the completion of the Kraken mega E-house project, McPEC is currently working on a second mega E-house project with ABB, this time for Block 15/06 in Angola. "This module is of a larger size than the Kraken E-house, it weighs around 1700 tonnes and has a foot print of 28 metres by 23 metres and is some 16.7 metres high. We are quite proud that by the end of 2015, we will have built the two largest E-houses in Singapore," Jonathan says. Indeed over the course of almost a decade in operation, McPEC has established a trusted and leading reputation through the delivery of solutions and equipment for respected industry players, including ConocoPhilips, Bumi Armada, ABB, ExxonMobil, Saipem, ESSO, BP and Apache to name a few.
"We enjoy a very good reputation among oil majors and our clients know that we deliver on time and at a high quality. The company's biggest strength is its engineering capacity – McPEC is one of the few companies in Singapore that is capable of a full package of services, from engineering design to procurement to construction and fabrication. This gives the company a competitive edge because by having a design capacity in-house, we can optimise the fabrication process and ensure the control of overall quality," Jonathan elaborates. "Presently the global problem of low oil prices has resulted in a more subdued market. We are maintaining our position in active markets such as Vietnam where there are still ongoing projects and we will try to be more diversified over the coming months to see what we can do for other business areas. We do not expect the market to pick up significantly over the next 18 months, but we also feel that companies with a strong background and reputation can still come through strongly," he concludes.
McPEC Marine & Offshore Engineering Pte. Ltd
Services: Engineering, procurement and construction contractor
Issue 125 October 2015