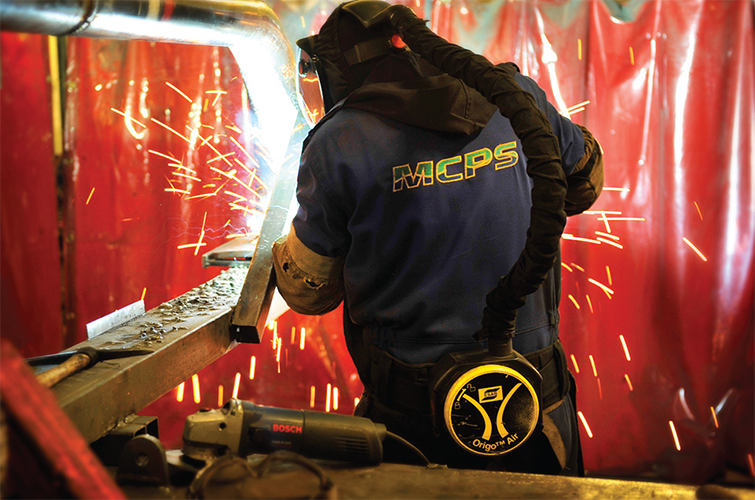 Protecting offshore assets
Founded in 1999 by its owner and Managing Director Glenn English and based in South Shields, MCPS Ltd initially provided corrosion control systems to the local shipping industry when shipyards on the River Tyne were in abundance. Since that time MCPS has grown into one Europe's major players in the supply of Galvanic Anode Catholic Protection systems for corrosion control. "MCPS now boasts over 15 years of manufacturing and design experience in providing comprehensive cathodic protection (CP) and marine growth prevention systems (MGPS) to the marine; offshore oil and gas; offshore wind farms; and marine civil industries," elaborates MCPS Project Manager, Robert Forsyth. "MCPS' core business is to produce CP systems for corrosion control of submerged steel structures which consist of aluminium anodes, zinc anodes and magnesium sacrificial anodes.
The company's anode manufacturing facilities consist of a foundry and head office located in the North of England. MCPS is ISO 9001:2008 and ISO 18001 accredited and manufactures in accordance with NACE SP0387-2006 and DNVRP- B401. Furthermore it also holds DNV type approval for its aluminium alloy 'A Guard'."
Customers ranging from corrosion companies to major European energy operators use the products supplied by MCPS across a broad base of applications. These include corrosion control solutions for submerged assets such as jacket structures for production and accommodation modules; offshore wind turbine and substation foundations; offshore pipelines; offshore manifolds; subsea structures; flexibles and FPSOs. Recognising the need for the highest standards of quality within the offshore environment, MCPS ensures that the products it supplies are fully accredited and tested, as Robert explains: "Everything that we supply to the offshore industry is provided with full 3.1 certification including 100 per cent spectrometer analysis of all of the melts our products are produced from as well as electrochemical testing and destructive testing when required. Furthermore MCPS is presently the only European manufacturer with DNV type approval to the most recent DNV test utilising an actual anode. Previous type approval test requirements were of small samples proving MCPS as a market leader.
"As well as being a manufacturer MCPS also offer a full technical support from NACE qualified cathodic protection technicians. Where some foundries outsource a lot of fabrication MCPS have a highly qualified experienced fabrication and production team, which makes us a 'one-stop-shop' for our clients. The MCPS inspection team has recently increased in numbers to ensure our product is of the highest quality for our clients."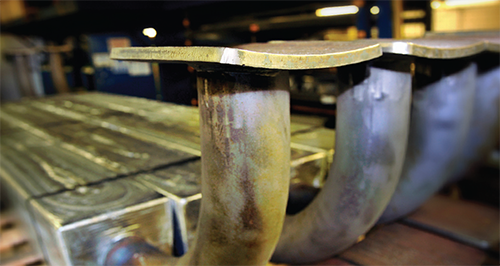 Further to its growing inspection team, MCPS is in the process of increasing its machine capacity, staff level and facility square footage in response to increased activity within the offshore wind market, including export contracts valued at £2 million for two large European wind farms. "Due to current works awarded and with Round 3 offshore wind currently gathering pace it is our intention to invest in a new premises and new machinery to increase our capacity to service the market and our clients," Robert says. "We have recently been awarded large contracts to supply the Galvanic Anodes for the Wikinger and Burbo Bank OWF's. It is key to the business to secure such large contracts and it is also good for the UK economy and North East England as a whole to see works placed within the UK for UK wind farms, such as Burbo Bank, producing new job opportunities for the North East of England. As well as offshore works we are currently supplying large harbour extensions – supplying over 100 tonnes of aluminium sacrificial anodes for corrosion control of the harbour steel foundations in the next six to eight weeks with other harbour supplies expected on the horizon."
While MCPS has profited from the application of its products within the renewable and harbour sectors, the drop in oil price has had an inevitable impact on the number of projects going into operation in the oil and gas sector, as Robert reveals: "Market conditions remain tough and we as a company have seen a decrease in supply to the oil and gas industry due to current low oil prices. Luckily the offshore renewable market has resulted in MCPS being awarded large projects however due to other works being cancelled/postponed the market has become extremely competitive which we must adapt to by streamlining our production processes to ensure we remain competitive."
However despite the challenges of the present market, MCPS remains highly active and optimistic about the future. Indeed the company is in the midst of preparations for future expansion to new clients and new markets, as Robert concludes: "Over the next 12 months myself and our Managing Director Glenn English will be concentrating on setting up distribution in various countries throughout the world with the aim to expand the business globally securing the long term future of the company. As well as concentrating on distribution we have a keen eye for the offshore market. Corrosion costs the US economy $278 billon a year. Over one third of these costs could be prevented through existing technologies like sacrificial anodes. Prevention saves lives and valuable resources that could be better spent on other things and this can also be reflected into the oil and gas industry."
MCPS Ltd
Services: Corrosion control systems
Issue 125 October 2015