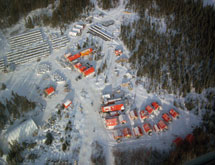 It takes experience to be a successful mineral exploration company, and Mega Precious Metals Inc. has the expertise needed to succeed. A Canadian mineral exploration company, Mega is committed to an accelerated growth strategy and strategically advancing its projects in Red Lake, Ontario, Manitoba and Nunavut to create shareholder value.
"Our biggest strength is the experience of our management team," President and CEO Jim Rogers says. "We have an extensive mining background, which helps us to look at what we have and what we think we have and reverse-engineer our projects to make successful mines. Our focus now is on putting resources toward our projects to get them to the proper economic threshold."
Exploration and Development
The company has been known as Mega Precious Metals Inc. since it changed its name after Mega Silver Inc. and Skybridge Development Corp. combined operations in 2009. Currently, Mega has two active projects underway – one in Manitoba and another in Red Lake, Ontario. In addition, Mega holds four other prospective projects in Ontario, Manitoba and Nunavut.
Monument Bay in Manitoba is Mega's most advanced project. It includes 18 mineralized zones that are open for expansion and more than 30 new regional targets. In 2012, Mega has a 25,000m drill program planned to expand current resources and test new regional targets, and it has commenced an old core assay program (OCAP) to assay more than 30,000m of historic core between high-grade veins. Monument Bay currently holds an open pit and underground resource of 1.05 million measured and indicated ounces (2.50 g/t Au) and another 1.73 million inferred ounces (3.78 g/t Au).
"Resource growth and regional potential is the main focus of Mega exploration in 2012; most of our capital this year is going to the Monument Bay property," Rogers says. "We believe we're sitting on a huge gold system, and enhancing our valuation in Monument Bay will show just how much potential we have. Our vision for Monument Bay is a large economic open pit and underground mine that could support a production rate of greater than 200,000 ounces per year."
The North Madsen project in Red Lake, Ontario, includes the Laverty E. My-Ritt and Skookum properties. The North Madsen project is a near-surface quartz tourmaline and shear hosted Archean gold deposit next to past-producing mines. North Madsen holds more than 930,000 measured and indicated ounces (1.24 g/t Au) and more than 379,000 million inferred ounces (1.03 g/t Au).
"North Madsen is another active project, and we're on way to proving its potential," Rogers says. "The goal is to expand our holdings around the project."
Mega is discussing with adjacent companies the possibility of consolidating additional land around the project. Mega's goal is to develop North Madsen into a 200,000-ounce-per-year-open-pit gold-mining operation.
Other prospective properties held by Mega to be advanced at a later date include Domain, Headway, Satterly and Blue Caribou. The Domain project in northern Manitoba is a joint venture with New Dimension Resources. Mega owns 65 percent of the project, which has seen three drill programs completed since 2006.
Mega acquired the Headway project in 2009. It includes six patented claims and one unpatented claim on 320 acres. The company has been using the latest in deep drilling technology to unlock high-grade opportunities.
Satterly is a grass roots exploration gold project where the company is working to identify mineralization pockets. The Blue Caribou exploration project in Nunavut is owned and operated by Mega's wholly owned subsidiary Skybridge Development Corporation. Skybridge outlined an estimated resource of 2.8 million tonnes.
The Big Picture
As the company works to prove the potential of properties, it has its sights set on needed steps as projects are developed. Particularly in Manitoba, much of the infrastructure to get metals to market is in place or under development.
"We've already set up a seasonal air strip at Monument Bay, and we may have to build some more roads and airstrips in the future, but everything is coming together," Rogers says.
Health, safety and environmental are all part of the same package for Mega, which does everything it can to make safety its first concern.
"People need to go home scratch-free every day, so we encourage people to speak up," Rogers says. "With the environment, we've been doing baseline environmental testing because we care about environmental issues and work to be at or better than the standards. All of this is part of doing business the right way."
Other priorities for the company include providing training, mostly on site, to its employees, many of who are members of First Nation communities. The company is also investing in equipment to support and reduce costs at property sites, everything from fan boats and backhoes to ATVs, diesel generators and pellet stoves.
The main focus for now is on getting drilling projects done and continuing to develop partnerships with First Nations communities. Government relationships are also important for the company, as they assist Mega with training and infrastructure development.
"The biggest risk for us is getting access to capital," Rogers says. "Once we can show the potential of the ounces in the ground, it will enhance our access to capital. Over the next year, we will prove up our deposits and the district potential, which will be huge for us." EMI