Scaling new heights
Megarme, which was founded in 1993 in the UAE, is a specialist rope access solutions provider that offers turnkey inspection, repair and maintenance services to clients throughout the Middle East.
The company currently operates from offices in Dubai, Abu Dhabi and Qatar, covering the wider GCC through agency agreements, and it has plans in place to open a fourth facility in Saudi Arabia in 2014. Megarme serves clients through two distinct divisions – the access division and the inspection and engineering division.
This year marks Megarme's 20th anniversary, and as managing director Billy Harkin explains, it has built a strong reputation based on a number of key factors: "Reliability, quality and safety," he says. "We have consistently been delivering project after project on time and to budget for two decades now and our clients know that they can always rely on us to get the job done. We have always been a strong brand synonymous with these qualities, but it was a management buyout in 2006 and the subsequent setup of the divisional structure in the business that has allowed the group to achieve the considerable growth that we've had, and to position ourselves as a leader and innovator within our chosen industries."
Throughout this more recent period, Megarme has aligned its objectives and consolidated its business in order to achieve continued growth. Importantly, as Billy explains, the business has built longstanding relationships with clients, a factor that he earmarks as important to the company's success. "We have seen a lot of competitors come and go during this time, but I believe that clients want to deal with an organisation that they can build long-term relations with for many years to come.
"We have ensured excellent client retention within all sectors, which historically are shipyards, rig operators, asset owners and construction companies who have to work within tight timelines and budgets," he continues. "We represent a one-stop-shop for all of their work at height requirements, which not only means single source contracting for ease of business, but results in other benefits, such as huge cost savings, a lower headcount on site, one time mobilisation/demobilisation and less bed and deck space required offshore. We always work closely with our clients to meet their objectives and understand their needs in terms of their main drivers, so time, money and quality."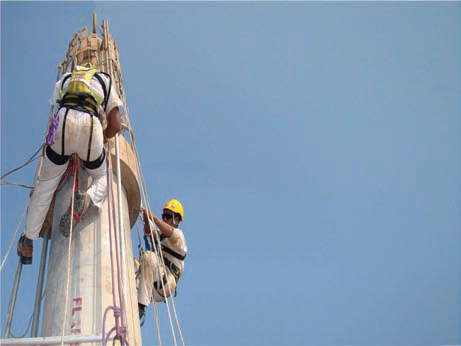 Operationally, each of the company's two divisions provides distinct advantages to clients. "The evolution of our access division has meant that we now look at complete access solutions from a 360 degree perspective," says Billy. "Our philosophy is simple, we try to cater to the complete access requirements of our clients. So, that means consulting with them to ensure they are always getting the best solution. For example, we can facilitate a turnkey solution to even the most complex access challenge, whether it is conventional rope access, tension net and deck systems, training solutions, or even a hybrid of all of the above. In conjunction with this we can also provide all of the trades and disciplines required to execute any job scope, and can also allow third party services to gain entry and egress the area if necessary."
Megarme has invested considerably in its inspection and engineering division in order to construct and approve an RT bunker facility that would position it as a first tier inspection and engineering contractor. "This is a mandatory requirement to store and transport the isotopes necessary to carry out radiographic testing, which is one of the NDT disciplines required under the long-term inspection contracts in our region," highlights Billy. "The process took some time and investment for the construction, as well as the stringent new regulations that were being implemented by the newly formed Federal Authority for Nuclear Regulation (FANR), but since then we have secured a couple of long-term inspection contracts with Occidental in Qatar and Total ABK in Abu Dhabi as well as other work with international and local EPC contractors."
Megarme is highly reputed for its safe, reliable and high quality approach, a reputation that the company maintains through stringent training at its own state-of-the-art facility. "The Megarme Training Center (MTC) is located in Dubai Investment Park and is the best of its kind in the region," Billy adds. "It is an 18 metre high facility that caters to the highest IRATA standards and can be used for basic or bespoke WAH training packages."
Although Megarme has only been operational for two decades, Billy admits that further growth is high on the agenda. "As we approach the halfway mark in 2013 our main focus is that we stay on track to achieve our ambitious growth targets, whilst staying within our budgets for the year. As mentioned, we are opening our new office in Saudi Arabia in 2014. Its a huge market and a notoriously difficult one to penetrate, but the regional knowledge that we have within the GCC gives us a huge advantage to overcome the many challenges that are inherent with operating a specialist services company in this part of the world.
"We are also being presented with increasing opportunities in North and West Africa, which are being explored, and we have had a JV in India for the last two years as well. Also, we work in the Caspian region through our partners there, mobilising projects in Azerbaijan and Kazakhstan, which are other growth areas for us. Ultimately we want to continue to innovate and grow at the trajectory we have been and prove our replicable business model works in a number of other countries in the MENA region. I think that the next decade will be very interesting, and we are poised to accelerate our growth and potential from the strong foundations that we have established over the last two decades," he concludes.
Megarme
Services: Specialist rope access solutions