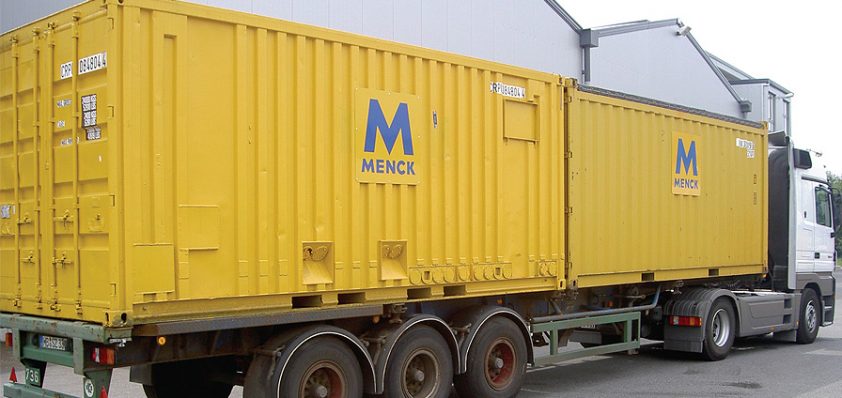 The rise of the gentle giant
Beginning operations as a Hamburg based steam and diesel shovel builder in 1868, the Johannes MENCK and Dietrich Hambrock founded MENCK & Hamborck GmbH has since developed its services and honed its expertise in the production, rental and sale of pile driving hammers to become a major global player in the oil and gas industry operating as MENCK GmbH today. Discussing the game-changing milestones in the company's history that were a catalyst for its success over the last 140 years, Fabian Hippe, MENCK's Director of Sales, begins: "Our work began in a backyard and it was here that we developed the first steam-powered mobile vertically standing boiler unit, which was used for a piling rig in 1871. This was a key moment for us, as we introduced the first semi-automated piling rig to the market and it is still the same principle that we use for our customers today, albeit a more updated and modern version.
"Following this development, excavating machines were our core business until themid 1900s, when in 1937 we introduced a product portfolio to the market that consisted of excavator machines, steam and electric driven piling rigs and steam and diesel hammer systems. Since then piling systems have become our main service offering, and it has helped that this business segment has been part of MENCK since day one as we have gained revenue and a strong reputation from this."
Acquired by UK based Acteon Group Limited in 2003 to compliment its focus on subsea engineering solutions in the oil and gas market, MENCK today prides itself as an expert in the specialist field of offshore pile driving thanks to its strong engineering knowledge and beyond 40 years of project experience in this sector. Known for product quality and reliability, the innovative firm offers a wide range of pile driving sets with hydraulic hammers from 100 to 3500 KJ. However, keen to use this long-term experience in a beneficial way for customers, the company has developed a more market facing approach to contracts and closer relationships with clients throughout projects. "Our customers are mainly within the oil and gas and renewable sectors, but we also provide services to civil works as well in terms of bridge and harbour developments," notes Fabian. "Because we don't have a manufacturing client all of our parts are procured from the market while all of the design, assembly and testing is done in German Headquaters near Hamburg. It is important to note, however, that in our core, we are a highlyspecialised engineering company; though, our primary interest is in supporting and sharing risk through contribution in all areas of a project rather than leaving a system with a client and letting them run with it."
A recent project for the company involved supplying the world's largest hydraulic hammer to assist Bilfinger Marine & Offshore Systems with the installation of subsea foundations for Project Sandbank, a new 72 turbine strong windfarm located in the North Sea. Known as the 'Gentle Giant', the MENCK MHU 3500S hydraulic hammer exerts a massive 6.2 KJ per tonne of weight, with a pile sleeve that has a diameter of 6.5 m. It also has a proven higher maximum energy output than any other hammer in the world, but is also two to three db quieter than other hammers within MENCK's portfolio, thus ensuring the MENCK MHU 3500S contributes to all environmental protection requirements.
"This hammer is by far the largest in the market today. It stands up around 21 m above ground in the vertical position and weighs approximately 580 tonnes in air; it is an incredibly heavy machinery which has been setup in a way that logistical as well as maintenance challenges contribute to the overall service solutions provided. Components for this hammer were procured as far away as Japan; these parts were delivered to the port of Hamburg where we pre-assembled and tested the system before delivering to the Sandbank project within its very tight timeline of less than 12 months. The kit has been delivered well in advance to the project startand pile driving began in early June 2015."
With this major project a huge success, the company is now focusing on building a second unit and has secured work for both hammers throughout 2016 and into 2017. "We are in a favourable situation as this hammer is a crucial component for the latest developments in the offshore wind segment and the installation of these monopile foundations," confirms Fabian.
To complement these positive developments, the company will continue to attend events such as OSEA and the Offshore Technology Conference in Texas, which it attended in 2014 and 2015 so new and existing customers could find out valuable information on its innovative portfolio. "Although MENCK is a fairly small company, due to the technology we create and the exposure of our projects we are quite well-known within the industry. Nonetheless, the number of clients we interact with is not substantial so exhibiting is really about having an area that our customers can interact with us as well as providing a crucial networking opportunity for potential new clients," says Fabian.
In addition, the company will focus on growing its core business through the provision of mature services and mature consultancy to ensure the optimisation of overall processes when its systems are being used. "We will try to reduce our overhead costs that are directly associated with our undertakings by optimising the handling of our systems or supporting our clients in any way that delivers a direct cost reduction to our clients," concludes Fabian.
MENCK GmbH
Services: Hydraulic impact hammers
Issue 125 October 2015