An integrated approach
Previously operating under separate brand names within the Mermaid Maritime Group, Subtech in West Africa and the Middle East, Zamil Mermaid Offshore Services in Saudi Arabia, Seascape Surveys in Singapore and Indonesia, and Mermaid Offshore Services in Thailand, Mermaid Subsea Services (MSS) was established in 2014 when the four subsea units were integrated as one.
"Mermaid Subsea Services (MSS) is a key member of the well-established global oil service specialist and Singapore SGX-listed Mermaid Maritime. The Group supports the offshore oil and gas industry by providing subsea, which is where MSS fits in, and offshore drilling services. Through its diversified portfolio of 13 owned and chartered subsea vessels, specialised diving equipment, remotely operated vehicles, drilling and accommodation rigs, Mermaid Maritime boasts a proven track record for subsea and drilling oil service excellence, having served the industry for over 30 years," begins Hans Huijkens, Business Development Manager at Mermaid Subsea Services.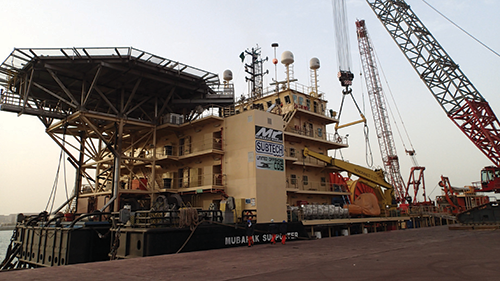 Discussing the reorganisation of operations within Mermaid Maritime, Hans adds: "The once diversified group holdings in Thailand, Asia and the Middle East have been consolidated into a single seamless turnkey service offering providing existing and prospective clients with a one-stop-shop service to meet all of their subsea needs with a specific focus on EPIC (Engineering, Procurement, Installation & Commissioning) projects. In realising this goal in the final quarter of 2014, Mermaid Subsea, today, operates as a unified structured unit across markets, offering customers a comprehensive range of subsea solutions through a highly competent technical and operations workforce."
With a strong blue chip client base MSS has gained a strong foothold in China, Russia, the Middle East and Indonesia, where it is most active, as Hans notes: "Current valued clients by region are Aramco, Saipem, Maersk Oil and Gas, Total and LS Cable and Systems in the Middle East. In Asia, obviously Chevron, CUEL, PTTEP, PTT, PTSC, COOEC, Romona, and Mubadala are our most valued and in Russia we highly value Sakhalin Energy and ENL. The Middle Eastern operations are extremely busy at present and this area has proven to be a wise and stable choice given the current world market volatility."
A recent major project for the company has been in Qatar, where it has been installing two 100 kilometre-long circuits of 132 kV cables for efficient electric power supply from Ras Laffan Industrial City to Halul Island. "The 132kV cable comprises three core power cables with embedded fibre optic cables to transmit 100MW power in total," states Hans. "Throughout this project, MSS was responsible for carrying out pre-lay grapnel run (PLGR) cable one and two, cable stabilisation at crossings with concrete mattresses cable one and two, cable midline jointing and deployment of cable one and two and installation of concrete mattresses for the unburied cable sections." Following this work, MSS was awarded a contract to install approximately 6200 metres of articulated pipes to protect and stabilise the installed cables in the shallow water shore end sections in both Halul and Ras Laffan.
In addition to this project, MSS also successfully completed a scope of work for the Hasbah & Arabiyah offshore and onshore facilities project in Saudi Arabia in 2015. The contract included the transportation and installation of approximately 155 km of 15 kV submarine power cables as well as the installation of 13 umbilicals and two flexibles.
Discussing the reasons behind the company's success in its core business areas, Hans says: "It is not just the comprehensive range of subsea services that the group offers but most importantly the never ending quest to do so with adherence to the highest industry standards and to this end MSS is a full member of the International Marine Contractors Association (IMCA) and is committed to providing a quality service in a safe, efficient and professional manner." Indeed, to ensure optimum safety, efficiency and quality, the company has also achieved DNV certification and accreditation for ISO 9001:2008, ISO 14001:2004 and OHSAS 18001:2007, which has further enhanced the quality of service guarantee that Mermaid Maritime stands behind.
This commitment was recently recognised by CUEL for the outstanding safety contribution made by MSS's Thailand team following seven million man-hours offshore without a day away from work incident. "This safety record has been accumulated over an eight-year period from 2006 – 2013. Considering that the record is unblemished in 2014 and 2015 this phenomenal effort looks set to keep on improving – and long may it do so!" highlights Hans.
Although the market is anticipated to remain challenging throughout 2015 and 2016 due to a depressed oil price, MSS will continue to thrive in areas such as the Middle East where it has seen strong demand for new development, IRM and brownfield modernisation/enhancement works. "MSS have strong relationships within this region as well as a strong track record in completing similar works; the company is also uniquely placed to undertake shallow water flexible and cable lay work due to the specialist nature of our long term chartered vessel the 'Mubarak Supporter', which is capable of laying product in less than five metres of water. We see this as a large growth sector in the coming years," concludes Hans.
Mermaid Subsea Services
Services: Leading diving and subsea solutions provider
Issue 122 July 2015