Professional partner
Increasing numbers of manufacturers of vehicles, vessels, and cranes, machine builders, and end users are looking to Metagro as their professional partner.
Over the last two decades the company has become a specialist in the development and construction of high quality operator cabins, housings, containers and sound reducing solutions. During this time Metagro has also developed its offering into the field of offshore operating environments and housings.
"What we see today in our field of working is that most companies operate on a reactive basis, which means they respond only to client requests. At Metagro we tend to look beyond this at the actual desire or requirement of the client and then develop a cabin or housing solution that fulfils this," describes Andreas van Meeteren, who is responsible for sales at Metagro.
"Due to this proactive working method, our expertise is now being asked for more and more as a strategic partner to our customers. So whilst in the past we may have only been asked to deliver purely a container, today we are being asked to equip this with all the necessary components, lighting, cabling, air conditioning, and other facilities," he continues.
As a supplier of one section of a larger vehicle or system, the adoption of a goal-focused working method is a relatively new concept in this market but one that Metagro has seen readily accepted by its customers. As dictated by these clients, the company has the capability to deliver everything from just a cabin or housing through to a completely plug and play, certified DNV-container.
"We are not the only manufacturer of these products on the market," reflects Andreas. "Therefore we have to distinguish ourselves in terms of the quality and customisation of our solutions. For example, traditionally the industrial sector has been focused on functionality of components such as operator chairs, but as the market has developed further, clients continue to want that functionality but with a high-end finish as well. Based on customer comments we saw a niche in the market for a high functionality, high quality operator chair at a reasonable price, and so have formed a partnership with a Dutch chair manufacturer to deliver this."
In much the same way, the vast majority of work undertaken by Metagro is for custom or tailor-made cabins, although it does also offer some standard systems, 3D models for which the company has made available for free download from its website. "This is something that is uncommon in the cabin market, but makes sense since most of the time our clients want to have a rough 3D model to start with and then to think about the details," explains Andreas. "Another way in which we work to help the client is through the use of standard components for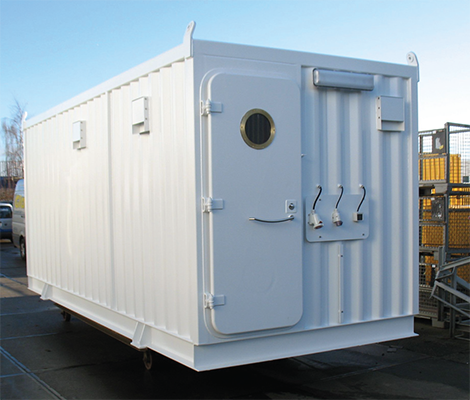 things like climate control. We are aware that our customers are working in a global market, and therefore should they have a problem shouldn't only be able to call us to get it fixed. We use component manufacturers which are situated all over the world, and therefore customers can easily get local support wherever they may be. We don't only want to deliver the cabin itself, we also want to assist with the complete lifecycle of the system as well."
As an organisation, Metagro has always pursued quality, continuity, and customer satisfaction. In light of the changes taking place in its marketplace, in 2010 the company set in motion plans to become a more professional supplier taking on responsibility for the whole job. "Nowadays clients are increasingly looking to work with professional partners for cabins in order to minimise problems and improve quality. We have brought together a group of our own suppliers, which means that we can offer advice and support our clients more strongly in achieving their end goal," elaborates Andreas.
Furthermore, earlier this year Metagro also introduced a new quality management system, which assures that all agreements with customers are fulfilled. This system has since been reviewed by Bureau Veritas, and awarded ISO 9001:2008 accreditation. "We are currently in the process of looking for a new and more modern operating facility," adds Andreas. "It is our aim to bring together all of the different areas of the business from sheet metal work to spare parts under one roof. By moving towards a new lean manufacturing structure we will be able to produce more cabins, and more complex solutions in the future. As part of this development, we are introducing a new spare parts capability which will allow our clients to log in to a web-based system with their own data and easily order spare parts as and when they are required."
Like many businesses, the crux of Metagro's future strategy is growth. The company intends to see itself positioned as one of the larger cabin and housing suppliers in Europe, which is known for its innovations and trend-setting methods – a vision that Andreas notes relies on greater market recognition: "In order to be able to keep on offering flexible solutions at the right prices we need to be operating on a larger scale. We are already very strongly positioned in the Dutch market, and have recently established a German subsidiary which will allow us to be in closer contact with our German-speaking clients and develop even further. Beyond this we are looking towards expanding our activities in the UK and Scandinavian markets for example, so over the next few years we believe Metagro will become a widely recognised name in the marketplace and known for its goal-focussed approach," he concludes.
Metagro
Products: Operator cabins and housings