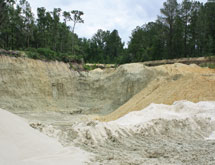 It's not every type of clay that can be used for the high-quality cat litter produced by MFM Industries, Inc. – it is calcium montmorillonite. "It is a very absorptive clay," explains Elliott Mallard, MFM Industries president and CEO. "You can take this clay and stick it to your tongue and have to physically yank it off your tongue – it's that absorbent. This type of clay will absorb water, but it fractures like glass."
MFM Industries, Inc. mines this unique clay – which is named after the region in France where it was discovered in 1847 – in Marion County, Fla. "Florida has a very specific depositional environment in which these clays were deposited," Mallard points out. "Northwest Marion County contains this and nowhere else – not until you get into the panhandle of Florida do you find other of the same types of clay reserves."
The company uses calcium montmorillonite to produce cat litter and other products mostly under private labels, for grocery, pet specialty and retail outlets. MFM also has several brands that it markets to customers across the United States and internationally.
MFM Industries Inc. is vertically integrated. "We have our own mine," Mallard says. "We control every aspect of the clay from cradle to grave. We mine it, package it, produce it and ship it to the customer. That gives us control of the entire process and ensures that the customer is getting a quality product."
20 Years of Clay
The calcium montmorillonite is mined in open pits on previously forested land. Mallard – who has been in mining his entire life – estimates that MFM's current calcium montmorillonite mining area has in excess of 20 years of reserves. "We've identified through exploration and drilling in the same general area that these reserves are within 2 miles of the current mine," he says. Clay quality also is important.
"There are some seams of clay in the reserve that have been weathered or altered significantly that will not make a suitable product," Mallard reveals. Even the color of the clay can be significant, with lighter shades preferred over darker ones.
Lighten the Load
A hybrid scooping litter supplied by MFM Industries, Inc. mixes the calcium montmorillonite with bentonite clay to reduce the overall weight of the litter. Renewable cedar or pine is added to provide odor control.
Founded in 1964, the privately held company also produces absorbent clay products for a variety of uses, including products utilized as an animal feed supplement. Private label cat litter production accounts for approximately 85 percent of the company's business, Mallard estimates.
"Our focus is not cheap and available or dirt in a bag," he insists. "We won't and can't do well in that area. So we look at where we can supply an excellent quality product, which allows us to grow our business. We are a smaller company that has a specific niche in the business. Our growth plan is based on the technical expertise of what the products can do to provide a superior product. We have to be creative, innovative and flexible to do what the customer requires. That will allow us to grow the company." EMI