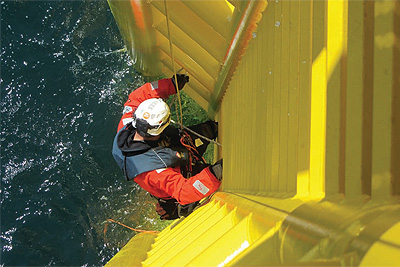 Offshore provider
Founded as recently as February 2015, mh2 may be considered a new entrant to the market, but one that is supported by the experience of both its CEO Markus Hummel and the rest of the management team. "Before we founded mh2 I myself was the head of the offshore services department in a company called WeserWind, which fabricated tripod and jacket structures as well as topsides for the offshore industry," Markus began, when giving more details on how mh2 came into being. "WeserWind went bankrupt in January 2015, but the offshore services department was working well and profitable, so we took the staff and equipment from that, and created mh2 from it."
He added: "Of course there were some challenges, as we had to be in operation in six weeks after we decided to found the company, when we were awarded our first contract! However it went well and we were happy that we could book this contract. We started with six people and we are already up to 14 employees now."
Using the experience they gained at WeserWind, the mh2 team specifically focuses on offshore installation, maintenance and inspection projects in the German sector. "Our main focus is on regular inspections and testing for offshore steel structures, and we also do a lot of repair work and modifications of platforms and foundation structures," said Markus. "Our team is definitely one of our main strengths, as we have been working together for at least five years or longer, which gives us a pretty strong knowledge base.
"The team includes highly trained blue collar specialists – all of them have specialised training in steelworks and welding. Most of the staff are also able to undertake non-destructive testing or are able to inspect and check equipment, and I would describe everyone as highly trained. As some of our work is undertaken at height, most of our personnel are also trained to use rope access equipment, or other fall protection systems."
As Markus mentioned, mh2's core market is Germany, based on the company's history and also where its clients are located. "From our point of view the German market is pretty good especially for the O&M phase. We now have approximately 2.8 GW installed when it comes to offshore wind energy so there are a lot of wind turbines and substations that need to be operated and maintained, which is our core market and therefore gives us pretty good standing.
"There will also be new projects in Germany in the few next years. We had a dip over the last four years due to political insecurity – we didn't have a clear statement that investment into wind farms would be a good idea. But now I think we again have the political framework to build new offshore wind farms and I guess that we will see approximately two to three new offshore wind farms approaching in Germany.
"In addition the Dutch and the Belgian markets do look pretty good for us as well, and we are putting some focus on Benelux as not only are there are some interesting projects coming up in Holland, but also there are a lot of contractors based in Holland and Belgium that could be of interest because they deliver to the German market. I think there will be a couple of new wind farms in the Dutch market, and while I am not sure how the schedule will fall, I expect a couple of tenders out in the beginning of Q1 next year."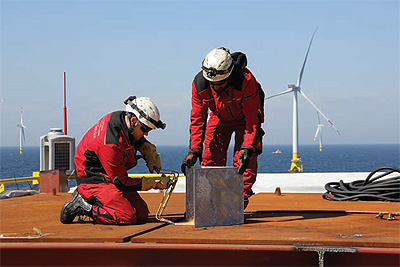 As the company approaches its first anniversary, it can already look at the order book for 2016 and see contracts for repair and modification works on German substations, as well as some regular inspection campaigns. "We already have that work organised for the next 12 months, and looking longer term, over the next couple of years we plan to be the partner for mechanical works for wind farm owners or the suppliers for steel structures during the warranty period," added Markus.
It is clear that Markus has an impressive vision for mh2 going forward and he is keen for customers to understand exactly what the young and ambitious company can bring to a project: "We are flexible as we are small, so we can react very quickly to situations and I think this is one our major strengths," he said, before concluding: "We don't just rent out personnel – we are a company that carries out an entire project, from start to finish. We can do the planning and the engineering, and we bring along our own highly trained personnel, our own tools and equipment and we also do the documentation of the project. I really want to be seen as a totally project oriented company, and one that is highly capable and reliable, so that clients know they can rely on our skills and services."
mh2
Services: Structural steelwork and welding technology provider