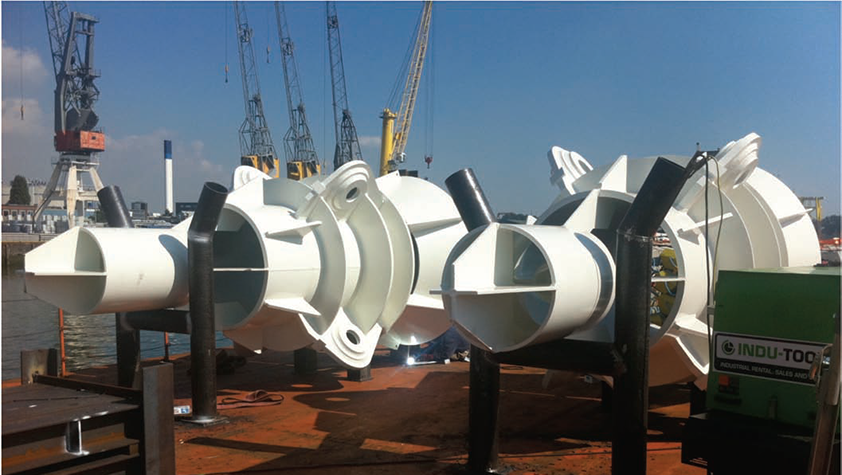 Surpassing expectations
Established since 1997, the MHF Group has developed two business components, MHF Contracting BV, the human resources and personnel recruitment side of the business, and MHF Services BV, which focuses on all activities taking place in the on and offshore fields.
The company has developed a strong reputation for its design and construction skills in the offshore oil and gas, offshore wind and petrochemical industries; it also works in the waste-processing industries and for large-scale harbor installations. Mainly focusing on the North Sea area, MHF Group employs 50 full time personnel and between 50 – 100 subcontractors, depending on the size of the contracted projects. "We build tailor-made structures, piping, repairs and modifications in the field of on and offshore structures," says Nico Broere, commercial manager at MHF Group. "Our expertise allows us to respond immediately to requirements and meet deadlines for offshore projects in a fast and safe manner. Safety and efficiency is key to our company's success."
Offering full installation and repair services, MHF Contracting BV is IS0 9001: 2008 certified to contract and execute on and offshore projects of piping, steel structures, modifications and/or repairs in the shipping, offshore and general industry, while MHF Services BV is ISO 9001:2008 certified in the labour consulting of personnel. Delivering high quality, and above all, safe solutions to its customers.
By making the dramatic reduction of traditional lead-and-lag times associated with industrial construction its mission, MHF Group efficiently delivers a wide range to its customers, such as design and engineering, workshop construction, testing and certification, on-location installation, repair work and project management; due to its state-of-the-art facilities, expertise and resources, MHF Group offers these services while maintaining the highest standards of product quality and operational safety. Listening to the needs of its customers and offering a pro-active approach to challenges, MHF Group meets expectations every time.
A major project for the firm was its participation in commissioning and rest points for the Seven Borealis, the flagship vessel of Subsea 7, a global leader in seabed-to-surface construction, engineering and services to the offshore industry. The Seven Borealis was built to be a pipelay and heavy-lift vessel that can meet the demands of today's deepwater projects, while enhancing productivity and efficiency. This project was carried out at the Huisman Yard alongside Huisman, world market leader in turnkey services for deepwater pipelay systems.
Another recent project for the company is the fabrication and installation of all drill related piping for the Drillship-Noble Globetrotter I and II. Working at the Huisman Yard once again, MHF Group was part of the innovative design and construction of the compact box type drilling tower, which allows for a significantly smaller sized vessel while retaining the same capabilities of the new generation large drill ships with a maximum water depth of 12,000 foot and 43,000 foot pipe storage capacity. MHF Group installed the high-pressure lines for it, made from 4130 material and presenting an impressive working pressure of up to 1035 Bar.
Strategically located close to Botlek Europoort, the port of Vlissingen and Antwerp, MHF has been based at the industrial Deltahaven, Stellendam, since November 2001 and it opened a second production hall and office building in June 2004. As a contractor of projects, MHF Contracting BV'S permanent staff consists of a range of planners for men, ironworkers, welders, pipe fitters, fitters (co pumps and revision), burners, key heaters, cleaners and administration. Employed certified welders at MHF Group include six gr (argon), six gr (co2) and six gr (electric); its ironworkers work in construction and repairs, building small to large building sections, and its pipe fitters work in construction and maintenance for the building and maintenance of petrochemical pipeline pipes, rebuilding the lines and building lines on the oil rigs.
With a full order book for 2013, MHF Group is focusing on offering the best quality solutions to its wide range of customers, as Nico highlights: "Our current main client base is Saipem UK, Heerema, All Seas, Blue Water and Subsea 7. There are plenty of opportunities for us to continue growing as a company and keep offering high quality products to our customers by keeping efficiency and safety as our top priorities." Ongoing projects include the deck renewal of Hereema Balder, a deepwater construction platform, and the modification of Audacia's bow door section, which was cut out of the vessel and transported to MHF Group's workshop. Once there the company removed structures and existing reinforcement before fabricating and installing new reinforcement boxes and hinge points. The company has also installed the complete accommodation section on board Audacia in four parts and installed the complete firing line, including the raises flooring inside firing line of the pipelay vessel Audacia. It is obvious that
MHF Group can execute various jobs world wide with its flying squad and its offshore skilled labour force.
Looking ahead, MHF Group has a positive outlook for the future and is keen to continue growing as a company by offering increased efficiency at its extensive construction facilities in Stellendam, thus ensuring on-time, reliable, high quality solutions to multinational companies working on global projects.
MHF Group
Services: Designs, builds and delivers structures