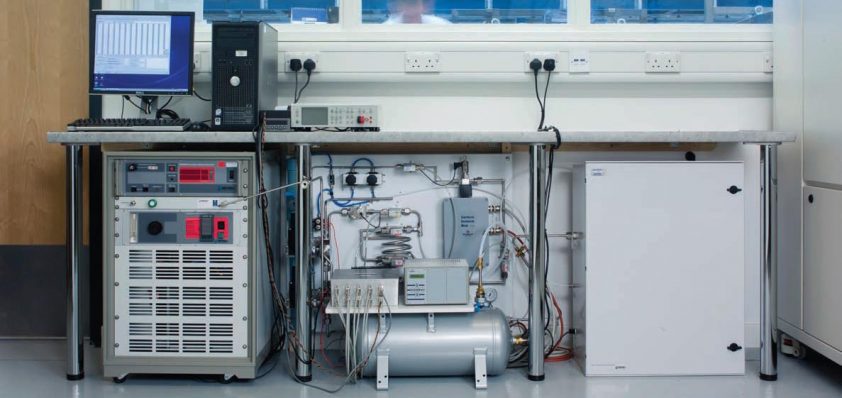 Instrumental solutions
"2013 has been the most successful year for Michell with continued growth in sales and profitability of the company," says Peter Kubietz, group head of marketing, at Michell Instruments.
"We can see that the consolidation year we had during 2012/2013 with investments into our infrastructure, R&D and manufacturing systems really paid off. We had excellent growth from our subsidiaries in North America and
China as well as Australasia. This growth has been across almost all our product ranges with significant seven digit orders from major companies in the oil and gas industry."
As Peter explains, the period of consolidation that Michell Instruments went through was important in allowing the company to readjust its organisation and procedures to suit the increasing market demand. As well as adding several highly qualified staff in key positions and looking for opportunities in new market sectors the company also established new facilities, including a new subsidiary in Brazil, as well as improvements in its German and Italian operations.
"Michell Group continued investing into the manufacturing facilities in our HQ in Ely but also into our plants in Lyon, France and Oosterhout, the Netherlands, focusing the efforts on increasing capacities in manufacturing and calibration," he says. "Some of our subsidiaries outgrew their offices and in Germany as well as Italy we moved into new and larger offices. With the move of both subsidiaries we also responded to the rapid increase in demand for calibration service and service support, which partly is the consequence of the Group expansion from previous years.
"Generally speaking, the growth that we have experienced over the last year or so has been across the board," Peter continues. "For example, we doubled our Oxygen business and gained further market share and established Michell Instruments as one of the leading innovators in the gas analysis market. Also, our Industrial Hygrometry division gained additional momentum with the extension of our Easidew product range for compressed air dryer applications. Here with our advanced ceramic and new capacitive sensors we are able to offer precision hygrometers fitting customer requirements in terms of the range, accuracy, sensing technology but also any size of budget."
Innovation and development is a key factor in Michell Instruments' product range, with the company regularly introducing new products as well as developments of existing solutions. This is aided by 40 years of experience, making the business a global leader in the field of moisture and humidity measurement solutions. For example, it provides a wide range of transmitters, instruments and system solutions, all designed and manufactured in-house, that are capable of measuring dewpoint humidity and oxygen in a wide range of applications and industries including compressed air, power generation, petrochemical, and oil and gas.
"Our mission statement is to offer the customer the best moisture measurement technology for their application," Peter explains. "Michell Group is the only instrumentation company that offers the full selection of moisture detection technologies that fit different situations, applications and customer's size of budget. To achieve that we spend well above the industry average on R&D, and we are currently working on a range of exciting new products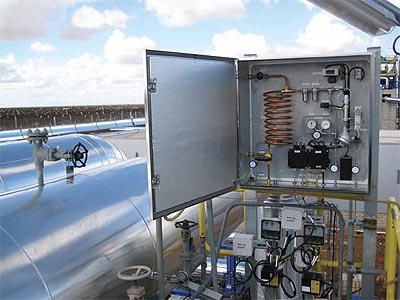 and sensor technologies. In the upcoming months we will see brand new products in both the Industrial Hygrometry Division but also in the Process Instrumentation Division."
One recent development Peter is keen to highlight is the company's OptiPeak series, a spectroscopic principle based analyzer, which is designed to measure moisture content in natural gas. "The Tuneable Diode Laser Absorption Spectroscopy (TDLAS) for moisture measurements offers the customer a number of advantages, and being in line with our maxim to offer the customer the optimal measurement tool we will also be presenting a new instrument soon. Traditionally TDLAS disadvantages are, if we forgo the higher price, the limited ability to measure in unknown backgrounds and the need to fit the instrument for purpose by selecting the right laser for the analyte. We will be approaching these issues with our products to offer the customer a reliable analyzer that meets the expectations and lasts longer than other comparable spectroscopic solutions."
This pattern of continuous development, coupled with the knowledge utilised by experienced and highly skilled personnel has given Michell Instruments a strong reputation in the industry. The company's position as a respected global brand also comes from its exceptional global presence, supported through a network of sales, support and service centres.
"We believe that the Michell Instruments Group is one of the few real specialists left in the instrumentation industry," Peter highlights. "We understand our products and know how to apply their strengths for the benefit of our customers. This isn't common these days. While our solutions are often the hidden champions of specific applications we are dedicated to employing people who understand the challenges of our customers and are able to offer technical advice. This isn't a popular cost reduction exercise. Furthermore, in a world where customers are cutting costs in personnel the remaining instrumentation engineers rely on access to advice, fast on-site support and service. Thanks to Michell Instruments' global organisation we can offer that directly without delay."
Bearing this in mind the coming years look strong for Michell Instruments. In terms of the market Peter pointed out growth in US as being of interest to the business, despite a slight decline in other market sectors in some regions of Europe. The company is still working on a number of important contracts, including one with Petrobras and UOP, which was a result of the company's continued support and the reputation of its Condumax 2 product, which is the most reliable hydrocarbon dewpoint analyzer on the market. With projects such as this, there's little doubt that the reputation of Michell Instruments will continue to flourish.
"Michell Instruments will continue to grow in both the Americas and other regions, with a special focus on communicating the brand in the process instrumentation community in North America. There we have been active for many years but have not been present with our own brand until recently. We will intensify our efforts and challenge local competitors so our customers in the US and Canada can also benefit from our experience gained from hundred thousands of installations and 40 years of serving various industries with humidity and oxygen instrumentation," Peter concludes.
Michell Instruments
Services: Moisture and oxygen analysers