Analyse this
Founded in the UK in 1974, Michell Instruments is an international market leader in high-precision sensors, designed to measure the moisture, hydrocarbon and oxygen content in pure gases, compressed air and natural gas.
Its products are used across a wide range of applications, from HVAC and pharmaceutical storage to combustion optimisation for power stations and even in controlling the quality of CO2 generated in breweries.
The company's forays into the natural gas industry date back as far as the early 1980s, when it developed an explosion-proof analyser used for monitoring the hydrocarbon dew-point temperature in process line natural gas. Labelled the Condumax, this innovative technology was licensed to Michell by Shell and, more than twenty years on, the latest version is still an important part of the company's product portfolio.
"These products are used all around the world by major gas companies to monitor the quality of gas both after extraction and during transmission and at fiscal transfer points between pipeline operators and at country borders," explains managing director of Michell Instruments, Mike Bannister. "It was really the first product we launched in the natural gas industry and it helped us get a foothold in the market. Following on from that we were able to develop instruments for measuring moisture content in natural gas processing, and this has now become a mainstay within our offerings."
Michell Instruments has also provided its equipment to petroleum refineries, to companies working in fluid catalytic cracking (FCC) and reformer gases. Mike elaborates: "Many processes in the petrochemical industries are moisture-sensitive, and it is critical that moisture levels are constantly measured to insure that quality levels can be maintained to protect both the process and the process components themselves. Of course new products come and go, but what we are providing is a tried-and-trusted technology that is low-cost, easy to calibrate, easy to maintain and highly reliable."
Such is the company's reputation that, over the years, it has been able to develop a strong international client base, opening a number of subsidiaries around the world. Mike reveals: "A central part of Michell's philosophy over the last 20 years has been to develop our own sales and service operation in key countries. We have opened our own offices and provide our own local sales, technical support and service support in the UK, USA, Germany, France, Italy, the Netherlands, China, Japan and Australia. In addition, we are represented in Eastern Europe, the Middle East, South East Asia and South America."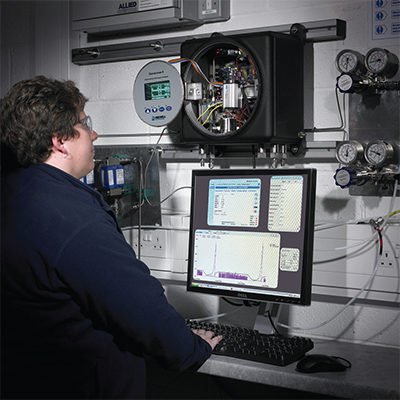 Michell Instruments has also recently expanded its product range by introducing a new line of oxygen analysers to its portfolio. Mike highlights the potential that he sees for his company entering this market: "Oxygen has a huge range of applications from boiler room control to measuring residual oxygen in waste gases. It is a big market place and we expect to see significant growth here in the coming years."
This is not the only recent area of expansion for Michell Instruments either, as Mike continues: "We are also very interested in broadening the number of measurement parameters that we have in the process industries, and we are exploring other potential areas for quality measurement, such as in hydrogen sulphide, carbon monoxide SO2, and CO2. Furthermore, we are widening the scope of services that we already supply to our customers by expanding our operations further into systems engineering. We want to be able to offer comprehensive systems that can comprise a number of analysers in a sample package or in an analyser house."
Michell Instruments' capacity to continue developing such a wide range of products stems largely from the value it places in its research and development department, according to Mike: "Our product managers work very closely with our customer base, and they spend a lot of time trying to understand the trends, demands and desires of the customers. We also put a lot of money towards R&D, with about ten per cent of our turnover being used for new product development. This is a very high proportion when compared to others in this industry, and it is a considerable commitment that is always ongoing."
This attitude towards innovation is one of the reasons that Michell Instruments has experienced a rapid growth in recent times, with its turnover having trebled in the past few years. Mike highlights some of the other factors that have contributed to this success: "De-regulation of the natural gas industry in Europe has meant that the industry has enjoyed significant growth, and the opening of the main transmission pipelines carrying gas to Europe from Russia, the Middle East and the Balkans is increasing the demand for the sort of quality measurement that we provide.
"Additionally, our opening of the office in China has really opened the Far Eastern market up to us, and our presence in Japan means that we can benefit from the large amounts of engineering contract work and general industrial applications that take place there. Furthermore, our operations in the US market have been so successful that we are able to finance other operations almost exclusively from the revenue it generates."
This dedication towards constant development of products and services has helped the company succeed in garnering significant recognition over the years. Mike explains how his company has continued to maintain its strong reputation: "Development lead times in the process industry can be very long – it can sometimes take up to three years before a product is developed a fully certified for sale. We accept this fact and that is why we are very much focused on the long-term rather than quick returns on investment. By taking this approach we have been able to develop a very stable platform to build from, and a very steady, manageable growth strategy."
Having survived the financial crisis unscathed, Michell Instruments now looks towards a future of further expansion. Mike concludes: "Our current order intake levels across the board are the highest that they've ever been. We now want to build on this by developing our operations in the process industries sector, whilst also offering much more than just moisture and oxygen analysis."
Michell Instruments
Products: Moisture analysers, oxygen analyser