A growing supply
With more than 45 years experience in the industry, Midcontinent is a leader in stocking, sourcing and procuring oilfield equipment, spares and related supplies.
From its extensive office, warehouse and yard facility in Aberdeen, and with its sister company in Great Yarmouth it provides a leading service to today's burgeoning offshore oil and gas industry.
Managing director Bill Houghton elaborates on the history of the company: "Midcontinent was originally owned by US based Ken Davies Industries, which started it's UK operations by opening a base in London in 1965. In 1966 it opened a base in Great Yarmouth to support drilling operations in the Southern North Sea and in 1972 opened a base in Aberdeen.
"With our roots as a supply store, we worked closely with US manufactures, importing, stocking and selling their equipment in the new UK market. We provided then, as we do now, a valuable local source of equipment and products for companies operating in the North Sea and further afield. Over time we diversified into other products and areas."
Bill explains: "We decided to expand our business into other areas and, in 1997 we purchased a dedicated consumables supply company allowing us to widen our stockholding of products, lubricants, safety equipments, rags, abrasives, brushes, environmental products and most everyday consumable items. Combined with our existing dedicated oilfield equipment we now hold more than £2 million worth of products in our Aberdeen warehouse. We have supply contracts in place with many major drilling and service companies, customised to suit our customers' requirements."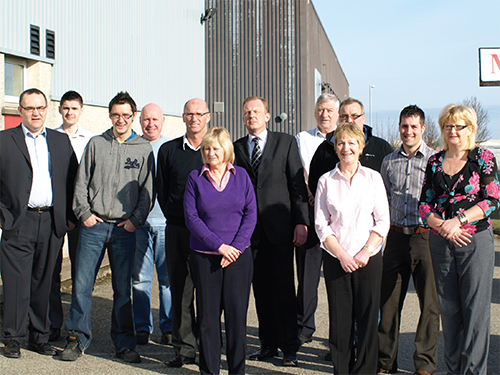 Bill also cites the experience of Midcontinent's employees as another of its major strengths. "Many of our staff have been with the company over 25 years with some having more than 30 years experience. I joined Midcontinent in Chester in 1971, moving to Great Yarmouth in 1980 and then to Aberdeen in 1986.
"Our combined knowledge base is vast and therefore it is very seldom that we are not only able to source a requested item but to source it economically and efficiently. Long established relationships with US manufacturers, combined with weekly consolidated airfreights from Houston help us get non stock US sourced items to our customers quickly and cost effectively."
Midcontinet always tries to keep abreast of the latest product developments and improvements, as well as legislative requirements and the latest industry standards. This helps the business to ensure that it gets its customers the products they need to maintain and enhance their operations. Bill continues: "Our people know the equipment they are dealing with and we always keep an eye on new products on the market that may be relevant to our business. We endeavour to help our customers and our experience helps us source the best products and services economically and efficiently to enhance our customers' operations."
The company has dealt with a diverse range of customers and requirements over the years. Bill reveals: "Our main focus is the local market but we have built up a loyal overseas customer base as well. We also work with customers based in the UK who have operations in places such as Angola, Kazakhstan and Russia to help them get the equipment they require, cost effectively to their required destination. We hold consigned stock of products from manufacturers such as Bestolife, Jet Lube and Southwest Oilfield Products"
Midcontinent's representation of Southwest Oilfield Products covers the UK and Ireland, Denmark, France, Spain and Portugal, and its stock of Southwest Products includes liners, fluid end modules, pistons, valves, liners etc. covering most of the commonly used pumps in these regions. The business has various contracts and agreements in place with major drilling and service companies that have been customised to suit each customers' unique requirements. These cover products as diverse as batteries, rags, paint brushes, pump parts and valves and spares.
As the market continues to evolve, Midcontinent has added more products and services to its growing portfolio and continues to do so. The company has a dedicated in house instrumentation lab where it offers fast and economical repair, refurbishment, recalibration and recertification of hydraulic oilfield instrumentation including pressure gauges, weight indicators, chart recorders, tong torque gauges and systems.
Bill expects the company to continue along this path of growth for many years to come, as he concludes: "We have grown every year since our inception and our product range has grown and improved year on year. Our capacity to handle the demands of the market has also improved and continues to do so, most importantly we intend to continue improving the products and service we give our customers and suppliers and continue to evolve to the benefit of our customers and suppliers."
Midcontinent
Services: Stocking, sourcing and procuring oilfield equipment