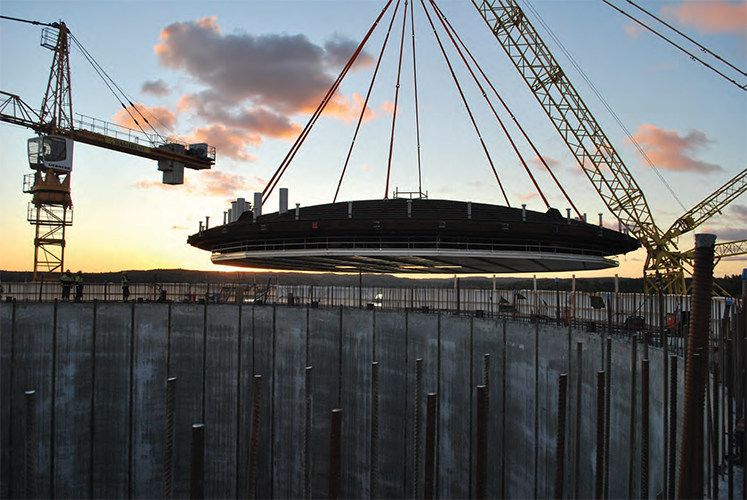 An upward spiral
Established in Gothenburg in 1944 by Rodolfo Arabella, the roots of Midroc Rodoverken AB begin with the installation of storage tanks for oil heating systems for domestic use. As the company continued to grow it entered into the industrial market and subsequently introduced its spiral method of construction, completing its first tank using this method in 1964. Rodoverken is today based in Stenungsund on the west coast of Sweden, from where it employs some 230 staff and generates around €70 million in annual turnover. The company acts as part of Midroc Europe, which is based in Stockholm, Sweden and represents the single shareholder of Rodoverken.
Traditionally Rodoverken has operated within the Scandinavian region, however increasingly the company is exporting its expertise to clients through Europe, as Managing Director Pär Hedendahl elaborates: "Our activities are mainly within Norway and Sweden, as this is our home base, however we are also carrying out a large project in Finland. The company's clients in Norway and Sweden are mostly oil companies as well as the owners of refineries and power plants. This includes work for the CHP power plants, building heat accumulators and we also do some work in nuclear and petrochemical plants. Rodoverken has also been active within Germany, Poland, Austria and the Netherlands building heat accumulators. We have been increasingly active within Northern Europe and our client base has been steadily growing in this region. This is mainly due to the use of our spiral method in the production of these tanks."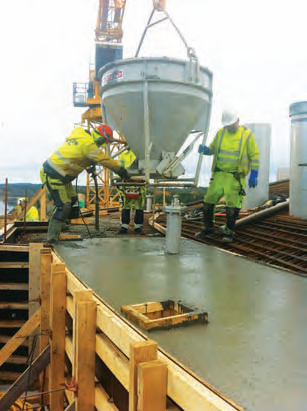 Crucial to the growth of Rodoverken is its unique Spiral construction method, as pioneered by Rodolfo and that the company has refine ever since. As part of the Midroc Group, Rodoverken is well supported and can rely on extensive in-house services that might otherwise prove costly to obtain. Its spiral design technique is an innovation that has proven beneficial to Rodoverken and its clients time and time again as it eliminates the need for time-consuming scaffolding and continuous heavy lifting. The technique involves the rotating of the tank from a single point so it turns almost like a screw. As it rises it can be welded at ground level so that the need for heavy lifting equipment is largely eliminated. This can be of enormous benefit where construction is taking place in tight spaces, for example when it is necessary to construct a tank on a small site it often means that it cannot be pre-built and transported. With the spiral method the sheetmetal plates are welded in place from the same position at ground level, which requires a greatly reduced work area, furthermore weather protection can be provided to an optimum work environment for ease of construction.
A key project for Rodoverken at present is its work in supplying a 50,000 m3, full containment LNG tank, as part of the Tornio Manga LNG-project in Finland. In addition to the storage tank provided by Rodoverken, once completed the Tornio LNG terminal will include a reception, unloading and bunkering facilities and LNG vaporising facility. For gas deliveries, a pipeline will be built to the Röyttä industrial site as well as a truck loading facility for LNG trucks. From Tornio terminal the LNG will be delivered with trucks or by railroad to customer terminals and consumption destinations in Northern Finland and Sweden. Overall the terminal represents a €100 million investment.
"Our main client for the Tornio Manga project is Wärtsilä," Pär says. "We have been working on the development of this project for the past two years and started the execution of the construction early in 2015. Construction is due to be completed during early 2017 and the commissioning of the plant will be in 2018. Work is progressing to plan, we are completing the foundation piling for the tank and next month we will cast the bottom slab and continue with the concrete works over the summer and into autumn, with steel works progressing through winter and spring."
Its involvement in the Tornio Manga project represents Rodoverken's third large LNG project, with previous operations in Norway and Sweden. Moving forward, the company will continue to grow its expertise and seek new opportunities throughout Europe and beyond. "We are in discussion with several clients regarding further LNG tanks on both sides of the Atlantic," Pär reveals. "We are also in discussion with clients regarding heat accumulators as well as for several petrochemical storage tanks inside Europe. We also have several contracts for maintenance work within Sweden and Norway, which in all presents a positive image of gaining ground and expanding in our markets – because that is exactly what we are doing."
Indeed through the advantages of its spiral construction method, Rodoverken is confident of signing further LNG contracts as soon as within the next 12 months. By offering increased safety through the reduction of heavy lifting and working at height, as well as decreased construction times and competitive prices without compromising on quality, the company is ready to further establish itself as a secure option in tank storage construction.
Midroc Rodoverken AB
Services: Design, prefabrication and installation of industrial plants
Issue 122 July 2015