Milford Haven Port Authority
The quay to success
Milford Haven Port Authority is responsible for the waterway and port of Milford Haven in West Wales.
It is one of the largest ports in Europe, housing a number of important oil and gas facilities, marine companies, a ferry terminal used by Irish Ferries, cargo berths, a marina and a ship repair facility, as well as various residential and retail developments. The Port Authority is an independent and diverse organisation, which aims to work with the port's commercial, residential and marine operations to bring about progression and future growth, while remaining loyal to the waterway's heritage.
Ted Sangster, chief executive at Milford Haven Port Authority explains the history of the authority: "Milford Haven is the sixth largest port in the UK in terms of cargo – around 35 million tonnes of cargo goes through this site each year. We were originally established in 1958 by an Act of Parliament as a trust port to support the oil industry coming into the port area from the Middle East."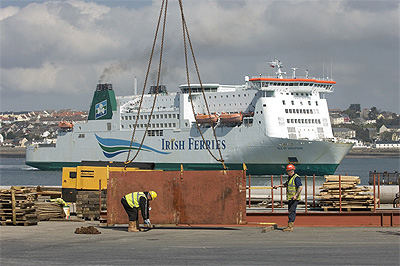 Describing Milford Haven Port Authority's current operations, Ted comments: "Today the port encompasses 60 square miles of waterway, 177 miles of coastline and is one of the largest oil and gas ports in Northern Europe. We currently have two refineries as our customers at Milford Haven – Chevron, which has a capacity for about 200,000 barrels of oil a day – and Murco, which produces around half of that. There is also an oil terminal in the port that is run by SemLogistics, which is the largest oil tank facility in the UK. The refineries receive crude oil coming in, and produce refined product, which goes out largely by ship."
Over the past five years Milford Haven Port Authority has been planning and developing its LNG capabilities which will be needed to support the operations of the two LNG terminals, Dragon LNG and South Hook LNG, which are currently nearing the end of their construction. This is a massive investment by these companies in the port as between them they will have the capacity to provide up to 25 per cent of the UK's gas requirement. Ted comments: "This has been very much a partnership in working with these project teams and we're now seeing the culmination of the last five years of planning and construction. All the marine work and preparation has taken place and we're just awaiting completion of onshore terminals."
The smaller of the two terminals, Dragon LNG, sited next to the SemLogistics terminal, is a partnership between Petroplus, Petronas and British Gas and it represents an investment of around £250 million. When at full capacity it will bring in over six million tonnes of LNG per year. The larger terminal, South Hook LNG, is apartnership between Qatar Petroleum, Exxon Mobil and (more recently) Total, and will provide a service between the gas fields in Qatar and Milford Haven. A liner service will bring gas in LNG from the Qatar fields and the terminal can expect to produce around 15 million tonnes of LNG annually in two trains.
Ted is confident that the new terminals will not overwhelm Milford Haven, but will encourage development: "The port won't change significantly, because we're already a large oil and gas port; the extra seven per cent shipping movement the terminals will bring is a reasonable increase. The port will benefit from the extra revenue the LNG vessels will provide and also from the development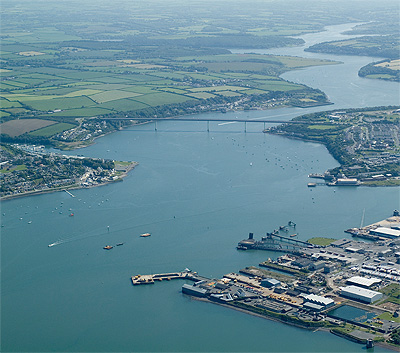 of the infrastructure, such as tugboat provision, which will benefit all users of the port and create new jobs for the local economy. Each terminal will employ around 60 to 70 people and an extra 100 or so jobs will be created on the waterway. We're confident that the terminals will provide a boost for local employment and will act as a catalyst for further development."
Ted outlines his hopes for the new LNG terminals: "LNG is providing greater stability to the port, not just in terms of revenue, but also in the way it will serve the needs of existingcustomers, such as the oil refineries, by providing them access to a new source of energy. The new terminals will not only benefit us but will hopefully have a catalytic effect and prompt other new developments at the port and in the surrounding area, which will give us a greater capability to build and expand beyond the energy sector. For example, we're currently in the process of finalising a long-term vision for a major development outside Milford Docks, involving expanding the docks out to deeper water to create a new harbour, marina, cruise ship berth and opportunities for property developments. A major and exciting prospect for the Pembrokeshire economy."
Aside from the LNG terminals, Ted outlines the other future developments for the Port Authority: "Our next significant project relates to the last brownfield development site constructed on the waterway, Blackbridge. It's a former MoD mine depot site and is immediately adjacent to one of the LNG and oil terminals, it provides access to deep water and is currently owned by Pembrokeshire County Council. We're working closely with the council to consider the development opportunities of the site and to identify and promote possible interest in it. Some of this interest is related to further oil and gas development and some is related to energy and power generation."
This progression and new development indicate Milford Haven Port Authority's successful growth and a confidence in the future of the port. Ted comments: "It's only because we have the confidence in the security and profitability of our own future that we are looking into these visionary projects and are welcoming the opportunity to develop the port and its operations to the potential benefit of existing and future stakeholders."
Milford Haven Port Authority
Services Port services