Drive for success
Celebrating 125 years in the business in September 2012, Yorkshire based Millers Oils has evolved into a leading independent company that is trusted to develop and supply the most innovative oil formulations, such as advanced engine oils, gearbox oils, lubricants and fuel additives, to a wide range of automotive, commercial vehicle and industrial applications around the world.
Alongside this major milestone, the company enjoyed a busy and positive year with the January 2012 launch of its Nanodrive low friction technology for the motorsport industry.
Designed to benefit racers, engine builders and team managers with lower friction and more power, Nanodrive also reduces wear to the engine and reduces frequency of engine builds. An estimated 15 to 20 per cent of the energy in an engine's fuel is lost through internal friction; Millers Oils has cut this friction by using nanoparticles with other ingredients to lessen the effect of surface roughness of engine parts and make them run more smoothly. "The secret formulation requires the engine oil to reach 110 degrees Celsius to 'activate' the low friction performance," states David McCann, market development manager at Millers Oils. "A great benefit of this comes when engines are allowed to cool; on restart the friction remains lower, which means better fuel economy and lower wear in the critical warm up phase."
Nanodrive started in motorsport with gear oils, followed by engine oils, and proved popular with discerning racers who appreciated the extra power, torque and engine life the products can give. "As with many other developments that begin in motorsport, we have expanded our customer base by applying similar technology to oils for passenger cars," highlights David. "EE Oils (energy efficient) are used in a slightly different way, in that the low friction is used to give better fuel economy of up to 2.5 per cent and also increase component life."
This continued dedication to cutting-edge, cost-effective products led to the company winning the prestigious Motorsport Industry Association (MIA) 'Technology and Innovation Award' in January 2013 in recognition of outstanding achievement in a highly competitive market. In April 2012 the company also won the Queen's Award for Enterprise in recognition of its consistent growth in the export of oil and fuel additives, as David enthuses: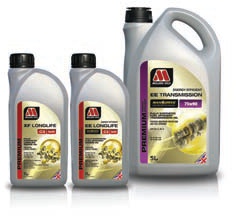 "Getting this award was a real surprise and honour, bearing in mind it was the first time we had submitted ourselves for assessment. Recognition of this award is truly global, with people commenting on it as far as China and South America. The MIA, meanwhile, actively promotes motorsport as an industry that can give valuable spin-offs to other business areas. Past examples of motorsport innovations that are now commonplace include anti-lock brakes and radial tyres. Nanodrive low friction technology fits this bill incredibly well, as the launch of the EE Oil range demonstrates."
Dedicated to investing in research and product development, Millers Oils opened a new R&D centre in December 2011, which allows the company to develop new formulations and execute rigorous quality control testing with more efficiency, thus reducing the time it takes to bring a new product into the market. "We are now able to carry out more tests than ever before and investigate different oil ingredients and formulations at a quicker pace. With our state-of-the-art R&D centre we are willing to take on lubrication challenges from any market area and will use the experience of our technical team to develop the most effective and innovative solutions," says David.
Following several years of investment in its operations, laboratory, warehousing and business systems, as well as a year of great commercial success, the company has plans to double turnover in the next five years by adapting to upcoming market needs and expanding product sales across all of its markets. One area of interest for the company is the US market, where it launched in December 2011 in association with its US distributor, who saw potential in Millers Oils' 'different' products. Since then it has established a growing business and gained a technical partnership with Bryan Herta Autosport (BHA), a deal that includes all BHA entries such as the Barracuda Racing IndyCar team, F1600 and Indy Lights using oils that contain nanotechnology for the first time in the IndyCar series, with the aim of increasing performance and efficiency by reducing frictional losses.
With the agreement officially signed in October, development work on formulations between the two companies has already begun. BHA and Millers Oils will conduct tests to validate the most beneficial formulations for the reduction of frictional losses in the powertrain and transmission, which will result in more power being released and a reduction in running temperatures that will create an aerodynamic advantage from the lower cooling air flow requirements. Having enjoyed a productive and successful few years, the future looks positive for Millers Oils, as David concludes: "We aim to continue working with customers and people who appreciate quality and value, and to do this we will continue to listen to market and customer needs in terms of products and services. This way we will remain competitive and ensure our customers won't even consider buying from anywhere else."
Millers Oils Ltd
Products: Lubricants and oils