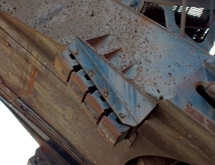 Miner Elastomer Products Corp.
When a mining gear manufacturer offers its products for applications around the world, the wares must be able to stand up to any type of condition imaginable. When mining operators purchase Miner Elastomer Products Corp.'s Tecs-Pak-equipped products, they are getting tools protected by patented technology with more than 100 years of experience behind them.
"Some mines' haul roads are good, some are bad," says Terry Koehn, director of sales and marketing. "The problem they have with this kind of equipment is there is one model that has to run through those conditions, and the suspensions on those trucks have to be able to handle any conditions. We adapt to all types of conditions we see all around the world."
Miner Enterprises was founded in 1894 after W.H. Miner developed a revolutionary draft gear for cushioning the impact between rail cars. As a division of Miner Enterprises, Miner Elastomer Products Corp. was formed in 1985 to develop and implement applications for TecsPak, which is Miner's patented shock-absorbing material.
Short for "thermoplastic elastomeric compression spring package," TecsPak-equipped products have been proven to far outlast comparable products made of rubber, urethane or steel, according to the company. TecsPak products also can operate under a wide temperature range, and the material is relatively inert and resistant to exposure to dust, oils, hydraulic fluids and gasoline.
Elastomer Wins
Miner Elastomer's proprietary elastomer process produces a product that is different from rubber or urethane. Koehn says Tecs-Pak lasts far longer than those materials, making the total cost of ownership significantly less than the competitors.
Tecs-Pak has a large footprint in the energy and mining fields today, Koehn says. Miner Elastomer products initially were developed as after-market solutions that could be used on large mining shovels.
The biggest revenue-generating application of Tecs-Pak, however, came 20 years ago when Tecs-Pak haul truck suspensions were developed to replace rubber versions on the early iterations of large mining trucks. Although those original designs could handle what road conditions could throw at them with unloaded trucks, it was not as positive an experience while unloaded. So, about five years ago, Miner Elastomer began developing a new suspension that used no oil or nitrogen with the lone requirement being that the ride had to be better on new trucks when unloaded than it was with original designs.
According to Koehn, Miner Elastomer managed to accomplish this feat for trucks with up to 240-ton payloads on new and existing models. Aftermarket suspensions with this new design are available for CAT's 775 models all the way up to its 793s, as well as Komatsu's 830.
"The benefit here is what we've designed is in equivalent ride unloaded and loaded, and eliminated the need for maintaining oil and nitrogen so it is essentially maintenance-free," Koehn says.
Miner Elastomer continuously has upgraded the technology. Today, the company is on its fourth generation of suspensions are heftier and include a more rigorous RMC package. "We've seen some [operate] over time in the field, so we've seen some things we wanted to correct," Koehn adds.