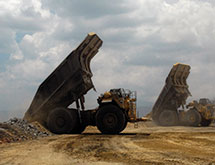 Miner Elastomer Products Corp.
Miner Elastomer Products Corp. (MEPC) has been developing unique mining products for nearly 30 years with its revolutionary shock-absorbing material and continues to innovate new ways to absorb energy.
Based in Geneva, Ill., MEPC manufactures mining-related equipment including mining truck suspensions, heavy-duty pads, shovel components, sucker rod cushions and blast hole roller bearings. The parent company, Miner Enterprises, was founded in 1894 after W.H. Miner developed a draft gear to cushion the impact between rail cars. "We are a division of Miner Enterprises that promotes and sells TecsPak – Thermoplastic Elastomer Compression Spring Package – our proprietary product," President Rich Beranek says.
TecsPak was initially developed for the railroad industry and the product has been proven to outlast comparable products made of other materials and can operate under a wide temperature range, Beranek notes. TecsPak components are relatively inert and resist exposure to dirt, oils, hydraulic fluids and fuels.
Today, MEPC manufactures and markets TecsPak-based products for applications in the mining, trucking, fitness equipment, construction, agriculture, general industrial, oil and gas industries, as well as for the military. "We are an engineering and manufacturing company capable of custom-designing products to meet the needs of our customers' energy-absorption and motion control requirements," Beranek adds. "These include anything from components for treadmills to struts for 250-ton mining haul trucks."
Innovation to Market
MEPC has continued to grow steadily in the mining industry and has set itself apart because of the innovative products it brings to market. Although new products are essential to furthering its growth and success, that same innovation is one challenge the company has to continually overcome. "We are developing open-pit mining truck suspension systems right now that will replace the OEM suspensions, but selling the product is a challenge because it's new technology and companies can be reluctant to change without a good product history," Beranek explains.
The mining industry is unique for MEPC in that it is the only industry the company sells its products to that requires a lot of convincing to switch to its products. "We have very little issue convincing companies to use our product in almost any other industry, but it's a significant investment for the mining company to spend $50,000 on new technology that's reasonably unproven in that format," Beranek says. "I can understand where they are coming from."
Its new line of aftermarket struts for open-pit mining truck suspension systems is still in the testing phase because the size of those trucks rules out lab testing and requires the company to perform field tests. "We have a good history with our technology; we just don't have a good history with these struts yet," Beranek says. "We have only offered it to the mines on a test basis. One of our goals is to bring this entire new line of struts to market sometime next year. We don't want to market anything until we know it's going to work."
Proven Ability
The market is becoming more demanding in regards to the durability and life expectancy of almost all of the components MEPC manufactures, and that is a good thing for the company, Beranek says. "That works to our advantage because a lot of our competitors make standard products using urethanes that are not capable of absorbing the energy customers want it to absorb," he explains. "Our products and the added cost of developing our products have become less important because they want something that's going to last and meet more stringent demands."
MEPC sells its products based on the lifetime cost instead of the upfront cost. Mining struts are expected to last 20,000 hours, MEPC's TecsPak struts will also achieve 20,000 hours or more, but with no nitrogen or oil to maintain there is no maintenance required over that time, according to the company.
Beranek explains that a long life expectancy for components such as struts used in underground mining vehicles is essential in the mining industry because those vehicles are expensive to have to bring above ground and perform repairs.
"Components that need less maintenance and repair are attractive and our products fit that niche real well," Beranek continues. "We are successful in upgrading and improving on the life expectancy and durability of the components we are replacing in this industry."
Moving forward, MEPC will continue to look for new opportunities in areas that require heavy-duty energy absorption and expand its international sales in the mining industry. "One of our current primary goals is expansion in the mining industry," Beranek says.