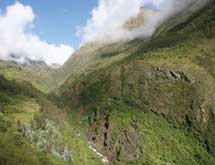 It takes a certain kind of expertise to understand the nuances of international mining operations. The management of Minera IRL – a junior mining firm in Peru – has the unique advantage of understanding what stakeholders from a number of nations require. "Peru likes production, but they don't like exploration," explains President Dr. Diego Benavides, a native of Peru. "London likes production plus exploration, and Canada loves exploration."
Mineral IRL Ltd. is a Latin American precious metals mining, development and exploration company. The company was privately funded from its inception in 2000 until listing on London's Alternative Investment Market in 2007. Today, Minera IRL also is quoted on the Toronto Stock Exchange and Lima, Peru's stock exchanges.
In Peru, Minera IRL operates the Corihuarmi gold mine and is exploring the Ollachea project. Corihuarmi is the company's first exploration project and was constructed in 2007 and 2008 for a capital cost of $20 million. In 2009, Corihuarmi produced 1.2 million tons of ore with a grade of 1.13 grams per ton. It produced 33,012 ounces of gold at $341 per ounce, with $988 per ounce received. This mine's lifespan is projected to last until mid-2013.
Benavides describes Mineral IRL's Ollachea project as the company's "crown jewel." Acquired from Rio Tinto and with its surface mine rights signed into play in late 2007, exploration of this property began in October 2008, with a gold discovery announced in early 2009.
The mining inventory consists of 8.2 million tons with a grade of 4.2 grams per ton. The gold content amounts to 1.1 million ounces. Inferred resources, however, are as large as 1.3 million ounces of gold content.
"Minera IRL has the discovery contiguous to the Mariana Resources Las Calandrias Project for the continued mineralization of the Escondio project in Patagonia," Benavides says. "This could form an interesting JV, but either way, both sides of the border would be required to advance this project to production. As the last part of our platform, new discoveries will be addressed to grow our next generation of projects."
Working in Peru
With a mining industry that traces its origins to before the days of the Incas, Peru is well acquainted with the ups and downs of mining, according to Benavides. However, he explains, within the last 15 years, the federal government has made strides to eliminate corruption and terrorism once associated with mining in Peru.
"The new government presiding the last 15 years has acknowledged this as a weakness and is reinforcing policies and good regulations," Benavides says. "They are pushing companies to improve investments into the communities while cutting down corruption and terrorists.
"It's not just changing the face of the country, but the heart of it," Benavides adds. "There is fantastic investment coming in."
Minera IRL takes corporate citizenship seriously. For instance, when the company took over the Ollachea project, Benavides says it reached out to community leaders by offering a 5 percent share of the project.
"Communities are our assets and are here to protect us because we don't accept agitators or bad intentions inside our territories," Benavides says. "They are the best partners."
As president of Minera IRL and a native of a Peru, Benavides accepts responsibility for these relationships. In fact, Minera IRL has two surface agreements in place that pay local laborers an annual salary of $60,000. Also through these agreements, Minera IRL pumps additional money into local economies by purchasing equipment and leasing vehicles for use while in the area.
The company spends a good deal on each community annually on a variety of outreach efforts. These include artisan works, environmental cleanup, scholarship funds and the sponsoring of sustainable projects like agriculture.
"Our philosophy is to change mining companies approach to community relations," Benavides adds, "and other companies are starting to understand."
Unlike many junior mining companies, Minera IRL has no intentions of selling its properties after setting them up for development. In fact, the company intends to hold its portfolio of plays and grow into a full-fledged production firm. Benavides says the prices of gold and the expectations for the commodity are too good to pass up.
"Basically, our corporate objectives are to become a mid-tier gold producer through discovering and developing gold projects in Latin America," he says.