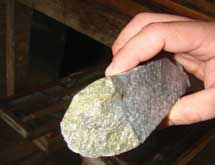 Panama City-based Minera Panama – a wholly owned subsidiary of Toronto's Inmet Mining Corp. – is in the exploration stage to develop what could be one of the largest copper reserves in the world, President and CEO Ernest Mast declares. Located in the province of Colon, Panama, the Cobre Panama project contains 2.14 billion tonnes of 0.41 percent copper and 3.27 billion tonnes of 0.36 percent copper, as well as gold and molybdenum. It is expected to have a mine life of more than 30 years and will be Panama's first world-class mine.
Copper-gold-molybdenum porphyry-style mineralization was discovered in central Panama during a regional survey conducted by the United Nations in 1968. A number of companies have since identified three large copper deposits and several smaller ones.
Inmet-Adrian Resources-Teck acquired the property in the early 1990s and formed Minera Panama in 2007 to bring the project to fruition. Minera Panama completed its feasibility study by early 2010. It is now developing its basic engineering study with Joint Venture Panama led by SNC-Lavalin. Construction on the mine is expected to begin in early 2012 and will begin operations by early 2016.
Identifying a need
Mast says the company anticipates favorable market conditions when Cobre Panama begins production.
"Looking at the copper industry, there is attrition occurring at the world's larger mines," he remarks. "The grades are going down and some of them are forced to go underground, so there is an attrition occurring in production.
"A number of projects identify that there is not enough copper to keep the market in balance considering the growth of the developing world, so we feel that the copper markets will continue to be strong once we enter into production," he adds.
A Pleasant Surprise
Minera Panama named the three main deposits previously discovered at Cobre Panama the Botija, Colina and Valle Grande deposits.
In March, it announced the discovery of a higher-grade mineralized zone, the Balboa deposit, located 1,500 meters west of the other three deposits.
Three of the first drill holes indicate that zones at Balboa have returned the highest copper and gold grades at Cobre Panama in the 40 years companies have been drilling on the property.
"Within our concession, which is 13,000 hectares, we continue to do exploration," Mast says.
A transformative Project
The size of the resource and certain characteristics, such as its low strip ratio, low level of impurities, near-surface deposits and proximity to tide water, make Cobre Panama an ideal mine for Minera Panama and Inmet Mining to bring into production. Political stability in Panama and a government willing to embrace mining are additional benefits.
However, projects of this size are not without their challenges, Mast admits.
"The execution of this project will be a challenge given its size, scale and novelty in the region," he says. "Cobre Panama will transform Panama into the eleventh-largest copper producer in the world, thereby leading to the development of a highly beneficial industry."
New opportunities
The development of Cobre Panama represents the largest private investment in Panama's history, Mast says. "So, we are working with the Panamanian government, local communities, non-governmental organizations and other stakeholders to ensure maximum benefits to Panama and its people.
"The project will bring with itself infrastructure which will greatly help the surrounding community," Mast says."The project will have tax royalty payments, which will be very significant to the country through legislation that will go directly to the local community," he continues. "The project will provide business opportunities for the private sector, so it's more than just providing jobs – it's the ability to create new business that will supply services to the project."
Education is essential
Because a mining endeavor of this magnitude has yet to take place in Panama, Minera Panama has taken great measures to educate all of the various stakeholders involved in the Cobre Panama project, Mast says.
The company invited journalists from Panama to visit Canada to see an operating mine, and it brought Panamanian community leaders to witness mines operating in Peru.
In addition, Minera Panama has created a number of educational materials specifically for the public. The firm also is implementing metallurgical education programs at local universities and offering scholarships to students and young professionals, as well as putting them in North American mining schools in an effort to encourage community involvement and bolster local employment.
finding a partner
Another objective is to find a strategic partner to invest in the project and obtain between 20 and 40 percent ownership. "It is not a problem for us to finance the activities we are doing now," Mast says. "But when we look to commence the full project, implementation of a project of this size is a challenge, and therefore, that's why we're looking for another partner.
"We look for a number of attributes," he continues. "One of them would be the potential for them to provide financing for an off-take arrangement. We also look for a partner that has expertise and similar values to ours in terms of developing projects in a socially and environmentally responsible manner."