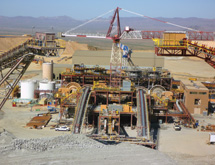 Mineral Park Mine/Mercator Minerals Ltd.
Although its home is in Canada, Mercator Minerals Ltd. has not kept its options limited to the Great White North. Instead, the firm has targeted sites far south beyond its borders, in the United States and Mexico.
Based in Vancouver, Mercator Minerals specializes in copper, molybdenum and silver mining. In Arizona, it produces these metals at its Mineral Park Mine project, while its El Pilar property in Sonora, Mexico, rests in a belt of porphyry copper deposits.
The firm also has its El Creston property in Senora, which has molybdenum and copper deposits. Mercator also backs its operations with a strong management team, which "leads nearly 400 employees in [its] continual goals of safe production, lowering costs, increasing productivity and growing the company in creating long-term value," it says.
The Flagship
According to Mercator, its "flagship cornerstone operation" is Mineral Park Mine, an open-pit copper mine located in Kingman, Ariz. The mine, which has an estimated 22-year life, produces copper, molybdenum and silver in concentrates, and cathode copper through solvent extraction/electrotwinning (SX/EW) leach extraction.
When it became part of Mercator's operations, the mine gained a significant history of copper production. Initially, The Duval Corp. started production at the mine in 1963 as a 12,000-ton-per day mill and concentrate operation.
Throughout the years, the mine changed hands in ownership numerous times before Mercator acquired it in 2003. "The Mineral Park operation provides investors with exposure to a cash flow positive operation and near-term exposure to increased copper, molybdenum and silver production at one of the largest molybdenum/copper milling operations in North America," the company says.
Additionally, Mineral Park has a substantial measured and indicated resource base, which is not included in the mine's plan and may extend its life, Mercator says. "Further, the deposit is open at depth," it adds.
Playing It Safe
In 2012, Mercator launched its safety program in its Mineral Park operations, which aims to promote safety's importance. "We realize a safe operation is a productive operation," according to the company.
The hard work has paid off for Mercator, which finished last year by completing 400 consecutive days without a single lost time accident. Additionally, in April 2012, the company started several non-capital initiatives to optimize operations and reduce costs at Mineral Park, it says.
According to Mercator, the goals of the initiatives were to bring best-in-class processes to help optimize its operations and lower costs. Thankfully, with their help, the company enjoyed record production in 2012, with more than 87 million pounds of copper equivalent produced.
"Mineral Park also achieved better than design rates of metal recoveries," Mercator adds. "For the last three quarters of the year, copper recoveries were above design rates of 80 percent and above design rates of molybdenum of 75 percent."
For 2013, Mercator says it plans to improve and build on its safety program. "Our focus will be to continue to optimize operations by increasing throughput rates and thereby increasing metal production and lowering units costs," it says.
Well-situated Property
Mercator is also at work on its El Pilar project, which is located approximately 15 kilometers south of the international border with the United States. "The property is situated in a highly prospective belt of porphyry copper deposits, ranging from La Caridad in the south through to central Arizona in the north," the company says.
This trend, Mercator explains, accounts for the second largest concentration of porphyry copper deposits in the world, where copper mining has occurred for more than a century. Additionally, El Pilar is near infrastructure and skilled labor, and will be conventional open-pit mining, Mercator says.
"[The] run-of-mine leach ore will be mined and stacked on a leach pad of three-meter lift heights," according to the company.
"Copper cathode will be produced from the oxide copper ore by acid leaching over a 180-day cycle and processed through the [SX/EW] processing plant," the company adds. "The project [also] will include an on-site acid plant and associated power plant, ensuring stable low-cost acid and power supply."
Last year, Mercator says it took steps to "further de-risk" El Pilar and ensure it is ready for construction. This included obtaining all the necessary permits to start construction and completing approximately 30 percent of the detailed engineering.
After Mercator obtains a value-accretive financing package to build El Pilar, it anticipates construction will take approximately 15 months. "With an initial investment of $280 million and the capacity to produce nearly 85 million pounds of cathode copper annually in the first five years, El Pilar is one of the industry's lowest capital intensive, low-risk, high-return projects," it says.
Mining Veterans
Mercator's team includes several who have experience developing and growing their own mining firms, including President, CEO and Director D. Bruce McLeod, who is a mining engineer with more than 25 years experience in the mining industry. Previously, he was the president and CEO of Creston Moly Corp., a founder of Stornoway Diamond Corp., and founder and executive chairman of Sherwood Copper Corp., which combined with Capstone Mining Corp. in 2008.
Mercator's director and non-executive chairman, Robert J. Quinn, has held his position of director since September 2005 and has more than 30 years of legal and management experience. This includes his time as the vice-president and general counsel of Battle Mountain Gold Co., a precious metals mining company.
He also was an attorney for Hecla Mining Co. in Idaho. "[His] legal and management experience includes due diligence, negotiation and documentation of mergers and acquisitions, project and corporate financings, and engineering and construction contracts," Mercator says.
Director Colin K. Benner has more than 40 years in the industry in senior management and executive roles in Canada and internationally. Before coming to Mercator, he was the executive chairman of Creston Moly Corp., the chairman of Capstone Mining Corp., the executive chairman of PBS Coals Ltd., the vice chairman and CEO of Skye Resources, and the vice chairman and CEO of Lundin Mining Corp. and EuroZinc Mining Corp.
"[He] has also served on several public company boards in the mining industry in Canada," Mercator says. "He currently sits on the boards of Lundin Mining Corp. and Troon Ventures Ltd."