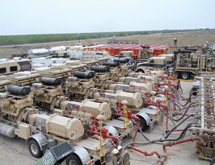 With the abundance of natural gas in Texas' Eagle Ford Shale and Permian Basin, there is a vast amount of competitors offering similar fracking services to oilfield operators. That means companies like Mission Well Services must distinguish itself through the quality of its customer service to have a fighting chance of competing in this segment of the oil and gas industry.
"It is a challenging market with the sheer number of players in the frac space today, it is an extremely competitive landscape right now," COO Ben Bodishbaugh says. "In a highly competitive pricing market, service quality is the differenting aspect that generates repeat business."
Despite Mission Well Services' three-plus years in the industry, its management team boasts decades of experience in the oil and gas industry. Bodishbaugh himself has more than 15 years of experience in the pressure pumping industry. He was part of a group of investors and executives who and came together to start Mission Well Services in mid-2010. Since then, Mission Well Services has expanded from one frac fleet to four (140,000 HHP). Initially, the company was focused strictly on work in the Eagle Ford Shale, but the company since has worked in the Permian Basin, parts of Louisiana and Mississippi and most recently has expanded into East Texas, supporting the Woodbine Shale. Bodishbaugh says his company has pumped more than 4,700 stages throughout its brief history.
Retaining Quality
With equal access to equipment and fracking fluids, Bodishbaugh says hydraulic fracturing operations like Mission Well Services need to recruit and retain the best employees in the field. He says MWS has made this a priority by including this focus in its motto, which reads, "Quality People, Quality Service."
"The equipment we operate is similar to our competitors, as are our fluid systems, but our people are the difference," he adds. "The guys working in the field, day-in and day-out for a service company must operate at a high level of quality and efficiency, as they are the ones that truly mold a company's image in the eyes of the clients."
Since people make the difference in the fracturing business, recruitment and retention of key personnel is one of Mission Well Services' top priorities.
"It's definitely challenging in this industry since there are now 50-plus frac companies in North America where as 10 years ago, there were less than 15," Bodishbaugh says. "Due to the boom of activity, there is a high demand for skilled labor that has the training and know-how to do what we do safely and efficiently."
Bodishbaugh says Mission Well Services offers a small-firm environment as compared to its larger competitors who employ thousands of people. "The field personnel at times can get lost within some of the very large competitors, as one of thousands" Bodishbaugh says. "Since we have less than 300 people, we can treat the field staff with a true human element and also try to be competitive on pay and benefits. With the type of work the field personnel do and the hours they put in, you have to have respect for these people."
International Future
Although there is plenty of natural gas to be had in the United States, there still isn't enough demand to keep the industry growing, according to Bodishbaugh. He expects Mission Well Services to expand beyond the Texas oil fields.
"We predict fracturing demand in the industry will be flat here in North America until some demand for natural gas starts to increase," he says. "In North America, we've kind of hit a plateau as far as activity level. However, in the next two to three years, we're hoping to have the business planted in one or two international markets."