Eastern promise
In a history that dates back to 1968, MODEC, Inc. of Mitsui Group has a portfolio of successful contracts that has allowed it to build a strong and enviable reputation in offshore construction projects.
Initial growth for the business came from the design and construction of offshore construction vessels before later moving into the construction of jack-up drilling rigs mid way through the 1970's. As a Japanese business, its headquarters remain in Tokyo but it maintains a worldwide presence through offices in Houston, Singapore and Brazil, supported by regional offices in Angola, Australia, China, Cote d'Ivoire, Ghana, Malaysia and Vietnam. As MODEC does business around the globe thought and effort goes into developing the communities near its operations, employing over 3,000 personnel with natives of more than 25 different countries.
With a strong sense of commitment to honesty and integrity, and a hard work ethic, the business has retained a good reputation in the industry. As a general contractor, it specialises in engineering, procurement, construction and installation of floating production systems including Floating Production Storage and Offloading (FPSO) vessels, Floating Storage and Offloading (FSO) vessels, Tension Leg Platforms (TLPs), Production Semi-Submersibles, Mobile Offshore Production Units (MOPUs) and other new technologies that will meet the challenges of various types of gas production floaters.
Over the last six decades, offshore production has increased tremendously to a level where currently, approximately 30 per cent of world oil and gas production comes from offshore and it is expected to continue to increase in the future. Fixed platforms were initially used for the offshore development, but as the fields have gone deeper, floating production facilities have become the main solution for the offshore production. With four main types of floating production facilities; FPSO, TLPs, Spars and Production Semi-Submersibles, MODEC has interests in all areas of the market.
Currently approximately 160 FPSOs, 20 TLPs, 20 Spars, 40 Production Semi-Submersibles and 100 FSO vessels are in operation worldwide. Orders for floating production facilities have increased dramatically over the last decade. That trend is expected to continue as the world's energy consumption continues to grow and advancements in technology provides the capability to extract more hydrocarbons in challenging environments. The business received its first contract for a FPSO vessel in 1985, and began operating the unit in 1986. Since this first contract MODEC has been awarded more than 35 additional FPSO / FSO EPCI projects and provides operation and maintenance services around the world. FPSO and FSO systems today have become the primary method formany offshore oil and gas producing regions around the world, utilising the ability to receive fluids such as crude oil and water from a subsea reservoir. Most FPSOs are ship-shaped and are anchored by a turret. Depending on the environment a range of mooring types may be used, including spread mooring in calmer waters and disconnectable turret mooring systems for use in environments where cyclones or hurricanes occur.
A number of the company's contracts have been undertaken at the Jurong Shipyard in Singapore, a subsidiary of SembCorp Marine, itself a well respected business in not only the Asia Pacific region, but also the offshore and marine industry globally. Such builds include the FPSO Fluminense with a production capacity of 81 thousand barrels per day, used for oil and gas production, stockpiling and transfer of Salema and Bijupira fields. Furthermore, in 2007 it undertook the construction of FSO Cidade de Macae MV15, set to be one of the most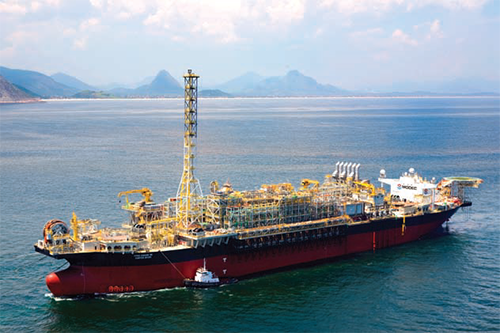 sophisticated distribution offshore oil facilities in the world. Receiving and exporting production of five platforms off the coast of Brazil, the FSO is capable of receiving up to 818 thousand barrels of oil per day.
Fast becoming the common name when discussing the FPSO market, MODEC was previously featured in European Oil and Gas Magazine at the beginning of 2014 with a review of the new projects; FPSO Cidade de Mangaratiba MV24, due for completion at the 3rd quarter of 2014, and the construction of its eighth FPSO/FSO for Petrobras, FPSO Cidade de Itaguai MV26. That contract involved the conversion of a Very Large Crude oil Carrier (VLCC), to be deployed to the Iracema Norte area of the BM-S-11 block off the coast of Brazil in 2015. The area is part of a deepwater oil field located approximately 300 kilometres south of Rio de Janeiro, Brazil. The oil is contained in the pre-salt layer approximately 5,000 meters beneath the seabed.
Detailed in a press release in November 2013, MODEC revealed that through Petrobras it had been awarded a contract for the supply, charter and operations of an FPSO for Carioca field of the BM-S-9 block in the giant pre-salt region of the Santos Basin, with water depths of 2,100 meters. The BM-S-9 block is under a consortium formed by Petrobas, BG Group and Repsol Sinopec Brasil S.A.. MODEC is responsible, with the Schahin Group, for the engineering, procurement, construction, mobilisation, installation and operation of the FPSO, including topsides processing equipment as well as hull and marine systems employing its subsidiary SOFEC, acquired in 2006 for the design and supply of the spread mooring system.
FPSO Cidade de Caraguatatuba MV27 will be capable of processing 100,000 barrels of crude oil per day and has storage of 1.6 million barrels of crude oil. The delivery of the FPSO is expected by June 2016. This is the 11th FPSO/FSO vessel which MODEC will provide in Brazil and represent the 9th FPSO for the pre-salt discoveries, being MODEC's 5th in the pre-salt. "We are committed to carry out the project along with Schahin Group in order to contribute to the foundation for the development of heavy industry in Brazil," Toshiro Miyazaki, president and CEO of MODEC is reported to have said.
On the other side of the Atlantic Ocean lays another market, West Africa, which has seen several significant discoveries of offshore oil fields in recent years, which have given rise to expectations to demand for additional FPSO's in the region. Construction of the FPSO through conversion of a VLCC is planned to be completed and deployed in 2016 for the development of the Tweneboa, Enyenra, Ntomme (TEN) oil fields offshore Ghana, owned by a consortium of five companies, at water depths of about 1,500 meters.
In September 2013 MODEC announced a long-term charter business project for providing the FPSO for use in the TEN oil fields. The contract, held with the operator Tullow Ghana, will run initially for ten years, with options for extension up to an additional ten years. MODEC will engage in FPSO leasing, operations and maintenance of the vessel, installed in approximately 1,500 meters water depth. This is the second vessel MODEC will provide and operate in Ghana following the FPSO Kwame Nkrumah MV21 for the Jubilee Field development, which was awarded in 2008. MODEC is currently operating the FPSO Kwame Nkrumah MV21 for Tullow as Operator of the Jubilee Field.
Recognising that success in the industry comes from a proactive approach, MODEC has been working under an alliance with Velocys and Toyo Engineering to develop and implement a Gas to Liquids (GTL) technology. This innovative solution will allow the offshore oil and gas industry to capture and monetise associated natural gas that is currently flared or re-injected into the reservoir. The GTL technology creates the potential to access over 3,000 trillion cubic feet of natural gas that is currently stranded. Present at OTC 2014, the business worked on actively promoting its developments, services and solutions to the industry in preparation for the future years.
It is the strengths of the company that have achieved consistent delivery and operation of high-quality, innovative floating production solutions for the offshore oil and gas industry. Striving to meet customers' requirements it continually cultivates its talented team focusing on integrity, communicating openly and serving the community whilst protecting the environment. With so much previous experience to hand, MODEC promotes a confident approach to the new contracts it undertakes, and with a forecast of many new and strong projects, the company's vision of becoming the global leader in delivering and operating innovative and reliable floating production systems is being realised.
MODEC, Inc.
Services: Designs, builds, leases, operates and maintains vessels and platforms for offshore activities