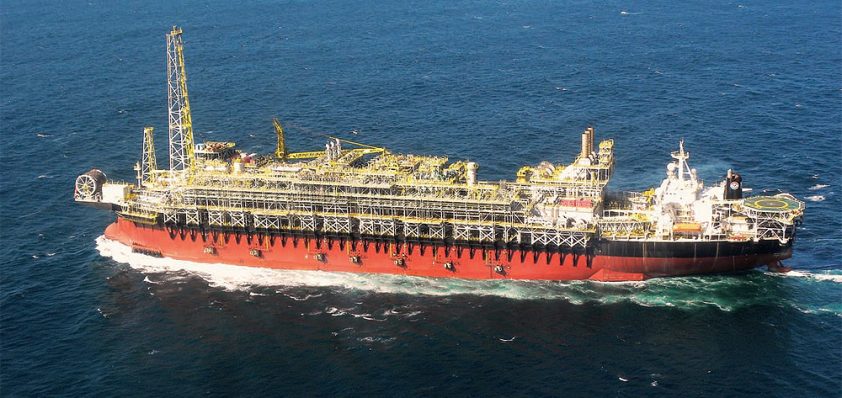 Floating away
MODEC, Inc. is a Japanese contractor heavily involved with the offshore industry. It was founded in 1968 with Mitsui Engineering & Shipbuilding and Mitsui & Co Ltd to design and build vessels, equipment and offshore developments.
By the mid-1970s it had built its series of jack-up rigs, the first floating production storage and offloading vessel (FPSO) in 1985, and in 1999 its first tension leg platform (TLP). Success has led to the company establishing an international presence by opening offices in the US (1999), Singapore (2004), and Brazil. At present the company both provides engineering, procurement, construction, and installation (EPCI) services, and charter and operation of its own FPSO vessels.
MODEC was last featured in European Oil and Gas in March 2012, at which point the company was completing the conversion of a very large crude carrier (VLCC) into an FPSO for a client, Brazilian national oil company Petrobras. This vessel was delivered at the end of 2012. The series continues, however, with the announcement of a letter of intent signed by Petrobras for a new FPSO. The agreement was made with MODEC and its long-term partner Schahin Group through Petrobras subsidiary Tupi BV.
Executive officer Masaki Habu talks about this new project: "MV26 is our eighth FPSO order we have received from Petrobras, and will involve the conversion of the VLCC 'Alga' into the FPSO 'Cidade de Itaguai'. The production capacity is 150,000 barrels of oil and it has storage space for 1.6 million barrels. We gained this project as a result of a good working relationship with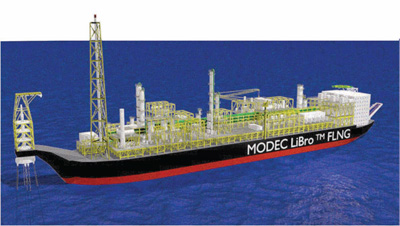 Petrobras, and particularly because of our portfolio of high quality FPSOs. We were able to offer competitive prices as well as other conditions that appealed to the operator. Conversion work begins in March 2013 and we hope to deliver the finished vessel by October 2015."
Once delivered, the FPSO will operate in the Lula-Cernambi North region and will be the ninth MODEC vessel to operate in Brazilian waters. The particularly stringent regulations on vessels operating in the area apply to the 'Cidade de Itaguai' too, meaning the construction process will be challenging. Previous experience in building ships to similar specifications, however, leaves MODEC undaunted.
Floating production facilities are MODEC's specialist area. Apart from FPSOs, in which the company has become a clear leader, MODEC is also well reputed for its TLPs. This type of floating platform is moored to the seabed by high tensile steel pipe that allows very little vertical motion. They were first introduced in the mid-1980s and have become an essential part of the offshore oil and gas industry for deepwater development. At present there are TLPs in operation throughout Mexico, the North Sea, offshore Indonesia, and West Africa with MODEC having built five of those.
Masaki goes on to discuss other projects the company is involved with outside of FPSOs: "Currently we are working on our patented floating LNG (FLNG) concept by undertaking FEED studies with Petronas. FLNG, TLP, and FPSO and FSO are all markets that are important to us but we expect the FLNG market in particular to be very promising over the coming years. Our new project is coming to fruition at the moment and we expect many more orders in this area over the coming five years."
Adding strength to the organisation and value to its products, MODEC operates and maintains its own fleet as well. This includes regular maintenance activities carried out offshore – in order to keep production systems running on location for ten to 20 years – as well as management and after-sales services handled by local branch offices in Brazil, Australia, Coted'Ivoire, Ghana, Mexico, and Vietnam. At present its vessels are almost all located in Southeast Asia, Australia, West Africa and Brazil. Building, maintenance, and operations are tightly interlinked and mean MODEC offers complete packages to clients.
Masaki discusses potential business for MODEC: "We are still expecting the FPSO business to grow, particularly in Brazil and West Africa as well as the upcoming region of South East Asia. Many projects are expected to arise in this sector. We have already submitted some proposals in West Africa, Brazil, and Southeast Asia and expect their outcomes to be announced some time in 2013. Hopefully MODEC will win two or three of those submissions."
MODEC has delivered 19 FPSO/FOSs in Southeast Asia and Australia and is currently operating six FPSO/FSOs, and it expects continuous growth in these regions. In addition to FPSO projects, the company is also looking at increasing its FLNG and deepwater TLP operations. This demonstrates its ongoing success not only in the newbuilding and EPCI sector but also the vessel operation market as well, spreading a strong foundation beneath the whole of the company. With more than 2500 employees, MODEC is able to use its size to deliver the finest quality vessels.
Masaki ends on the strengths of MODEC as a builder and operator: "We are here to help our clients and, as an FPSO service provider, are ready to accept or propose options that benefit the oil companies. We strive to meet our customers' requirements and whatever it is they need to help develop offshore fields. That philosophy is our selling point."
MODEC
Products: Offshore production platforms