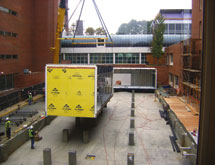 Modular Building Institute
As the Modular Building Institute hosted the 2012 installment of the annual World of Modular conference in Orlando, Fla., in March, the industry still faced the age-old problems of awareness and reputation. However, Executive Director Tom Hardiman says his organization intends to broaden its reach beyond the U.S. borders, where modular buildings are more readily accepted, as well as continue to increase awareness of these applications throughout North America.
In fact, World of Modular marks the beginning of an industry-wide marketing campaign Hardiman calls the "World Tour." The Modular Building Institute will host events such as discussion panels and workshops for architects, designers and building owners throughout the United States and internationally to extol the benefits of modular construction while driving traffic to its website – www.modular.org – where decision-makers can obtain even more information before they make the final calls on their projects.
"We're not necessarily trying to drive up sales as much as change the way people think about modular construction," Hardiman explains. "We're hoping for a willingness and emphasis from architects and owners to consider modular construction."
29 years of service
The Modular Building Institute has been there for this industry since 1983. Serving as the international nonprofit trade association promoting modular construction, its members include manufacturers and contractors in two distinct segments of the industry – permanent modular construction and relocatable buildings.
"As the voice of commercial modular construction, it is the institute's mission to expand the use of offsite construction through innovative construction practices, outreach and education to the construction community and customers, and recognition of high-quality modular designs and facilities," the institute states.
"Modular Building Institute is governed by volunteer members of the board of directors and may include members at large," the institute adds.
"These groups focus on short-term, specific needs of the association and membership," it continues.
According to Hardiman, permanent modular construction offers a variety of benefits over traditional methods of construction. He believes the streamlined construction process, efficient use of materials and a reduced impact on the environment are the three main reasons the construction industry should take a closer look at utilizing modular construction.
According to a report by the American Industry Classification System, multifamily residential, industrial structures, and commercial and institutional buildings use permanent modular construction most frequently. The institute says modular commercial buildings typically are built 60 to 90 percent to completion at an offsite, controlled location before arriving at a job site to be erected as subassemblies or components. This eliminates the time and money typically allotted for site development and foundation work in traditional construction projects, reducing costs for labor and materials, as well.
Relocation convenience
Relocatable buildings are partially or completely assembled and comply with applicable codes and state regulations and are built in a manufacturing facility using a modular construction process. These structures are constructed with the intention to be moved, if necessary.
Hardiman says more customers in the energy sector are demanding these structures, especially in remote areas such as the Alberta oil sands in northern Canada.
"These owners are turning to modular housing for workforce housing," he says. "After they leave, these facilities are often turned into housing developments, or other community facilities."
Whether they are permanent or relocatable, the process to create modular structures has proven to be more resource-efficient for labor, money, material usage and waste, the institute states. Citing a McGraw-Hill Smart Market Report, the Modular Building Institute says 77 percent of architects, engineers and contractors surveyed reported a reduction in site waste. Also, 44 percent surveyed reported that site waste was reduced by 5 percent or greater.
Modular on the Horizon
Hardiman admits there is no "magic bullet" solution or initiative that will keep modular construction in the forefront of the minds of architects, engineers and owners as they design their buildings. However, through vigilant marketing campaigns centered on education and building awareness about the obvious time and cost savings involved with modular construction, Hardiman expects the U.S. construction industry to come around much like international markets already have.
"I think it'll take a continuous line of successful projects [to create awareness]," Hardiman says. "Construction has been the same for hundreds of years, so it is hard to prove there's a successful new way to build." EMI