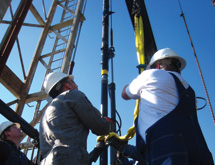 Mohawk Energy has had its work cut out for it since 2004, when it entered the expandable tubular products market. As Vice President Scott Benzie explains, the small start-up faced some serious competition right out of the gate, going up against heavily-capitalized giants. "The biggest challenge would be our competitors," he says. "They had a lot of weight behind them."
However, Mohawk Energy has a lot going for it. Even though the Houston-based company doesn't have the same level of financial resources behind it as some of its competitors, Mohawk Energy has a strong base of unique technology, a devoted team focusing on delivering the best product to the operator and entrepreneurial spirit that Benzie says has helped it create a niche for itself in a highly competitive market. Mohawk Energy may be one of smallest in its sector, but Benzie says the company has more than enough advantages to keep it running strong for a long time.
The company was founded in 2004 as Benzie and President Dr. Andrei Filippov started developing the technology building blocks of what would become the basis for Mohawk Energy's product lines. The company initiated its first project around 2006 for BP. Mohawk Energy's customer base now ranges from large international operators like Statoil to small domestic producers.
Technological Edge
Mohawk Energy is able to stand toe-to-toe with its large competitors through a number of key differentiators. First and foremost is the company's technology, which gives Mohawk Energy capabilities that others can't match. Mohawk Energy's integrated approach to the development of its tubulars, connections and running tools, allow the best performance to be extracted from the sum of these components.
Benzie says the company is solely focused on expandable technology. The fact that Mohawk Energy develops the technology in-house and possesses this unique level of understanding has directly translated into the reliability of its systems. Everything the company manufactures is redundantly inspected at multiple stages to ensure the highest quality is delivered in all critical areas, which Mohawk Energy refuses to compromise on.
Growth Ahead
Mohawk Energy's formula for success has put it in a good position for the future, according to Benzie. The company has steadily been expanding its run history with the MetalPatch cased-hole offering. This product is used to patch existing casing strings with well integrity issues, but the emergence of the frac market has added an additional capability to the patching toolbox.
Benzie says the company now also is ideally placed with its OpenHole Clad equipment for re-entry drilling as more oil and gas producers are exploring that technique and more reservoirs move toward brown field developments.
Overall, Benzie says Mohawk Energy relishes the intense competition it faces and continues to grow. With its flexibility, proprietary technology and wealth of expertise, Mohawk Energy's products are more than ready to stand up to the giants of the market for a long time.