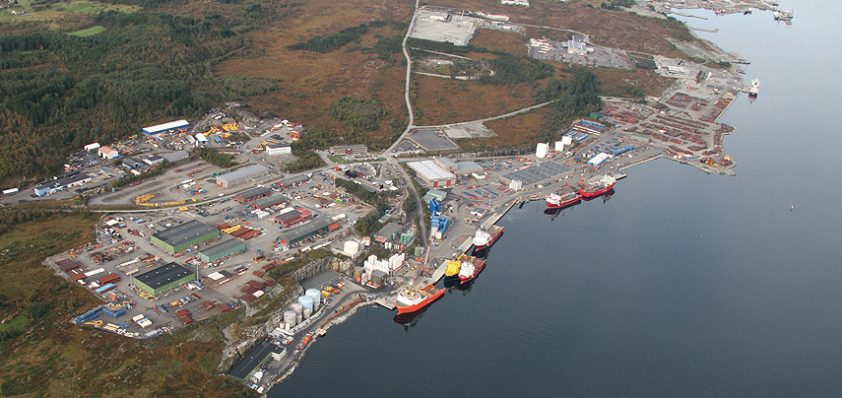 Aspirations in good supply
Mongstadbase, a Norwegian company established in 1984, is a contemporary, service-oriented supply base for Statoil Hydro's installations.
The port at Mongstad industrial site is located in Hordaland, Norway, allowing a short sailing distance to numerous key North Sea oil and gas installations. Mongstadbase works with leading regional subcontractors and tailors total solutions for logistics, repairs and modifications. This, coupled with 24-hour assistance, enables the company to provide excellent service to its clients. Mongstadbase is today part of the Frank Mohn group, a key supplier of submerged cargo pumps to the tanker market.


Sales and marketing manager, Kurt Hauge, comments on the company: "Over the years we have been growing and are now supplying 17 of StatoilHydro,s installations. Mongstadbase has 190 permanent employees and ten additional temporary staff, depending on the activity. Based on volume and tonnage, we are the largest offshore supply base in Norway." With an estimated 200-man labour a year, Mongstadbase is one of the greatest employers in the region. Kurt continues: "We receive approximately 2200 port calls each year and we expect an increase this year. In total we ship over 1.2 million tons. This equals one third of the total supply to StatoilHydro on the Norwegian
As Mongstad has recently experienced increased activity, the company is currently expanding its capacity by extending the quays and storage area. Kurt explains: "Up until last year we had 345m of quays. Since then we have been expanding and building and now have 670m of quays. Another key feature is implementation of bulk lines from the individual suppliers to the quay fronts. Currently we have to move boats from one quay to another to be able to deliver all the products. When this project is completed we will be able to deliver a variety of bulk products to the different quays in order not to waste valuable time by moving the boats around to enable bulk loading. This will make our operations far more efficient. The total quay space operated by Mongstadbase will be 750m. Our total operational premises are more than 400,000sq m."
StatoilHydro is a Norwegian energy company that was recently formed by the 2007 merger of Statoil with the oil and gas division of Norsk Hydro. It is the biggest offshore oil and gas company in the world and the largest company by revenue in the Nordic Region. Mongstadbase, having formally supplied Hydro, has found the merger presents some adjustments for the company to overcome. Kurt comments: "The year that has past since the merger has not revealed any dramatic changes. However, we are expecting some changes when StatoilHydro is finished with the ongoing integration process." Mongstadbase is prepared for the necessary changes and improvements to conquer any issues this development may bring. "As I said we are building new quays with integrated bulk lines; all with the aim of making Mongstadbase a 'state of the art' supply base," he comments.
Kurt continues to expand on the company's past and recent activities: "From 2000 we have supplied offshore operations from other locations both in Norway and from Murmansk, Russia. Also, in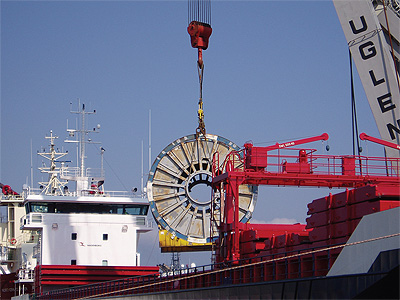 addition to our facility at Mongstad, we have a facility located at Averøy, just outside Kristiansund. Our personnel are administrating the logistics by following the rig operations and the activity as they move along the coast.
"We have just started planning the next operation. From around March 2009 Detnorske oljeselskap AS and Revus Energy AS will start a three-year drilling campaign to drill between 18 and 22 wells along the Norwegian coast. The project will start with one well supplied from Mongstad. Then the operation will move to the Kristiansund area. This is a milestone for us, because the previous operations have been for Statoil or Hydro."
Mongstadbase has a strong commitment to the issues of health, safety and environment (HSE). "Behind all our investments in quay expansion, there is a backbone of high focus on HSE, making us a supply base for the future," Kurt comments. Persistently Mongstadbase devotes time and money with the prospect of improving the working environment in order to keeping activities at the safest possible level.
Looking ahead, Kurt discusses the company's long-term objectives: "Because of the lack of space in the Bergen port, the Bergen Port Authority is moving some of the activity out of central Bergen. We see that Mongstadbase will be able to adapt to this development and the location could be the next main portal for Bergen. We also see possibilities to supply from other locations. There are expectations that the activity outside Kristiansund will increase over the coming years.
"Averøy will also be an interesting location in that area, so we predict that the activities will pick up enabling us to increase our supplies from there. We expect to see that the smaller operators in consortium will play a more important role as customers for our services," he concludes.
Mongstadbase
Services Supply base