Switched on
Based in Bridgend, Wales, Morris Line Engineering (MLE) has over 25 years experience in the design and production of high voltage disconnectors and switches.
Today the company is regarded as one of the leaders in the field and boasts a multi-million pound turnover. The high-quality equipment that is manufactured by the organisation is used by numerous clients in a variety of industries such as oil and gas, electricity supply and rail. As well as supplying much of its products to its domestic markets of the UK and Ireland, it exports extensively to the Middle and Far East and Africa.
The company is the manufacturing division of The Morris Group and offers a fully integrated service, which compliments the installation division of the organisation. Also known as J. W. & E. Morris & Son Ltd (JWM), it has been operating since 1945, providing electrical and mechanical engineering solutions to industry and commerce. After steady growth and diversification, today JWM has a turnover of £30m, a staff contingent of 400 and national and international business capabilities.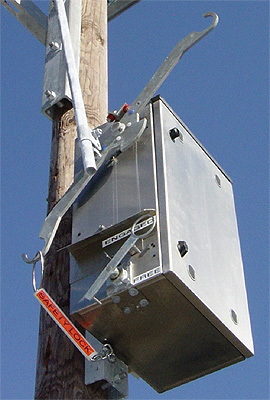 The group's innovative business practices, high quality expectations, and a keen eye for detail has seen JWM achieve a track record for delivering complex engineering solutions that are consistently delivered safely, on time and to tight budgets. It produces best value engineering products and services, electrical and mechanical installation, maintenance and engineering support as well as low and high voltage manufacturing. These duties are performed by the three divisions of the group, with Morris Churchfield, which is a specialist fire alarm protection service, and Total Electrical Distributors & Associated Cables & Accessories, which specialises in electrical wholesaling and cable distribution, joining MLE to complete the business.
MLE specialises particularly in high voltage distribution equipment, low voltage switchboards, motor control centres and PLC equipment. This turnkey process is carried out in-house by the company's skilled group of employees and fulfils vital ISO 9001 accredited quality standards. The complete package, which has become one of the company's hallmarks, includes the initial design concept, computer aided detailed design, entire manufacturing process, factory testing and on-site installation, final commissioning and planned and reactive maintenance.
Its operations in the oil and gas sector are concentrated in the South and Middle East and it can count blue-chip companies such as PDO in Oman, ADCO in Abu Dhabi, and Qatar Petroleum as key clients. According to Steve Davies, the business development and technical manager, the secret to MLE's success in the area is down to an understanding of the elements and a high standard of products. "We are designing products that have to be suitable for use in the desert so they have to be durable. We have 26 years of experience of designing products for tough terrain so we've become very adept. We are also known for our quality, we stick to the ISO legislation rigidly – that is very important because companies in the oil and gas sector will accept nothing less than the best," he comments.
MLE is committed to providing its clientele with a flexible service as well as recruiting engineering experience that best satisfies the wideranging needs of the customer. The prosperity that the company has enjoyed to date is a reflection of its desire to significantly invest in proven quality technical staff, from innovative high voltage design capability through to fully qualified PLC software engineers. This approach falls in line with the company's general business strategy of uniting years of engineering know-how and experience with state-of-the-art technology, keeping MLE one step ahead of the competition.
There is also an overriding philosophy of continuous improvement and development of the company's vast product portfolio, services and core values. A clear illustration of this can be seen with MLE's 'M'illenium range of high voltage switches, which have been analysed and redesigned since its release. Having improved the products properties and principal uses, it is now one of the jewels in the company's crown and offers clients market leading technical performance combined with outstanding reliability and value. Such product improvement is also part of the company's continuing ambition to make MLE the ideal long-term engineering partner. The voltage range of the high end equipment is 750V to 145kV with the current ratings up to 4000 amp and short time faults currents up to 120kA.


The 145kV range has become more prominent in recent years with oil and gas companies switching to silicone rubber insulators. The increased demand is a result of an industry standard that MLE helped bring to the fore. Taking on the story, Steve says: "Years ago porcelain insulators were the norm. Along with ADCO in Abu Dhabi, we developed our switches to accommodate silicon rubber insulators, which are hugely beneficial, as they don't attract dust. The old porcelain products had to be washed twice a year – that is a lot of labour power. We are now seeing a high demand for 145kV products fitted with silicone rubber insulators and Morris Line has now reached a solution after several years investigating the possibility of fitting these insulators on to our disconnectors."
MLE also boasts a low voltage division, which specialises in the purpose building of switchboards that are individually designed, tailored and manufactured to meet the stringent demands of various clients. In the cases where a general design rather than a bespoke solution is required, the company – as an authorised assembler – offers GE Power Controls System 4 and Miniform Switchboards. As you would expect from a company famed for its personal service, it provides and installs all distribution equipment, from singular phase mcb boards up to and including 11,000-volt switchgear using an in-house team that offers know-how and loyalty.
Control panels also make up an integral part of the low voltage product and service offering. The complete package, encompassing the original design concept to on-site commissioning and everything in between, is handled with consummate ease on site in Bridgend. The range is almost limitless as MLE tries to accommodate requests for any shape, size, colour or arrangement while bespoke finishes are something of a speciality. The company's team of experts carries out the fabricating and painting of the panels and this in-house control guarantees quality and the ability to respond to fast track orders in a prompt fashion.
In line with modern trends to automate and monitor equipment from a central control room, MLE has designed and developed a range of motor actuators, which can accommodate several different manufacturers' Remote Terminal Units (RTU) as well as radio and other communication equipment. These motor actuators can be fitted to all existing and new switches/disconnectors across the entire voltage range supplied by MLE.
Steve is keen to showcase such expertise in some of the most lucrative regions of the oil and gas industry. Summarising his plans for the future, he says: "We are always expanding, for example we have just found a suitable agent for our operations in Saudi Arabia, which is a potentially big market for us. The oil and gas market will present many further opportunities for us and while it is just part of our bigger focus, we have pinpointed regions where we believe we can grow. We would like to develop in the African and Russian sectors; they are challenging markets but it is all about finding suitable openings and MLE certainly has the potential to develop a significant market share in these areas."
Morris Line Engineering
Products: High voltage disconnectors and switches